Use the coupon code New45 to save 45% on the family of Non-traditional Karimbas. The Non-traditional karimbas include the SaReGaMa Lotus, the SaReGaMa Air, and the SaReGaMa Freygish Karimbas; the I-Ching Kalimba; and the Alto Afroharp.
Code New45 good through Nov 30 2023. Note that the code does not work on Hokema B17 or B15 in karimba tunings. But look below at the instruments it does apply to.
Video Illustrating the Various Non-traditional Karimbas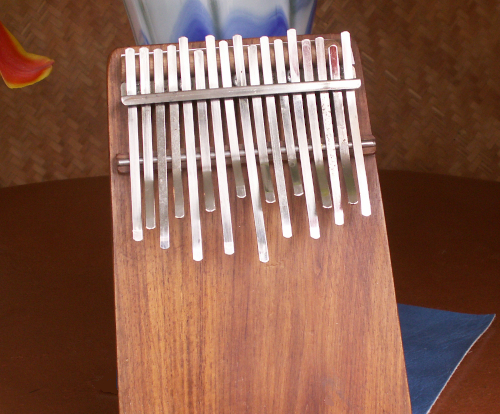 SaReGaMa is a new age musical artist who went to town inventing innovative kalimba tunings, and the Lotus Tuning is the most famous! He has millions of views on YouTube with his "Solo for Lotus", an improvisation he made for his newborn daughter.
The Air Karimba is in D dorian (another minor mode), but also has a low G and a low A… meaning underneath the two octaves of D minor, you also have access to the 4 and the 5 of the scale, which is perfect for making the most useful chords.
I did not write a full ebook  for the Air tuning, but I thought it was very important to at least explain about the low 4 and 5 notes, so I do have a free 12-page download for the Air Karimba. By all means, download this and browse it if you are considering getting this karimba.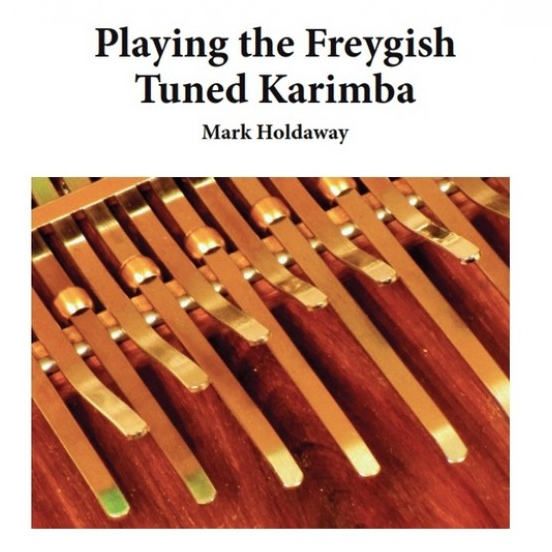 SaReGaMa's Freygish Karimba is a misnomer. It is actually a C harmonic minor scale. I absolutely love this tuning, and I wrote a really nice ebook to help you learn to play it.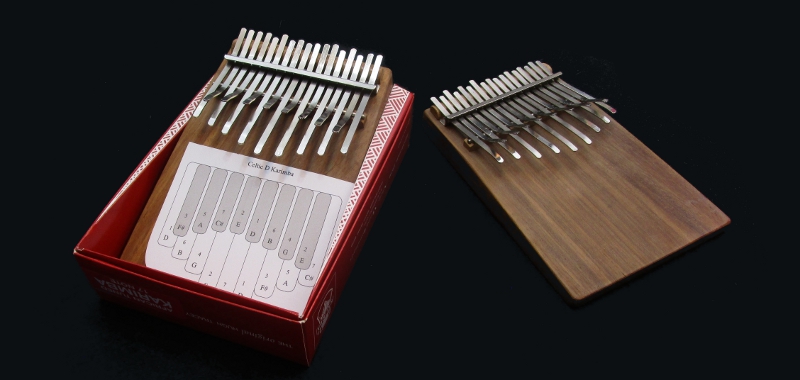 The Celtic-D Karimba was a request from a customer, and I decided I liked it. The basic layout is essentially the same as the Freygish (you can tell as they both have the "open mouth" tine arrangement. However, this one is two octaves of D major, plus a low C# and a high E.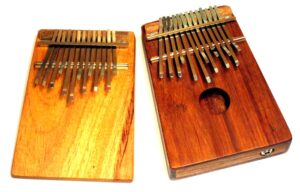 The I-Ching Kalimba is mainly used for the I-Ching percussion  piece by Per Norgaard, common at senior and graduate level percussion recitals across the world. However, I also wrote a download with 12 original compositions for I-Ching Kalimba.
The Afroharp was a new kalimba from Chicago. They were made about 1969-1974. The Hugh Tracey Alto kalimba can be recast into an Afroharp, and they give you a unique note arrangement.
Learn More About the Non-traditional Karimbas:
Download for Celtic-D Karimba: Method Exercises, Simple Songs and Celtic Songs
The AfroHarp – Another Neo-African Kalimba in 1970 American Culture
Kalimba Magic is Liquidating Kalimba Inventory * Save 45% on African Karimbas
Pentatonic Kalimbas On Sale Next Week
Next week, we will run a sale on the box pentatonic and celeste pentatonic kalimbas. These have some interesting alternative tunings. Learn more about the pentatonic kalimbas.
Kalimba Magic Closing in Spring 2024.
I will be retiring in spring 2024. At this time, Kalimba Magic does not have a buyer, so I am liquidating my stock of kalimbas and books.
I am trying to sell off my inventory at a substantial discount, but in an orderly way that doesn't disrupt the kalimba market. Each week, I will be offering a different kalimba at a steep discount. If I don't run out of that kalimba, I will eventually come around later and offer an even steeper discount. But if I run out of a certain kalimba, I am out of that kalimba, and I won't be getting any more of them. Sorry.
So, I invite you to purchase the kalimba of your dreams now, before they are gone, and before I am done with my business. Or, I invite you to sit around and wait for the deals to get even better somewhere down the line.
Last week, we ran a 45% discount code on traditionally-tuned karimbas. That sale is ongoing until Nov 15 2023.
Kalimba Magic – Since 2005
When I started Kalimba Magic in 2005, I never expected it would end. I was just living my joy, and sharing it with the world. Writing books to show the world how to play, and writing blogs and making videos. Giving lessons and presentations on the kalimba, karimba, and mbira. It was all a blast.
But things change. I cannot persist in the current business climate, dominated by inexpensive Chinese-made kalimbas and cut-throat competition in which my books and website have been pirated to benefit others.
I'm on my way out. I am closing my doors in 4-6 months. We will continue hosting and selling instructional kalimba downloads. We may partner with other kalimba sellers. But we will be done with shipping.
This is a shame, because Kalimba Magic offers a great many unique kalimba styles and tunings, and most of them have high quality instructional materials.  For over a decade, Kalimba Magic dominated the kalimba ecosystem online. But at this point, I cannot keep up.
If you have been intending to get something special that only Kalimba Magic offers, you may want to contact me about that. Sooner rather than later?
It has been a privilege, and usually, a joy, to serve the Kalimba Community. It isn't quite time for "over and out" – but I'm getting there.
Blessings, and Thank You!
Oh, and use the code Else25 to save 25% of everything else we sell at Kalimba Magic. And Else25 will not expire until we close our doors.
Mark Holdaway // Kalimba Magic // Tucson AZ // November 11 2023