Use the coupon code Karimba45 to save 45% on the traditional family of African Karimbas. Code good through Nov 16 2023. Note that the code does not work on Hokema B17 or B15 in karimba tunings. Nor does the code work on the non-traditional SaReGaMa tuned karimbas.
If there is one place in the kingdom of kalimbas that the Chinese kalimba makers cannot touch, it is the realm of the Karimba. I have so often been told by my web readers that "hey, you misspelled Kalimba with an 'R'." Actually, Karimba is a specific name for the instrument which indicates it has a specific type of traditional African tuning.
For starters, most karimbas have two rows of tines. The tuning of the adjacent tines on the two rows is very specific – often, they are tuned in octaves or in 5ths or 6ths, to facilitate rich and easy harmonies as well is to make octave variations very simple. The lower row tines are the most ancient, dating to perhaps 1300 years ago. The upper row tines were added later… and in different configurations.
And there are a whole bunch of traditional African tunes you can play on these instruments.
Video Illustrating the Three Basic Different Karimbas… and then some
17-Note African Karimbas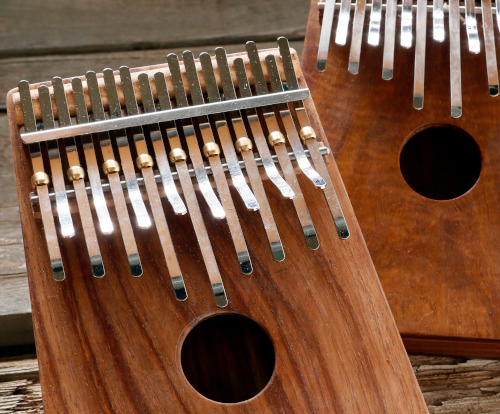 This is the 17-note version of the karimba that Andrew Tracey started making at AMI circa 1977. Unlike the Nyunga Nyunga, this instrument has the 4th degree of the scale in the upper octave. Originally made just on the boards, Kalimba Magic also rearranges the treble kalimbas into 17-Note African Tuned Karimbas, on a box body as in the image above.
15-Note African Karimbas (Mbira Nyunga Nyunga)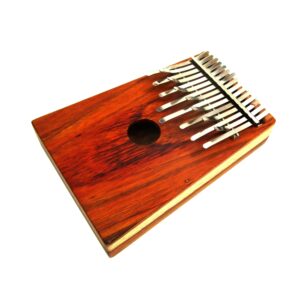 This instrument is made from an Alto kalimba. The 15 notes on this instrument match the notes of the Kwanongoma School Karimba.
14-Note Mufrika Edward Karimba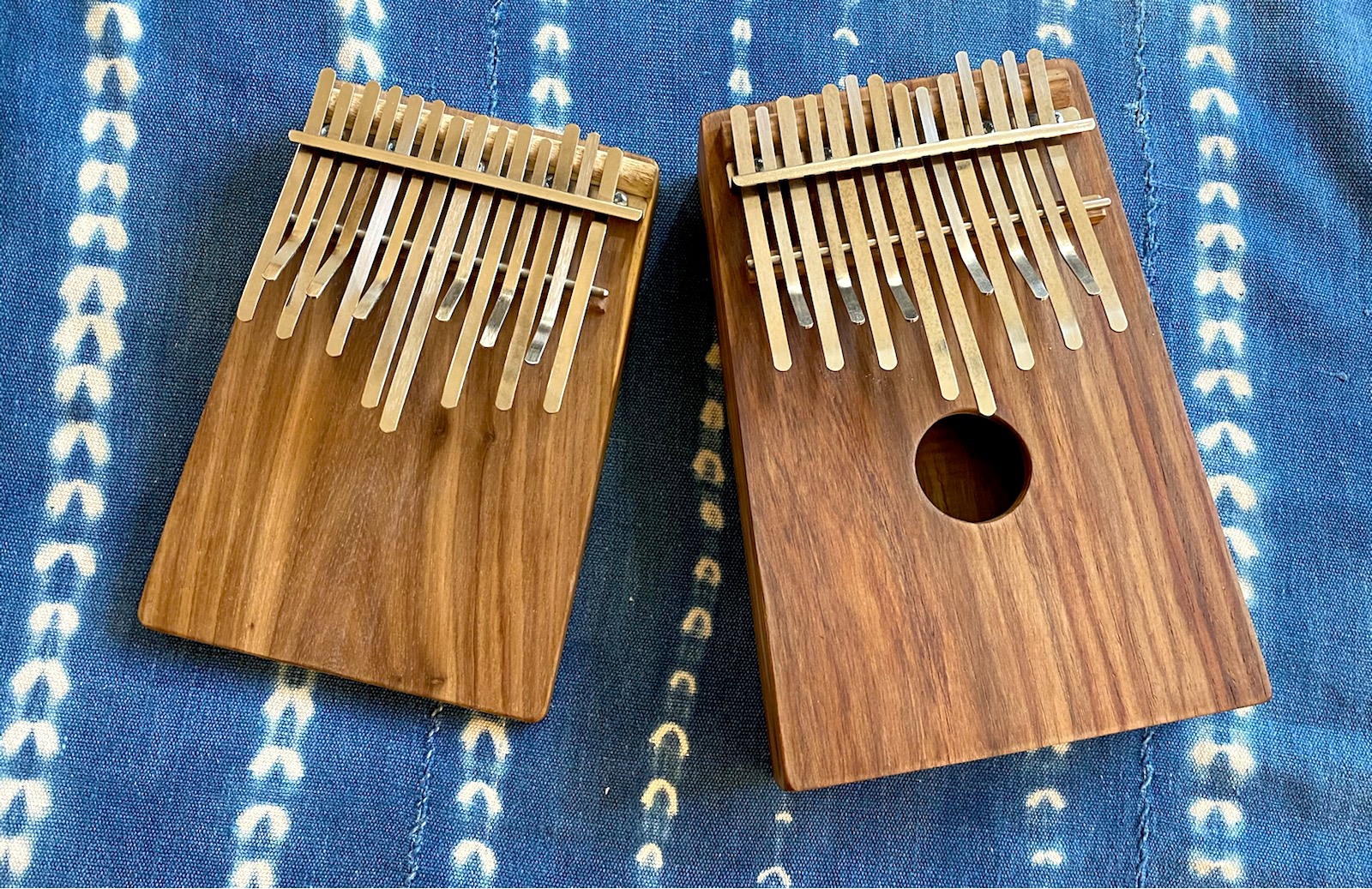 This is the 14-Note version used by Mufrika Edward. His father used the same tuning. The lower row notes are the same as the Nyunga Nyunga. The upper left notes match the Nyunga Nyunga… but the right upper side notes are different, and include the 4th of the scale. Lovely to play!
The Mufrika Karimba comes with a free instructional download.
Learn More About the Karimbas:
SaReGaMa Karimbas and Celtic D Karimbas On Sale Next Week
The 45% sale this week is for the Traditional African Karimba setups.
Next week, we will run a sale on the non-traditional karimbas: SaReGaMa Lotus, SaReGaMa Freygish, and SaReGaMa Air tunings, the I-Ching, and Celtic-D karimba.
Hokema B15 and B17 Karimbas Are Not Covered
Kalimba Magic is the only place we know of in the world that converts Hokema B15 and B17 kalimbas into Nyungas and Karimbas. The Hokema kalimbas are not covered by the Karimba45 coupon code. However, the code Else25 will work on them for 25% off! Visit Hokema Kalimbas.
Kalimba Magic Closing in Spring 2024.
I will be retiring in spring 2024. At this time, Kalimba Magic does not have a buyer, so I am liquidating my stock of kalimbas and books.
I am trying to sell off my inventory at a substantial discount, but in an orderly way that doesn't disrupt the kalimba market. Each week, I will be offering a different kalimba at a steep discount. If I don't run out of that kalimba, I will eventually come around later and offer an even steeper discount. But if I run out of a certain kalimba, I am out of that kalimba, and I won't be getting any more of them. Sorry.
So, I invite you to purchase the kalimba of your dreams now, before they are gone, and before I am done with my business. Or, I invite you to sit around and wait for the deals to get even better somewhere down the line.
Last week's discounted kalimba was the Spiral-10, a 10-Note Kalimba that is great for beginners. They are still on sale at 5o% off through November 6 2023 with coupon code SaveHalfOn10Note
Kalimba Magic – Since 2005
When I started Kalimba Magic in 2005, I never expected it would end. I was just living my joy, and sharing it with the world. Writing books to show the world how to play, and writing blogs and making videos. Giving lessons and presentations on the kalimba, karimba, and mbira. It was all a blast.
But things change. I cannot persist in the current business climate, dominated by inexpensive Chinese-made kalimbas and cut-throat competition in which my books and website have been pirated to benefit others.
I'm on my way out. I am closing my doors in 4-6 months. We will continue hosting and selling instructional kalimba downloads. We may partner with other kalimba sellers. But we will be done with shipping.
This is a shame, because Kalimba Magic offers a great many unique kalimba styles and tunings, and most of them have high quality instructional materials.  For over a decade, Kalimba Magic dominated the kalimba ecosystem online. But at this point, I cannot keep up.
If you have been intending to get something special that only Kalimba Magic offers, you may want to contact me about that. Sooner rather than later?
It has been a privilege, and usually, a joy, to serve the Kalimba Community. It isn't quite time for "over and out" – but I'm getting there.
Blessings, and Thank You!
Oh, and use the code Else25 to save 25% of everything else we sell at Kalimba Magic. And Else25 will not expire until we close our doors.
Mark Holdaway // Kalimba Magic // Tucson AZ // November 3 2023