The 66 Songs Download has been replaced with user friendly 44-Beginners-Songs and 33-Intermediate-Songs

The 44 songs in the download were taken from various Kalimba Magic collections and modified for use with the 17-Note "Treble" Kalimba in the key of C, which is sold under a great many brand names at this time – Donner, Walter, Heart-17, and Gecko, among others. The collections that went into this download include: African American Spirituals, traditional African karimba tunes, classical pieces, folk and pop music, Americana and patriotic, and some children's songs.
These songs are rated by difficulty, with songs in each category between 1 and 5.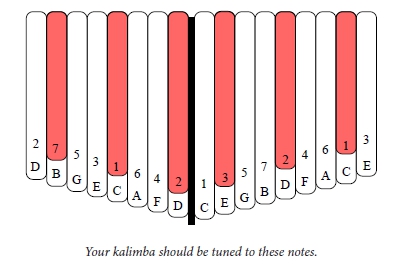 Is your kalimba tuned like this tuning chart? If so, this download is the right one for you. If the tines are unpainted, you can paint them with enamel paint, or mark them with decals or Sharpie markers. If your kalimba's tuning is the same as the chart but is not painted like it, try for a redo on the paint job. Correctly marked tines are indispensable in learning to play and in reading tablature.
My customers had a hard time trying to download the old "66 Song" Zip file to their cell phones and such, so we are replacing the old product with "44 Beginners Songs for the 17-Note Kalimba in C" – a single PDF file that can be downloaded to cell phones, tablets, iBooks, and your desktop computer (available Jan 8 2019). Coming soon is "33 Intermediate Songs" and "22 Insanely Difficult Songs".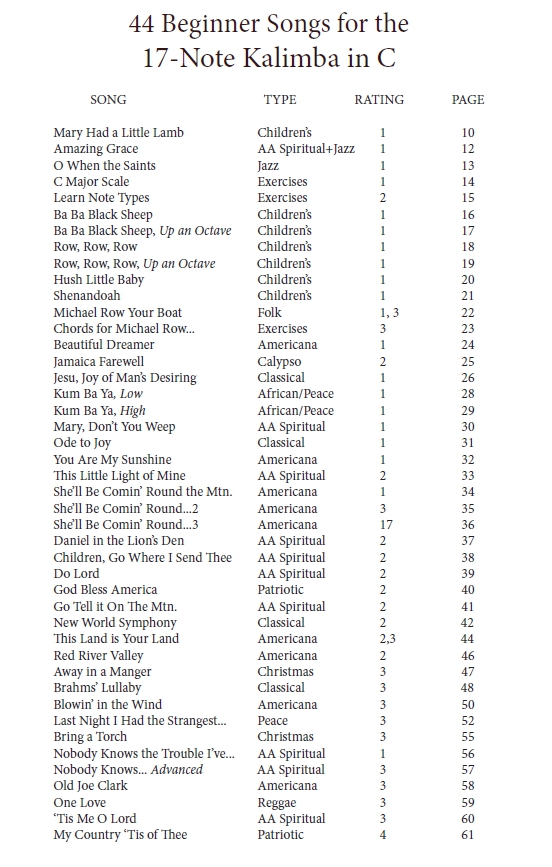 We have added ten more Level 1 songs to the original collection and simplified many of the arrangements, focusing on Level 1, 2, and 3 songs. Now, this download really is oriented toward the beginning kalimba player. Look for "33 Intermediate Songs for the 17-Note" in 5-10 days.
What if I only have five tines painted? What do I do?
If your kalimba has 5 painted tines, including the center tine, and its low note is a B, and it has F# notes, then you have the Hugh Tracey Treble kalimba in standard G tuning. Which means that there is a different 66 Songs download for the Treble Kalimba that will work for your instrument..
If you are in the key of C with a lowest note of C, but you have 5 painted notes, then you are in between. You could retune to the standard G tuning with low note of B (a standard G major Treble Kalimba), or you could remove the paint or decals and repaint as a C Treble with six painted tines as above.
By the way, the song that plays in the media viewer below, "Deck the Halls," is a Level 4 arrangement that is no longer in this collection. It is, however, in the "Easy Christmas Carols for the 17-Note Kalimba in C" download.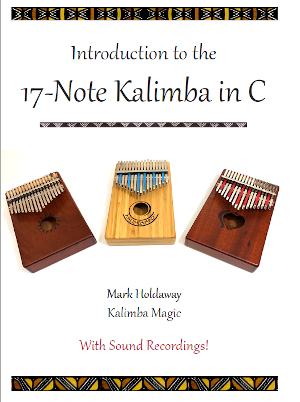 This hard copy book serves as a great overarching introduction to playing the 17-Note kalimba. It includes discussion about your kalimba's tuning, how your tines should be painted, your kalimba's parts, thumb nail care, fixing buzzes, special playing techniques, kalimba tablature, several helpful playing strategies, chords and arpeggios, a few songs, how to add harmonies and accompaniment to simple melodies, alternative tunings, the history of the kalimba, additional kalimba resources, and blank tablature. Sound files are accessible by a special URL or a QR code. 32 pages.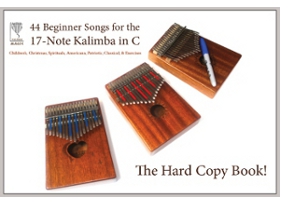 Finally! A hard copy 62-page book with downloadable MP3 files for each song! This is the exact same material as the 44 Songs download. This is a great way to learn to play the 17-Note Kalimba in C. Contains children's songs, "Shenandoah," "Beautiful Dreamer," "Ode to Joy," "You Are My Sunshine," "God Bless America," "Nobody Knows the Trouble I've Seen," "My Country 'Tis of Thee," and much more.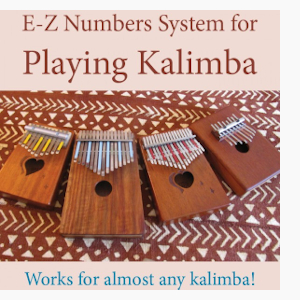 This numbers-based ebook (download) works with essentially any kalimba. It shows you which tines you need to mark with numbers – use a Sharpie pen. For 6-notes, 8-notes, 10-notes, 15-notes, and 17-note kalimbas… and probably for every other kalimba in between. If you feel that kalimba tablature is beyond you, try starting here.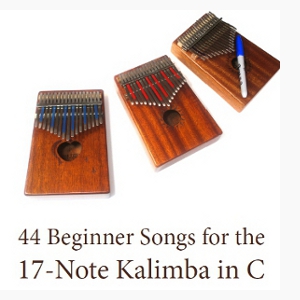 This is a 62-page, PDF ebook with live links to MP3 files for each song. This is a great way to learn to play the 17-Note Kalimba in C. Contains children's songs, "Shenandoah," "Beautiful Dreamer," "Ode to Joy," "You Are My Sunshine," "God Bless America," "Nobody Knows the Trouble I've Seen," "My Country 'Tis of Thee," and more.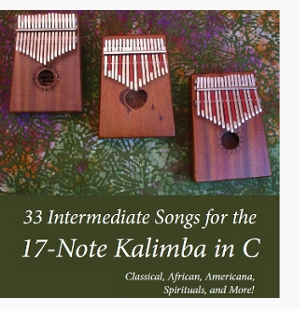 An 82-page, PDF ebook with live links. This is a great next step for learning the 17-Note Kalimba in C after you have worked through most of the "44 Beginner Songs" or "Easy Christmas Carols" ebooks. Songs include "Bach's Minuet," "Finlandia," "Jesu, Joy of Man's Desiring," "Shumba Panzira," "Chemtengure," "Suwannee River," "Wayfarin' Stranger," "We Shall Overcome," "Hard Times Come Again No More," "Marine's Hymn," "De Colores," "Swing Low Sweet Chariot," "O Danny Boy," and more.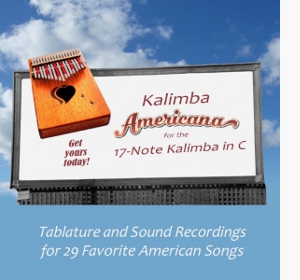 A 54-page, PDF ebook with live links. This is a great collection of music in the traditions of American folk, spirituals, and patriotic music. Songs rated between Level 0 and Level 4. Of the 29 songs, 18 are Level 0, 1, or 2, making this a good option for beginning kalimba players.
This Middle Eastern tuning makes amazingly beautiful, powerful, exotic music. It is really a journey I can recommend to most anyone. The music you can play in this kalimba tuning takes you around the world in its musical expressions. I find this music to be so beautiful that I recommend you purchase the download just to listen to the recordings that come with, even if you don't play kalimba.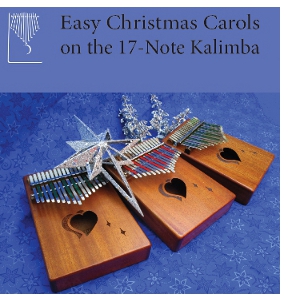 This 82-page PDF ebook is a delightful way to learn to play the 17-Note Kalimba in C. It starts out with simple melodies and progresses by adding more harmony notes as you make your way through the book. 28 songs (there are multiple versions of some songs). You likely have known most of these songs since you were a child: "Silent Night," "The First Noel," "O Christmas Tree," "Jingle Bells," "O Come All Ye Faithful," "Deck the Halls," "Away in a Manger," "Carol of the Bells," and more.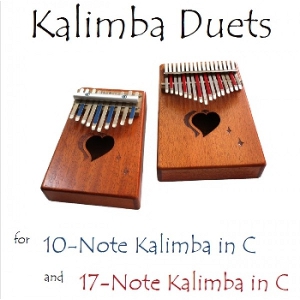 This ebook is a PDF file with live links to the sound files that will illustrate how each song is supposed to sound, for the 10-Note, the 17-Note, and for the two kalimbas together. Seventy pages, including 22 duets for the 10-Note kalimba in C and the 17-Note kalimba in C.
This book of duets gives you several great ideas for how two kalimbas can fit together to make music, from unison and simple thirds harmony to continuo, counterpoint, hocket, kushaura and kitsinhira parts… and rounds. Great fun, with an emphasis on how to create beautiful music with mostly simple parts working together.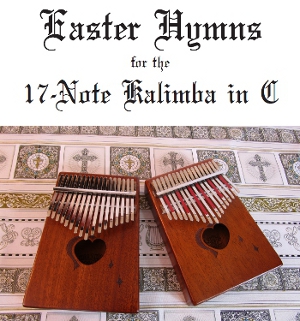 An 39-page, PDF ebook with live links to the MP3 files. Each of 12 songs are presented in both a basic version and an advanced version. The basic versions tend to be melody-only, or with a little bit of harmony. The advanced versions have full harmony, counterpoint, multiple melody lines, etc – enough to keep you busy for many Easters to come. Includes: "All Creatures of our God and King," "Lord of the Dance," "Holy, Holy, Holy," "Joyful, Joyful, We Adore Thee," and "This is My Father's World."