Description
This eBook is a PDF file with live links to the sound files that will illustrate how each song is supposed to sound. 73 pages, 47 exercises and songs created just for the Middle Eastern tuned 17-Note kalimba.
This Middle Eastern tuning makes amazingly beautiful, powerful, exotic music. It is really a journey I can recommend to most anyone. The music you can play in this kalimba tuning takes you around the world in its musical expressions. I find this music to be so beautiful,  I recommend you purchase the download just to listen to the recordings that come with, even if you don't play kalimba.
Special Tuning Required
If your 17-Note kalimba is in the key of C, you will need to slightly modify the tuning. You should find that it is not too difficult to change the tuning of your kalimba to this Middle Eastern tuning. (The Middle Eastern tuning is included as an alternate image above.)
Any 17-note kalimba tuned this way will work with our new ebook, "A Teller of Tales: 17-Note Kalimba in Middle Eastern Tuning." If you can't do this retuning yourself, you can send your instrument to the Kalimba Doctor, and he'll retune it for you. Or you could purchase a new Heart-17 kalimba and get it set up in the Middle Eastern tuning.
Table of Contents
In the accompanying image of the Table of Contents for the Middle Eastern Tuning ebook, you can see that there are a lot of lessons around concepts, about how the instrument is laid out, and what makes it work. There are some actual songs toward the end of the book. You'll know "Hava Nagila," and "Coventry Carol," but you probably don't know most of those songs. They have a different kind of sound that comes from faraway places.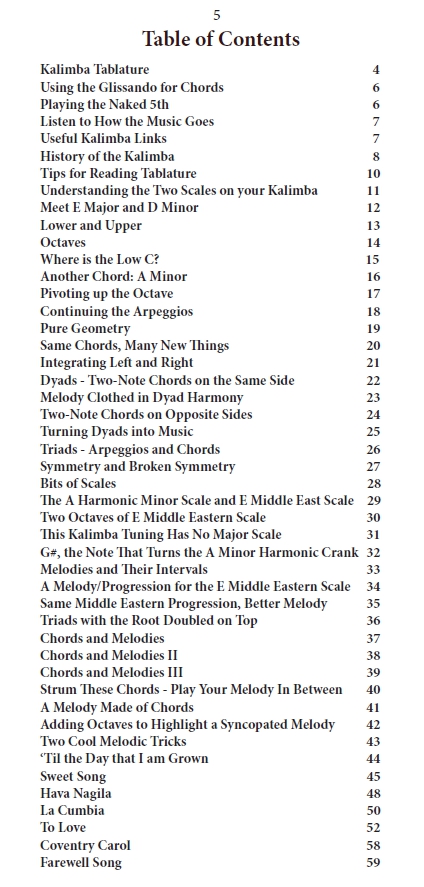 The flip side of the exotic nature of this tuning is that almost any normal song you already know (Jingle Bells? Star Spangled Banner? Home on the Range?) cannot be played in this tuning. Notwithstanding, this kalimba makes some wild and sweet music that you would surely love to play.