Use the coupon code SaveHalfOn10Note to save 50% on the Spiral-10 Kalimba or on the Spiral-9 Box Student Karimba.  Code good through Nov 6 2023.
In case you missed the memo, Kalimba Magic is closing in spring 2024, and we are engaged in the process of selling off our inventory. Each week, we will feature a different kalimba, and offer you significant discounts on them. This week, it is the introductory level 10-Note Kalimba, and also the Spiral-9 Box Karimba that we make from the 10-Note.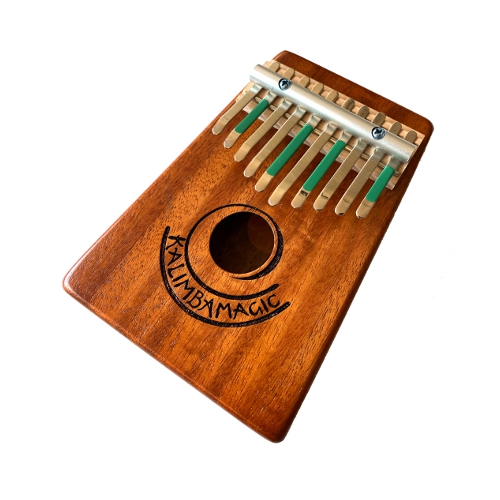 The 10-Note is a bit smaller than the ubiquitous 17-Note kalimbas – but it has wider, smoother tines. There is a lot of music you can learn on this kalimba, and everything you learn on this friendlier kalimba is immediately played on the lower central notes of the 17-Note Kalimba. In other words, it is a great entry level kalimba than will take you right up to the 17-Note kalimbas.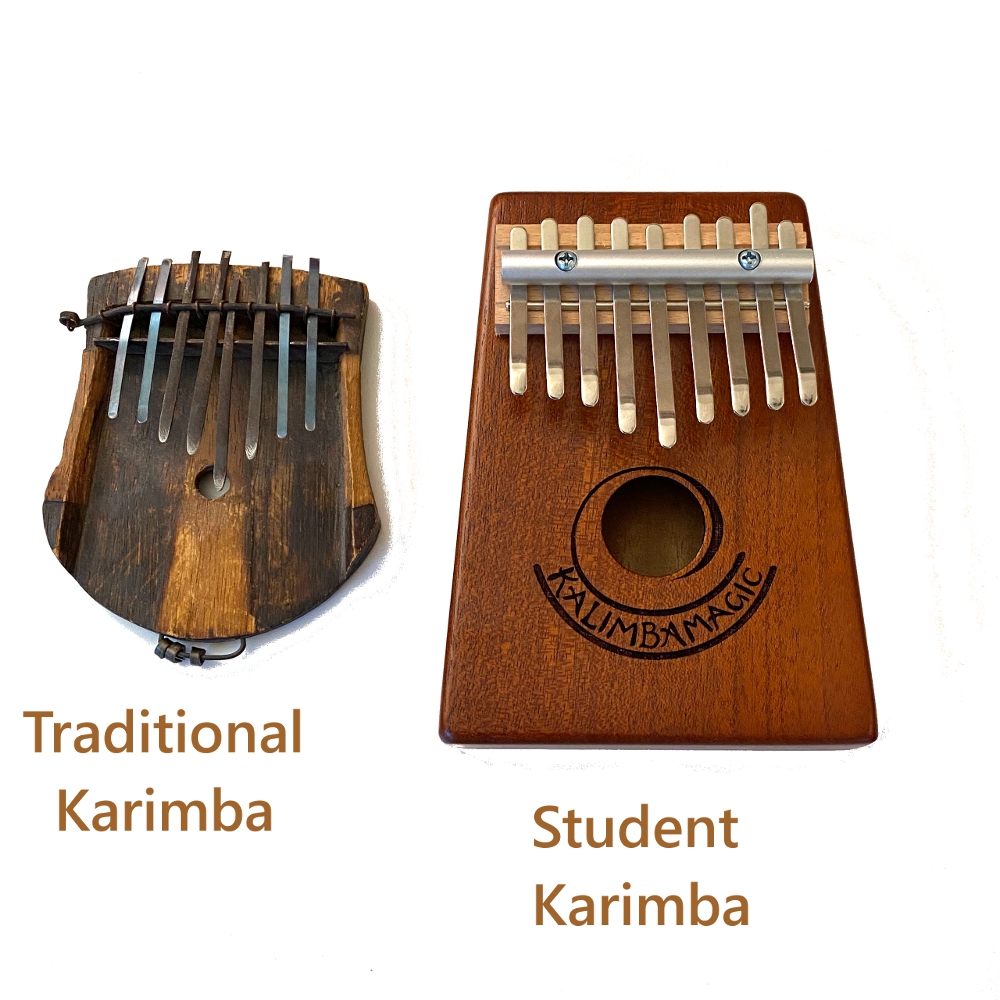 The 10-Note Kalimba is tuned to a western "Do-Re-Mi-Fa-So-La-Ti-Do" scale. If you want to make African music, we can rebuild the 10-Note into this 9-Note African tuning, modeled on what scholars believe is the original metal-tined mbira tuning from over 1000 years ago!  I call this instrument the "Student Karimba", because it consists of the lower row notes of the full African karimba, and is a great place to start learning African music. Andrew Tracey called it both the "kalimba core" and the "original mbira". I have created some really great instructional material for the student karimba:
Do you lack musical experience, or do you lack musical confidence? If so, the 17-Note kalimba might be overwhelming. With fewer tines, with wider, softer tines, and with more space in between the tines, the 10-Note Kalimba is so much easier than the 17-Note kalimba. And everything you learn on the 10-Note can immediately be played on the 17-Note, so all of your 10-Note effort transfers upward.
I like to keep a few of these around for guests of all ages. They are beautiful, fun little instruments.
Are you yourself a kid? I recommend one tine per year of age, so a 10-Note Kalimba would be perfect for a 10 year old. Or probably for an 8 year old, or even a 12 year old.
This kalimba is a go-to gift for children in my life.
There are actually times when I prefer playing a simple kalimba – like when I'm walking and playing at the same time. This 10-Note kalimba fits the bill!
One important milestone in your kalimba playing – can you play accurately without looking at your kalimba? If not, the 17-Note kalimba, with so many tines crammed so close together, might not be the easiest place to learn. But with only five tines per thumb, the 10-Note is relatively easy to learn to play without looking.
I like to leave a 10-Note Kalimba in the bathroom just in case someone needs it.
Oh, and if you only have the use of one hand, this kalimba is actually small enough that you can probably play this kalimba one-handed.
Oh, and did I mention that its already discounted price is now cut in half the with coupon code SaveHalfOn10Note.
Considering there are only ten notes on this kalimba, there is actually a fair bit of music you can play on it.
Are There Books for the 10-Note Kalimba?
I've written two hard copy book for the 10-Note… and there are a couple of books I wrote for the 8-Note which will also work for the 10-Note. And there are several great downloads I wrote for the 10-Note Kalimba. When you purchase the Spiral-10 Kalimba, we through in the "Intro to 10-Note Kalimba in C" book. That one gives you a good idea of what else is available.
Now Available: Hard Copy of "32 Songs for the 8-Note Kalimba"
Kalimba Magic Closing in Spring 2024.
I will be retiring in spring 2024. At this time, Kalimba Magic does not have a buyer, so I am liquidating my stock of kalimbas and books.
I am trying to sell off my inventory at a substantial discount, but in an orderly way that doesn't disrupt the kalimba market. Each week, I will be offering a different kalimba at a steep discount. If I don't run out of that kalimba, I will eventually come around later and offer an even steeper discount. But if I run out of a certain kalimba, I am out of that kalimba, and I won't be getting any more of them. Sorry.
So, I invite you to purchase the kalimba of your dreams now, before they are gone, and before I am done with my business. Or, I invite you to sit around and wait for the deals to get even better somewhere down the line.
Last week's discounted kalimba was the family of chromatic kalimbas, and they are still on sale at 4o% off through October 31 2023 with coupon code Chromatic40.
Kalimba Magic – Since 2005
When I started Kalimba Magic in 2005, I never expected it would end. I was just living my joy, and sharing it with the world. Writing books to show the world how to play, and writing blogs and making videos. Giving lessons and presentations on the kalimba, karimba, and mbira. It was all a blast.
But things change. I cannot persist in the current business climate, dominated by inexpensive Chinese-made kalimbas and cut-throat competition in which my books and website have been pirated to benefit others.
I'm on my way out. I am closing my doors in 4-6 months. We will continue hosting and selling instructional kalimba downloads. We may partner with other kalimba sellers. But we will be done with shipping.
This is a shame, because Kalimba Magic offers a great many unique kalimba styles and tunings, and most of them have high quality instructional materials.  For over a decade, Kalimba Magic dominated the kalimba ecosystem online. But at this point, I cannot keep up.
If you have been intending to get something special that only Kalimba Magic offers, you may want to contact me about that. Sooner rather than later?
It has been a privilege, and usually, a joy, to serve the Kalimba Community. It isn't quite time for "over and out" – but I'm getting there.
Blessings, and Thank You!
Oh, and use the code Else25 to save 25% of everything else we sell at Kalimba Magic. And Else25 will not expire until we close our doors.
Mark Holdaway // Kalimba Magic // Tucson AZ // October 25 2023