This is Perfect for the Beginning Kalimba Player
Get your 10-Note Christmas Kalimba Download Today!
This collection of Christmas favorites has been arranged specifically for the 10-Note kalimba in C.
This 59-page PDF download with clickable links to MP3 files has tablature for 28 different carols. Now that is quite something, really… so few notes and such a huge repertoire! Read on to find my secret technique for expanding the range of this tiny instrument. This book has enough to keep you learning carols each holiday season for years!
Exactly how do we get 28 Christmas songs out of a very basic 10-Note kalimba? By retuning one tine (B to B flat), which turns the C kalimba into an F kalimba. Consider that a lot of songs won't fit on the 10-Note kalimba, for a variety of reasons. By retuning a single tine, a whole class of songs, such as "O Christmas Tree," magically are shifted onto the 10-Note kalimba in F tuning. This is a magical judo move that takes a minimum amount of energy (retuning one note a half step) and gets a maximum result (being able to play 20 Christmas carols that would otherwise be impossible on your 10-Note kalimba).
Look at the Table of Contents from the download and see how many more songs you get with this tiny trick that can take seconds to accomplish. (The red box contains the songs that this kalimba can play without retuning. The green box has all those that you can play after retuning that one tine.)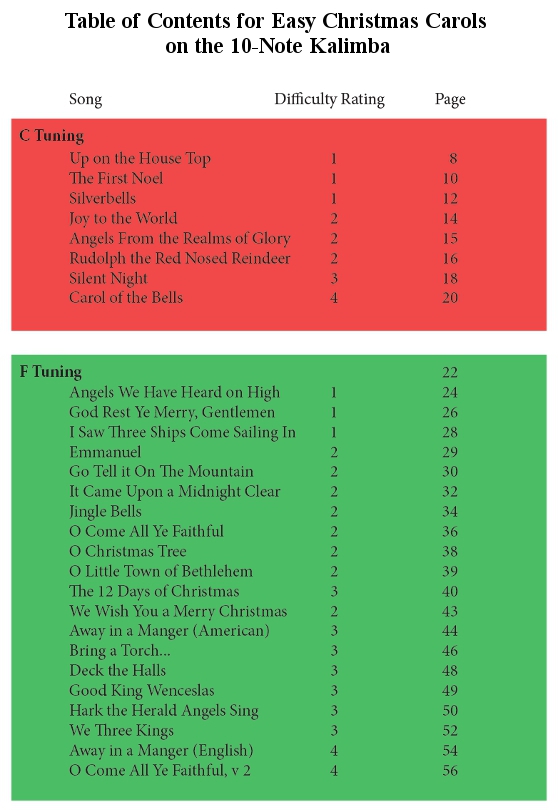 By the way, almost anyone should be able to sit down with this download and play the Level 1 songs on their 10-Note kalimba today. The Level 2 songs should be within reach of most players after a few days of playing. The Level 1 and Level 2 songs are quite simple, and they help you build the skills you will need to take on the Level 3 songs, which have both melody and full chords and should be your goal after a few weeks of playing. The few Level 4 songs have counterpoint – meaning two different melodies at once, which is complicated, and you may get to that point after weeks or months of playing.
And if you still have doubts about playing all these carols on a little 10-Note, watch me work this magic in the video, demonstrating a red (tine-painted) 10-Note kalimba in C Tuning and a green 10-Note kalimba in F Tuning.