We actually have a lot of African music for kalimbas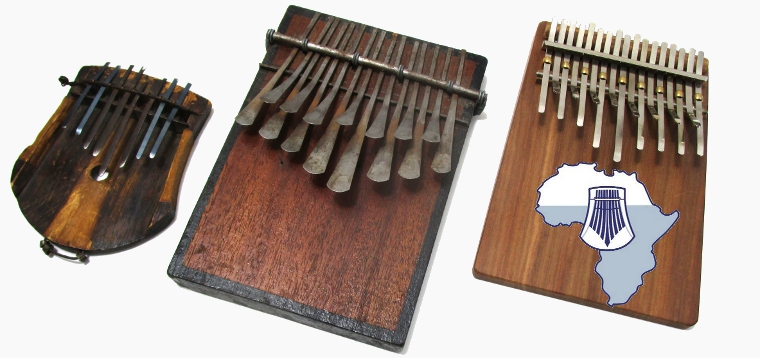 Last week, someone emailed me asking: "I've looked at a lot of your music, and I cannot find the African music! Is there any actual African music for the kalimba?"
The answer is YES! Although admittedly, I do provide a lot of other types of music – Sansula music, folk tunes, Christmas songs, Elvis songs, nursery rhymes, New Age music… and it is easy to get lost. But there is plenty of African stuff here!
'Way back around 10 years ago, I was embarrassed about how little I knew about African music, and how little of it I offered at Kalimba Magic. But now, after a lot of work, learning and playing, all of that has changed, and we actually have a LOT about African music.
Before we look at the materials that Kalimba Magic has on African music (mostly instructional downloads here, unless otherwise noted), the first item below discusses some of the instruments that we will be talking about.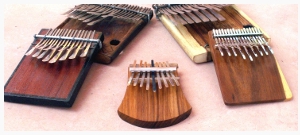 This article gives you an overview of the various instruments that are in the game. Most kalimbas are not at all traditional, but traditional music can be played on them, of course with modifications to make it work. Kalimba Magic offers both traditional music on some traditional instruments, and traditional music on non-traditional instruments, and we translate those songs for the non-traditional kalimbas.Learn More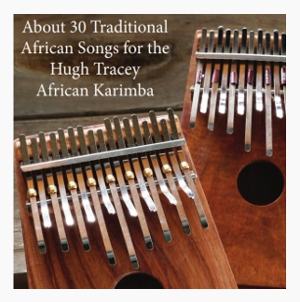 This 74-page PDF contains karimba tablature and links to MP3 and KTabS file downloads for 32 traditional African karimba songs. The music in this collection is really outstanding, and if you have a karimba, you really should have this e-book too! Superior layout and direct links to the sound files makes this single PDF download a joy to work with.Learn More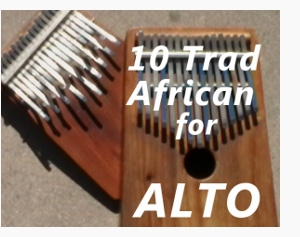 Ten traditional African karimba songs, from the collections of Paul F, Berliner and Andrew Tracey, translated and transcribed into kalimba tablature for the Alto kalimba. This is material from the "About 30 Traditional Karimba" download.Learn More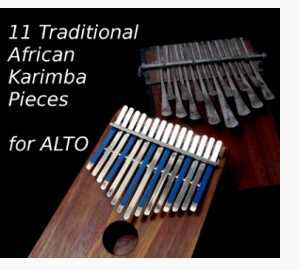 More songs for the Alto when you are done with the first 10.
This download consists of a ZIP FILE containing tablature PDFs, KTabS files, and MP3s for each of 11 traditional African Karimba songs, arranged for the Hugh Tracey ALTO Kalimba in GLearn More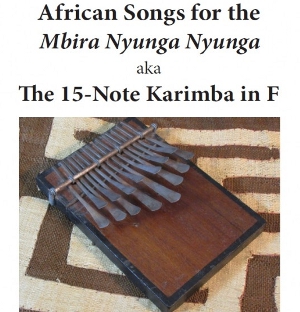 African Songs for the Mbira Nyunga Nyunga (aka the 15-Note Karimba in F) is a 78 page PDF eBook download that has tablature and live links to sound files for 30 different traditional African karimba songs (and other musical examples). Live links to MP3 files make this easy to use from computer, tablet, or phone.
The mbira nyunga nyunga, also known as the Kwanongoma-style karimba, or the 15-note karimba in F, is a very important instrument in the history of African music. Most of the songs in this collection are historically important – from the A.M. Jones 1950 article on the Kalimba, or transcribed from Hugh Tracey's original field recordings, or Andrew Tracey's 1961 paper on the music of Jege Tapera, or the appendix to the second edition of Paul F. Berliner's book "The Soul of Mbira".Learn More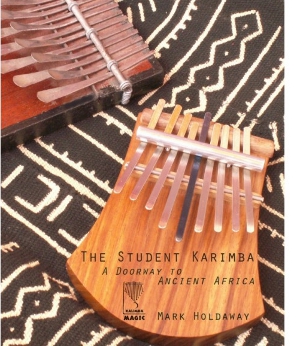 The first book for learning the Student Karimba. Also works for the lower-row tines on the full karimba. 52 pages, CD included.
The 8-Note Karimba is probably very close to the original Africa mbira as it was played 1300 years ago, according to the research of Dr Andrew Tracey. Based on several sources – A.M. Jones' 1950 paper on the Lala Tribe's kalimba in Northern Rhodesia, Hugh Tracey's field recordings from around 1950, songs that Andrew Tracey learned from Yege Tapera, and Paul F. Berliner's tabulated songs in his book The Soul of Mbira – we have deconstructed the music of the mbira nyunga nyunga and recast it into the form it may have taken over 1000 years on the primal karimba (which we call the Student Karimba).Learn More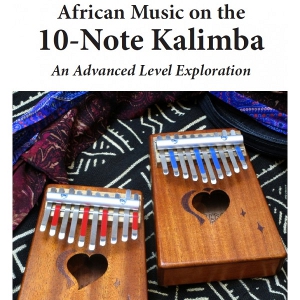 "African Music on the 10-Note Kalimba" is an 82-page downloadable PDF ebook, formatted for your tablet or phone, typically with a four-measure phrase per screen. Live links on each page facilitate downloading the MP3 files that show you how the music goes. All but two of the 18 songs are traditional karimba or mbira songs. A total of 16 learning exercises are included.Learn More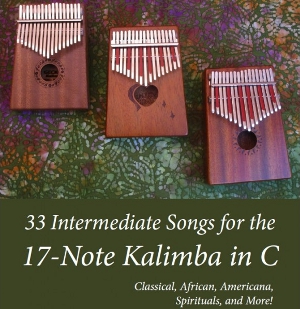 These 33 songs have been neatly arranged into an 82 page PDF eBook download with live links to sound recordings. The songs have been taken from various Kalimba Magic collections and modified for use with the 17-Note Kalimba in the key of C, which is sold under a great many brand names at this time – Donnor, Gecko, Walter, and Heart-17 among others. The collections that went into this download include: Classical, traditional African karimba tunes, Americana and African American Spirituals.
The old 66 Songs ZIP download is no longer available, and has now been replaced by the 44 Beginner Songs PDF download and this 33 Intermediate Songs PDF. Note, the 44 beginner songs are in a 62 page PDF, and these 33 songs fill an 82 page PDF – this points to the fact that these more advanced song arrangements tend to be longer, sometimes 2, 3, or 4 pages long.Learn More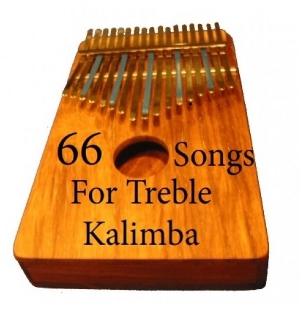 These 66 songs have been taken from various Kalimba Magic collections and modified for use with the 17-Note Hugh Tracey Treble Kalimba in standard G tuning. The collections that went into this download include: African American Spirituals, traditional African karimba tunes, Christmas carols, classical pieces, folk and pop music, Americana and patriotic, and some children's songs.Learn More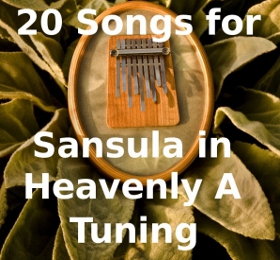 This new and revised product (2017) is a single PDF book that includes all the tablature, descriptions, and tips – and the song names are clickable to take your web browser to the MP3 downloads. There are 20 songs for Sansula in Heavenly A Tuning and the Heavenly A Chord Dictionary with a short explanation of how you might use these chords.Learn More
Sometime between 600 and 1000 years ago in the Zambezi Valley of southeastern Africa – let's suppose during the peak of the "Great Zimbabwe" civilization – an incredible innovation occurred: that primal two-phrase tune pattern evolved into a "four-phrase" pattern. This innovation was momentous. Doubling the length of the original two-phrase cycle had the effect of expanding the possibilities of the music by far more than a factor of two. This four-phrase musical structure is the essence of the sound of the mbira. It is one of the pinnacles of African music, culture and intellect.
In this post I will impart my conceptualization of an essential African musical form to you, and will start with the basic chord progression common to a lot of four-phrase mbira music. This harmonic understanding, which can be applied to any instrument, will be demonstrated on guitar in the keys of G and A.Learn More

Sometime between 600 and 1000 years ago in the Zambezi Valley of southeastern Africa, something amazing happened – four-phrase mbira music was born.
In this post we begin analyzing how new songs can be created within this four-phrase system. One way is to start the song at different places in the cycle. We show you two common places to start, and illustrate the differences in the music.Learn More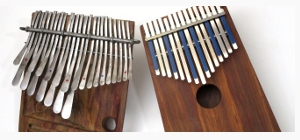 Americans get very little exposure to African music. For the last ten years, I have been slowly moving toward getting to know, and understanding, African music, with the goal of being able to (someday) play African music on my kalimba.
In this post, I show you step-by-step how to play a cool yet simple traditional African progression on the Alto kalimba.Learn More