Resources For the 17-Note Kalimba in C
08 February 2019
Resources For the 17-Note Kalimba in C
Everything we have that will work for your 17-Note Kalimba in C
I have recently written some great eBooks for this kalimba. These books use kalimba tablature, which is easy to read and very expressive. In addition to tablature and recordings for each song, these eBooks offer insights into how to read the tablature, how to tune, the kalimba's history, how to accomplish the various moves you need to make on your kalimba, and more. Everything you need to have a wonderful kalimba ride!
Says one recent customer, after she purchased our instructional downloads:
"Mark, I am already practicing the songs and love it. I've never played anything in my life and now at almost 70, I am living a dream! Thanks to you."
The eBooks are all single PDF downloads which you can view on your phone or in iBooks. They all have live links to MP3 files, so you can hear me playing the song, and you will know exactly how they are supposed to sound. As you learn the song, you can even play along with me!
Books for the 17-Note Kalimba in C
Finally! A hard copy 62-page book with downloadable MP3 files for each song! This is the exact same material as the 44 Songs download. This is a great way to learn to play the 17-Note Kalimba in C. Contains children's songs, "Shenandoah," "Beautiful Dreamer," "Ode to Joy," "You Are My Sunshine," "God Bless America," "Nobody Knows the Trouble I've Seen," "My Country 'tis of Thee," and much more.
eBooks just for the 17-Note Kalimba in C
This is a 62-page, PDF eBook with live links to MP3 files for each song. This is a great way to learn to play the 17-Note Kalimba in C. Contains children's songs, "Shenandoah," "Beautiful Dreamer," "Ode to Joy," "You Are My Sunshine," "God Bless America," "Nobody Knows the Trouble I've Seen," "My Country 'tis of Thee," and more.
This 82-page PDF eBook is a delightful way to learn to play the 17-Note Kalimba in C. It starts out with simple melodies and progresses by adding more harmony notes as you make your way through the book. 28 songs (there are multiple versions of some songs). You likely have known most of these songs since you were a child: "Silent Night," "The First Noel," "O Christmas Tree," "Jingle Bells," "O Come All Ye Faithful," "Deck the Halls," "Away in a Manger," "Carol of the Bells," and more.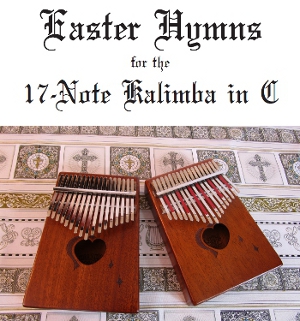 Easter Hymns for the 17-Note Kalimba in C
An 39-page, PDF eBook with live links to the MP3 files. Each of 12 songs are presented in both a basic version and an advanced version. The basic versions tend to be melody-only, or with a little bit of harmony. The advanced versions have full harmony, counterpoint, multiple melody lines, etc - that is, enough to keep you busy for many Easters to come. Includes: "All Creatures of our God and King", "Lord of the Dance", "Holy, Holy, Holy", "Joyful, Joyful, We Adore Thee", and "This is My Father's World."
An 82-page, PDF eBook with live links. This is a great next step for learning the 17-Note Kalimba in C after you have worked through most of the "44 Beginner Songs" or "Easy Christmas Carols" eBooks. Songs include "Bach's Minuet," "Finlandia," "Jesu, Joy of Man's Desiring," "Shumba Panzira," "Chemtengure," "Suwannee River," "Wayfarin' Stranger," "We Shall Overcome," "Hard Times Come Again No More," "Marine's Hymn," "De Colores," "Swing Low Sweet Chariot," "O Danny Boy," and more.
eBooks for the 10-Note Kalimba in C
What if you are finding the 17-Note resources to be too difficult? Turn your 17-Note kalimba into a 10-Note kalimba! (Just conceptually, so you can go back to 17 when you get good at playing on 10 notes.)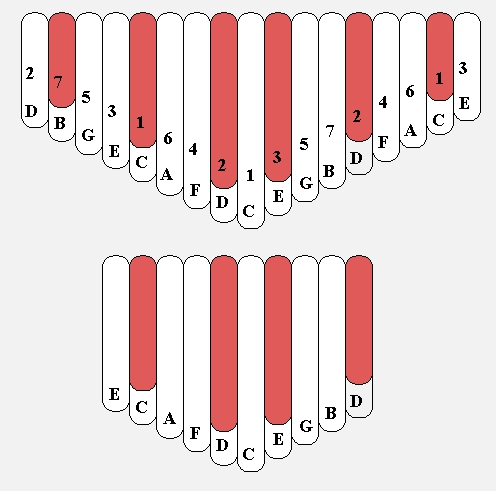 In addition to the materials explicitly written for the 17-Note kalimba in C, you can also use any of the materials for the 10-Note kalimba. The notes of the 10-Note kalimba are the exact same notes as the lowest, central 10 notes of the 17-Note kalimba. With our painting scheme, the painted tines on the two instruments line up.
Some people can jump right into the 17-Note Christmas Carols (which start out pretty easy) and the 44 Beginner Songs (which also start out easy). Some people have trouble with these 17-Note resources and need something simpler to get them started. If this sounds like you or the person you are gifting a kalimba to, you should check out our 10-Note materials. The "Fun and Games" starts out very simple, with numbers-based instruction, slowly leading the user into tablature.
This book teaches kalimba through three different modalities: (1) Games and fun activities that permit the student to explore the structure of the kalimba and music on their own, making great sounds and having fun along the way. (2) A numbers-based tablature system that teaches simple well-known songs with numbers above the words that correspond to numbers marked on the kalimba tines. (3) The full kalimba tablature system that is used in the other books. In other words, if you really know nothing about music, or if you have found the tablature in the other download books to be too difficult for you right now, start here for success. 32 pages, downloadable MP3s.
This ebook explores what the 10-Note Kalimba is and the kinds of music and patterns you can make with it. It has a few scales, a few chords, a few songs you know, a few songs you don't, several challenging exercises to get your left and right thumbs working together, and a bunch of cool patterns that are both remarkably easy and really good-sounding. 58 pages, with downloadable MP3s, formatted for tablet computers.
It just so happens that the 10-Note Kalimba can play a lot of traditional African music. With it you can play the full repertoire of our Student karimba (which is Andrew Tracey's hypothesized "original mbira"). Additionally, a few of the easier mbira songs can be further simplified to fit convincingly on this tiny monster of a kalimba. These songs will challenge your concept of music and your concept of African music, break you out of the complacency of playing simple alternating left-right patterns, and introduce you to the mind-blowing melodic, harmonic, and rhythmic genius of the African mind of a millennium ago.
Books and Downloads for the Alto Kalimba in G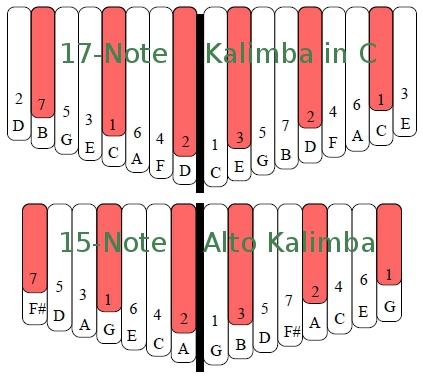 And the icing on the cake - you can also use any of the instructional resources for the 15-note Hugh Tracey Alto Kalimba in G to teach you to play songs on the 17-Note Kalimba in C. How does this work? Look at the diagram (not drawn to scale - even though the Alto has fewer notes, the tines are larger and the Alto kalimba is wider than the 17-Note). The 17-Note kalimba has a low note of C, and the Alto kalimba goes lower, down to G. Their keys are different. But in terms of the 1, 2, 3, etc - the degree of the scale - the kalimbas are organized in the same way! And the tine painting is identical. Any song that you can play on the Alto can be played with the exact same thumb motions on the 17-Note kalimba. It will be higher - which means you cannot play along with the Alto recordings as they are in a different key. But you can listen to the recordings, and then follow the Alto tablature on your 17-Note kalimba.
Learn More about Alto Kalimba Books
You will notice that every third tine on the kalimba is painted. When we ship kalimbas, we paint them with the color of your choosing, and we make sure we paint the right tines to help you follow the tablature. If the tines on your kalimba are not painted, you can color the six indicated tines with a Sharpie marker, you can apply the decals that probably came with your kalimba, or you can paint the tines with protective enamel paint. Be careful not to let any paint leak over the edge and get under the tine and onto the bridge, as this will deaden the tine vibrations. If that happens, lift the tine up off the bridge and remove the wet paint with a Q-tip, or scrape the dried paint off with an Xacto knife. By the way, in the video below, the tines are colored with Sharpie marker, which comes off easily with alcohol wipes.