It has been many weeks since our last Kalimba Magic newsletter. I have been working very hard on a number of fronts, and I am very pleased to inform you of some of our recent accomplishments and offerings, many of which can benefit you. Check and see!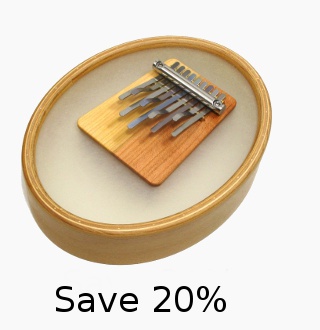 Now through March 22, 2017 you can save 20% on any Sansula, Sansula case, Sansula instructional book or download, or any Hokema kalimba!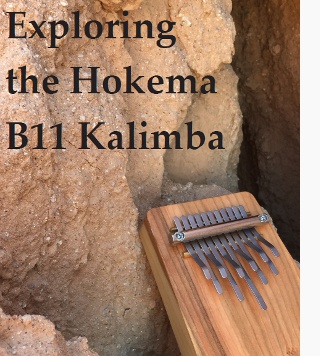 This is what one enthusiastic customer had to say about the new Hokema B11 "Melody" Kalimba:

"The B11 is like my dream kalimba! I LOVE it! The extra notes are just what I wanted, the tone is beautiful and it's easy to hold and play with my small hands. The B11 is far and away my favorite kalimba, ever."

Part of why this happy customer is enjoying her experience with the B11 so much is that she also bought the new B11 book:

"Thank you very much for writing the wonderful Hokema B11 book – it's got some fun pieces in it."

The B11 and its book make a great package together!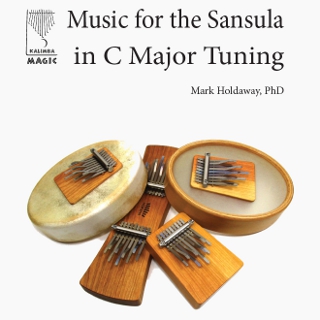 We have updated the instructional downloads for three different collections for the Sansula in different tunings:
Music for the Sansula in C Maj Tuning
Each of these downloads is a single PDF file with live links – that means if the book suggests you look at a web page on learning to read tablature, or you want to hear how one of the songs in the book sounds, just click on the web URL or the song title, and your web browser will magically be transported to the Kalimba Magic site, where you will learn about tablature or hear how the song should sound. These improved instructional downloads should streamline your sansula learning experience.
If you have already bought one of these Sansula downloads, you likely can still download the new file on your existing order – assuming you can find the email invoice with the download link. If you cannot, feel free to contact me and let me know you purchased the download in the past and you would like to get the updated PDF.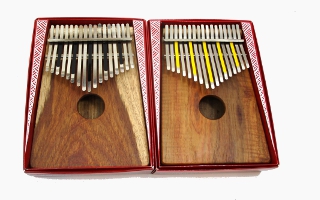 When Hugh Tracey started making kalimbas in 1954, he implemented a clever tine-painting scheme to help kalimba players keep their place on the instrument. He painted every third tine with the idea that these painted tines would serve as signposts to players who would not get lost so easily and could integrate the painted tine locations into their playing.
In 2005, Kalimba Magic started printing kalimba instructional books that leveraged the painted tine idea. The tablature is a map of the kalimba. The columns on the tablature each correspond to a tine on the kalimba. Notes are placed on the diagram's columns, indicated which notes should be played. We shad the columns in the tablature that correspond to the painted tines, helping the player transfer the notes from the tablature to the kalimba in their hands.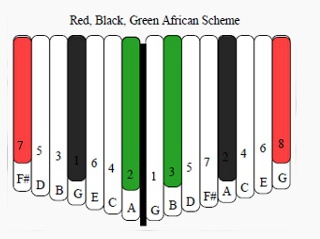 For a few years, we have been painting the kalimba tines ourselves. Originally we offered red and blue, and then added green and white. Now we are adding two new colors – black and yellow.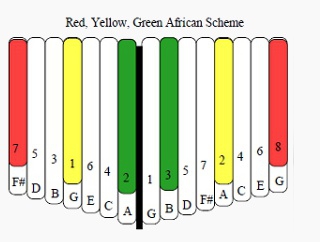 Bringing black and yellow into our tine colors permits us to make some classic African color schemes on the Alto and Treble kalimbas: the red, black, and green scheme, and the red, yellow, and green color scheme. You can select these exotic color schemes for a Hugh Tracey kalimba by selecting "Custom Paint" on tine color, and specifying the exact colors in the comment field.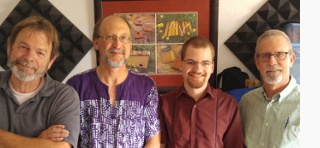 In 2016, Dan Kruse from Arizona Public Media (AZPM) made an informative kalimba segment for KUAZ public TV.
A few months ago, in a blog post about Dan's show, I put out a challenge: "What kalimbas are shown in the first 30 seconds of this video?"
The winner of the challenge is Margo Williams of Los Angeles – she named just over half of the kalimbas correctly. Congratulations, Margo!
Here are the various kalimbas in the video (there were actually two in the left-to-right panned scene at 13 – 15 s that I myself couldn't figure out):
00 – 09 s Hugh Tracey Alto Kalimba
10 – 11 s Close up: Goshen 8-Note Kalimba
11 – 13 s Close up: Catania Decorative 12-Note Kalimba
13 – 15 s Left to right: Catania decorative Afroharp, Goshen 17-note karimba,
Goshen Box Student Karimba, Hugh Tracey 11-note box pentatonic, Catania 12-Note, Hugh Tracey
Bb Treble, rustic 8-Note Student Karimba, 2B/14L Kalimba, 2B/9 Kalimba
15 – 17 s Close up: Goshen Lotus Kalimba
17 – 18 s Close up: rustic 8-Note Student Karimba
18 – 19 s Close up: old 2B/9 Kalimba
19 – 20 s Close up: Ugandan Akogo Kalimba
21 – 22 s Close up: vintage Afroharp
22 – 23 s Close up: rustic 15-note Karimba or Nyunga Nyunga
24 – 25 s Close up: Catania 12-Note Kalimba
26 – 30 s Hugh Tracey Alto Kalimba
View the AZPM Video on the Kalimba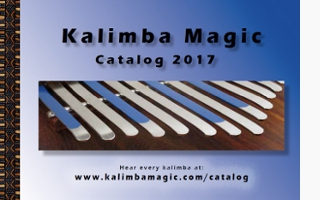 I am very happy to present the (long awaited, by me at least) 2017 Kalimba Magic catalog. The last catalog we made was in 2010, and you can probably figure out that making kalimba catalogs is not as much fun for me as writing kalimba books is!
I invite you to check out this catalog. You can either download a PDF of the catalog, or request a (free) hard copy of the catalog. All new kalimba orders of $10 or more will have a hard copy catalog included, and we will also go back through the last 1000 orders and ship a catalog those customers.
Get Your Kalimba Magic Catalog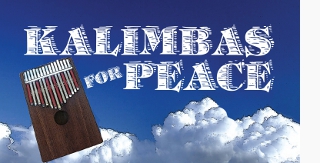 Several years ago, I made up the "Kalimbas for Peace" bumper sticker, gave away a few thousand, and then ran out. Lately, I've been thinking it is time to print another batch.
Historically, about 35% of our sales ship to overseas. However, over the 30 days after Mr. Trump was inaugurated as the 45th president of the United States, international kalimba orders fell to about 10% of sales.
This precipitous drop in international sales is understandable – Mr. Trump's extreme rhetoric so far has done little to inspire or reassure the rest of the world. However, I would like to add that while it's true that Mr. Trump is my president, he does not represent my views and he does not speak for me. I endorse a world where people seek to work together in peace. I endorse a world that correctly recognizes climate change as our biggest challenge, one that must be addressed cooperatively and immediately.
The event that led the way to Kalimba Magic's founding in 2005 was a vision I had of a million kalimba players bringing peace into their lives, their homes, and their communities by playing peaceful, joyful, beautiful music. Shortly after I started Kalimba Magic, I introduced the kalimba to a couple of friends. After we played kalimba together for about an hour, one friend said: "Wow! If everyone did this, there would be no more wars." And that, precisely, is my hope.
If you sign up for the Kalimba Magic email newsletter, I will mail you a "Kalimbas for Peace" sticker. I will ship a peace sticker with each kalimba ordered, until we run out. Or you can request one by clicking the Contact link below and including your mailing address.
Give me your address and get a Kalimba Peace Sticker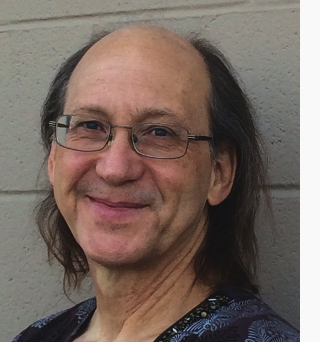 Over the last five years, I have packed only a small fraction of the kalimba packages that were shipped out from Kalimba Magic. I had plenty of help from Jordan McGary. I spent most of my time writing kalimba music and kalimba books, and marketing the books by writing newsletter articles and giving away some of the music. In other words, I got to have a lot of fun for the last five years.
Those halcyon days of primarily being a kalimba creative have temporarily drifted out of sight, and I have taken up my old "day job" – I am again working as head kalimba packer. This means, hopefully, that your orders will continue to be filled with precision, your kalimbas tuned to my highest standards, and that I will use my extensive kalimba wisdom to help refine your order in other mysterious ways. On the other hand, if there is something incorrect about your order, you will know exactly who to talk to!
I must admit, I have taken well to this transition back to a day-job-working man. With each order, I ask myself how I can pour love and light into the kalimba, into the cards or books that are included, and into the box.
For over 30 years, I have derived great joy, insight, and entertainment from my experiences with the kalimbas, and my aim, in all ways, is to continue to open the doors of that joyful experience to you, my kalimba clients.