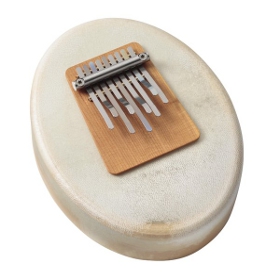 "I love Mark's Kalimba Magic's kalimbas. I own one so far (Hokema Kalimba Sansula Deluxe) and I'm eyeing more to come. I am fascinated by this instrument ever since my teen years spent in DR Congo and Burundi, Africa. My brother and I had a couple of them made by local artisans. Today it means SO MUCH to have someone such as Mark caring for kalimbas and helping them find new owners! This instrument will bring true peace and inspiration to your day. Just one strike and I can step deep within myself, connect with the world around, in a very special way. Mark's kalimbas are spread with love. He is such a great person. I had many questions prior to buying my kalimba and Mark took his time to answer them over the phone. His kalimbas are of the highest quality and his passion for this specific sound is highly inspiring. Check out his books, he breaks it down so clearly and thoroughly. Thank you for all you do Mark!
– Faye, 2022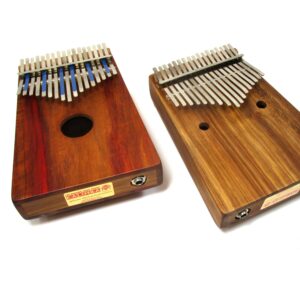 "I first found out about Kalimbas from a video by you on YouTube & was immediately enchanted. I was in 8th grade, & had to wait 4 more years before I got one. They weren't many sold in my country. Even though I didn't have one at the time, I devoured all the information on the website, & attempted to make a kalimba of my own. I've signed up for the newsletter on 3 different emails & the blog has really helped me on my journey. Kalimbas are magical & I don't know what I'd have done without Kalimba Magic. So far, I've bought a Hugh Tracey Chromatic, a Hugh Tracey Lotus Kalimba, a B9 Sansula, and 8 instructional downloads. I am extremely satisfied with my purchases. Each kalimba sounds so clear & there are no buzzing tines. The highest tines resonate too. With all my heart, thank you for being here!"
– Abisha, 2022
"Hey Mark!   I am writing to tell you about our experience. I discovered kalimbas when my developmentally disabled daughter was in a special preschool. The teachers had "thumb pianos" for the children to soothe themselves with the sounds and the sensory input of strumming. My daughter was often extremely agitated and explosive when overstimulated or frustrated. One day I arrived at preschool to hear the most beautiful soft sounds and find my daughter so calm and relaxed! I immediately found your site and my mom ordered several kalimbas for our kids and my nephews. My daughter has used your kalimbas all these years (she is now 17) to calm her nervous system and express her creativity.

Soon after, I bought one of your tablature book and a bigger kalimba for myself and for the first time in my life I am musical! The layout really makes sense to my brain. I struggled through years of piano lessons, but it was always so hard to translate the staff to the keys. I can easily follow the tablature and enjoy playing a real song on my kalimba without even practicing first. I wish you had more songs written for my kalimba. My husband is musically inclined and creates the most beautiful songs off the top of his head. Our kids like to play kalimbas and it is lovely for the whole family — unlike plastic "music" (noise) makers that grate on everyone's nerves. I am thankful for you and your business."
Take care,
Rochelle, 2022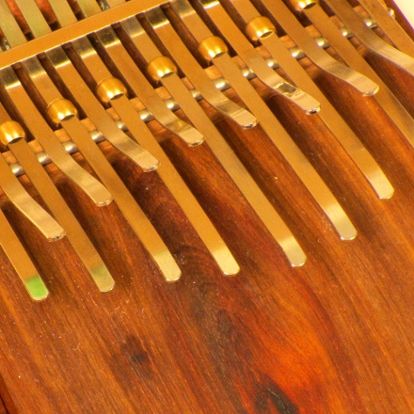 Dear Mark,

I want to let you know that I've personally acquired 7 kalimbas/karimbas from your wonderful business over the past 5-6 years. These instruments are among my best friends.

I use these in certain plant ceremonies, and their sonic capability to move energy & touch the heart of participants has been quite truly mind boggling. It has opened doors for so many people, including myself. Really, I know of your profound connection to these instruments – it has been nothing short of astonishing for myself over the past 6 years of playing.

I've ALWAYS told people about your website. I've really tried to spread the word over the years. I find that you carry the highest quality of instruments, information, and host an all-things-kalimba website. It's amazing.

I had no idea that your business was struggling. I would love to help you in any way I can. I will certainly be acquiring another instrument, that's for sure.

I just really want you to know how much this website has meant to me. Your work, spreading this instrument out to the world, has quite honestly rippled through hundreds of people here in Canada and touched their hearts.

I used to run a float tank centre called "Zee Float" you could find it online. My friend is the owner, and we are planning on hosting a soundscape journey bi weekly. There is a lot of call for it there. I will be sure to spread the word even more for your website, as these instruments will be certainly part of the journey.

God Bless you and yours…and this business…and this instrument. May you find abundance. Bless your heart. Sending all my Love.
Luz y amor,
Evan, 2022