Free tablature for "Chaminuka," for A-17 or F-15 instruments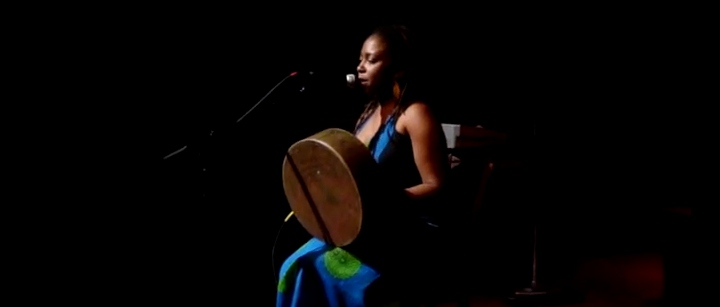 We have featured the music of the late Chiwoniso before at Kalimba Magic.  Chiwoniso was a talented and charismatic singer and karimba player (which she simply called an mbira). She was also the daughter of Dumisani Maraire (Dumi), who is credited with bringing both the marimba band movement and the karimba to America, starting around 1968.  Dumi was educated about music at the Kwanangoma School of African Music in Bulawayo, Rhodesia (now called Zimbabwe). Chiwoniso grew up traveling with her father and learning African music, between Zimbabwe and Washington state.
I am happy to bring you yet another of Chiwoniso's songs – featuring her gorgeous playing and singing – in tablature for both the A-17 and F-15 karimbas – along with my analysis and speculations on this music.
What you are hearing is the video at the bottom of this article presenting the beginning of a concert given by Chiwoniso. The sound makes it a bit tricky to understand her spoken words, but she is discussing her instrument and its history, and she also introduces the song "Chaminuka", which she named after a great prophet, seer, and healer in the history of the Shona people, who foresaw the coming colonization of their land and always preached love and understanding of each others' differences. (He must have had premonitions of great violence and sadness, things that seem to have been universally experienced when a civilization was invaded and taken over by another.)
 Take a look at the video and note the big circular wood resonator – like a gourd deze for an mbira. This is the type of resonator that was first made and popularized by the Kwanangoma School for African Music. I met people at Zimfest (the Zimbabwean Music Festival near Portland, Oregon) who told me that Chiwoniso played mbira dzavadzimu, but I question this assertion. Her father Dumi did not play mbira dzavadzimu, but the 15-note mbira nyunga nyunga which he learned at Kwanangoma. The mbira nyunga nyunga is essentially the same instrument as the Hugh Tracey African Karimba, however the nyunga nyunga is usually in F, and the Hugh Tracey karimba is in A.
This recording – and all others I have heard from Chiwoniso – is played on a 15-note nyunga nyunga. However, Chiwoniso's instrument is tuned to F# rather than the standard F (which was used at Kwanangoma and also by her father). I presume that she tuned to F# instead of F because she felt it was a better key for her voice. (Amazingly, as little as a half step (the interval from F to F#) can make a big difference for singers.)


The basic riff to Chiwoniso's song "Chaminuka", arranged for the 15-note karimba in F, also called the mbira nyunga nyunga. Click to download the PDF.
Listen to KTaBs play the above tablature of Chiwoniso's "Chaminuka" on the F-15 Karimba
Another thing I notice: she calls the instrument an "mbira," not an "mbira nyunga nyunga," and not a "karimba". Her father Dumi invented the name mbira nyunga nyunga for the karimba – I suspect that he did this to help people associate his karimba favorably with the mbira dzavadzimu, which Dumi could not play, but it was more popular in the USA. That Chiwoniso simply calls the instrument an mbira is fine, as "mbira" can be used as a generic name. However, as Chiwoniso traveled extensively in Africa where the nyunga nyunga name is generally not used, her use of the name "mbira" and not "nyunga nyunga" seems to be a nod the African nomenclature.
In Chiwoniso's spoken introduction in the video, it almost sounds as if she could be quoting basic information I have seen on the internet. This indicates to me that Chiwoniso likely did not have the same close cultural connection to this instrument that others who grew up with it in Africa may have developed. She had what she learned from her father Dumi, who died far too young in 1997; thus she probably did learn more about the instrument from other sources.
Last month, we published a blog post about the song "Kukaiwa," which is in the "About 30 Traditional Karimba Songs" download and book. This may be a traditional song, but at least at the Zimfest Zimbabwean music festival (2016), it was presented as a song written by Dumisani. Anyway, if you listen to "Kukaiwa," you will see that it is very similar to Chiwoniso's "Chaminuka," which I believe is Chiwoniso's original composition, with music derived from the melody of her father's song "Kukaiwa."
Also of interest: "Chaminuka" is also the name of an mbira dzavdadzimu song which is totally different from this karimba song. I am pleased to present you tablature for the mbira version of "Chaminuka" in another contemporaneous blog post.


The basic riff to Chiwoniso's song "Chaminuka," arranged for the 17-note karimba in A. Click to download tablature PDF.
Listen to  KTaBs play this tablature of Chiwoniso's "Chaminuka" on the A-17 Karimba