The recent kalimba craze has been fueled by a huge influx of Chinese-made kalimbas over the last 4 years. These kalimbas have made so extreme a mark on the world that a great many people incorrectly believe the kalimba to be a Chinese instrument.
Nope! The earliest kalimbas were made in Central Africa, around present-day Cameroon, about 3000 years ago. The first metal-tined instruments were made about 1300 years ago, in present-day Zimbabwe. And, since 1954, the Hugh Tracey kalimbas have been made in South Africa.
Please, I invite you to meet the team of South African workers at African Musical Instruments (AMI) in Grahamstown, South Africa.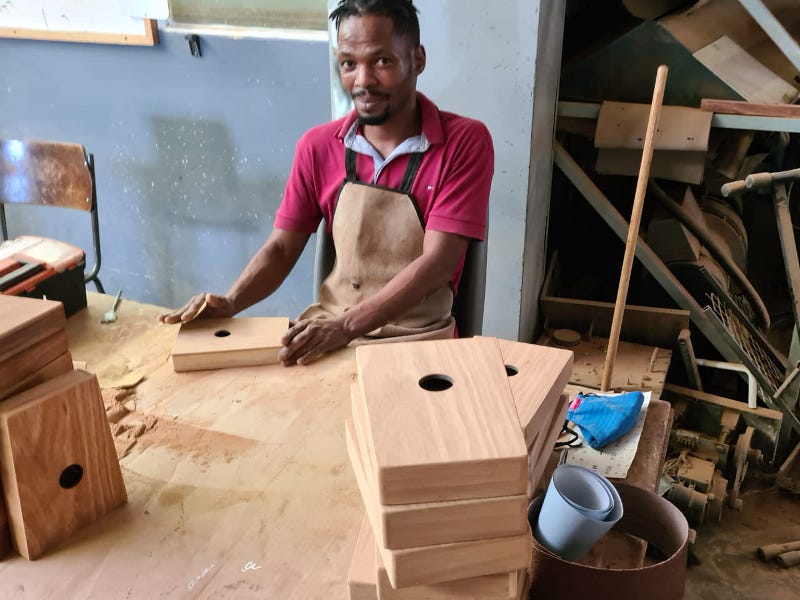 Vuyolethu (Vuyo) Ntleki has been with AMI for 5 years. He is interested in electronics and personal fitness. He is working on his kalimba skills, but is more focused on playing marimbas.
The kalimba wood is Kiaat, but the color looks lighter because the instruments are being sanded, and they have not yet been sealed and polished. The wood also darkens over time due to exposure to UV light and oxygen. AMI has a reliable source of premium kiaat wood, with owners who understand our need for really dry timber. If the timber is really dry, the kalimbas are less likely to crack.
Tino joined AMI 2 years ago. He has excelled at kalimba tuning, and is highly motivated to become fluent playing kalimbas, as well as marimbas.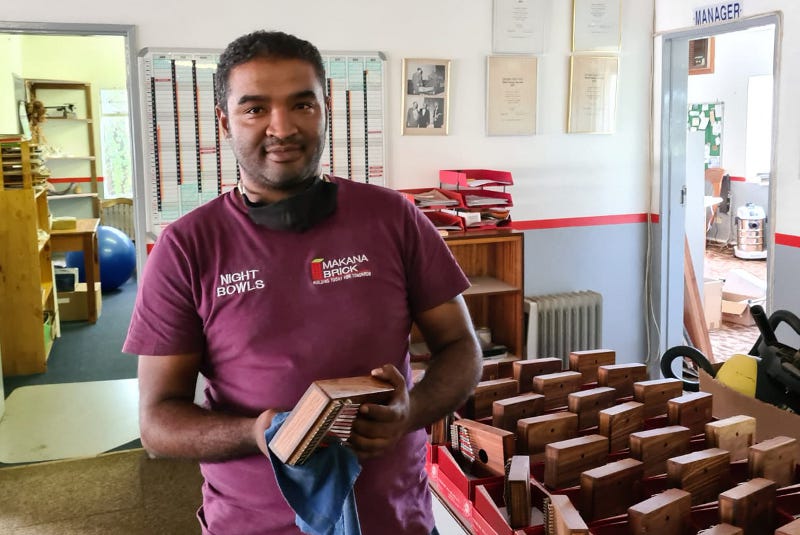 Luke is the latest addition to the team, joining AMI a year ago. He has wide artisanal experience in both wood and metal working. He is very musical, but has not grown up making music. Once again, marimbas are what he gravitates towards.
None of the kalimba team are specialists. Each of them is skilled in all aspects of kalimba production. Each member of the team has willingly taken on new methods and technologies, and have enthusiastically embraced the drive towards zero defects and total customer satisfaction.
I am leaving out one important member of the kalimba team: Christian Carver, who has worked at AMI for over 20 years, and who now owns the company that makes the Hugh Tracey Kalimbas. He has done most of the work refining the instrument design and streamlining and improving the processes by which the Hugh Tracey Kalimbas are made, by hand, in Africa.
AMI, in Grahamstown, South Africa, puts most of their effort into making marimbas for marimba bands all across southern Africa. However, they still produce the Hugh Tracey Kalimbas, to the betterment of the world.
And if you think that the Hugh Tracey kalimbas look just like the inexpensive Chinese kalimbas, that is because the Chinese kalimbas are modeled on the 17-Note High Tracey Treble kalimbas. Even though the Hugh Tracey kalimbas cost more, they are definitely worth it in my book.
---
You can learn more about the history of the kalimba here.
Here is a PDF kalimba history presentation appropriate for beginning a class discussion during Black History Month.
And of course, one way to bring a piece of Africa into your life is by getting a Hugh Tracey Kalimba of your own.