Save 25%, New Products, New Tunings, and New Services

We have a 25% discount coupon code for some of our most popular non-electrified kalimbas.
We have a new middle eastern tuning for the Alto kalimba and some great new paired tunings for playing Pentatonic and Alto kalimbas together.
We have new kalimba accessories.
And for the holiday season, we're offering gift wrapping service with kalimba purchases.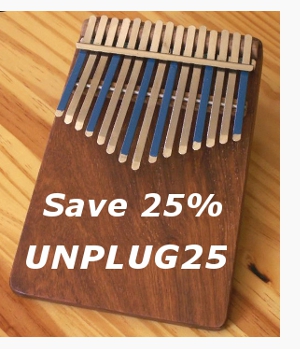 Now through December 5, 2017 you can save 25% on select Hugh Tracey kalimbas without electrical sound pickup jacks using the coupon code UNPLUG25.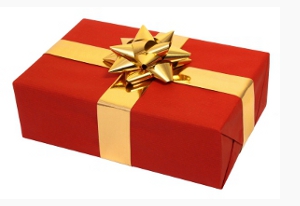 When you purchase a kalimba as a gift this season, you can add gift wrapping for only $5. Several choices of gift wrap color are available.
Gift wrapping is a separate service under Accessories.Learn More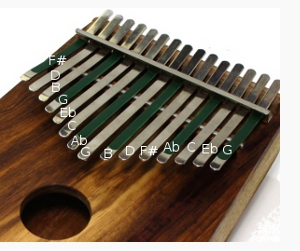 This funky-cool middle eastern tuning is now available on the Hugh Tracey Alto kalimbas.Learn More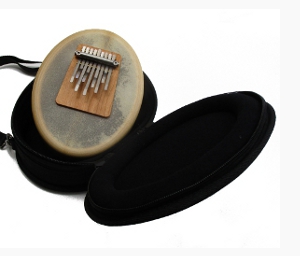 Hokema now has a bag for Renaissance or Deluxe Sansulas that is handsome, well-made, and feels great too. This black bag is padded in the places that count and is custom fitted to perfectly hold and protect your Sansula. The bag has a quality zipper and an adjustable shoulder strap. Available now for $60.Learn More
This little implement is useful in helping you tune your Sansula or other kalimba. Made of sturdy metal, it has an indented end that fits nicely on the end of a tine. You can either push the tool with your fingers, or you can tap the tool with a small hammer to move the tine in or out to tune it.
Yes, this is a glorified version of my plastic Pilot G-2 pen – which I use by retracting the pen tip and using the plastic pen frame's end to move the tine. You may prefer to use metal, especially if you like to tap with a hammer.
By the way, the Sansula Tuning Tool also works very well for Hugh Tracey Treble or Alto tines.
My personal tuning habits:
for kalimba tuning, I mostly push the tuning tool with my fingers. When tuning the mbira, I mostly tap the tuning tool with a hammer, and the metal tool transmits the tapping to the exact right tine. On Sansulas, if you first loosen the bolts, pushing the tuning tool with your fingers works better. If you don't loosen the bolts, tapping works better. Available now for $18.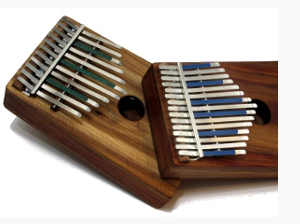 The Box Pentatonic comes in a standard tuning of G major pentatonic, and the Alto kalimba comes in a standard tuning of G major. In their standard tunings, these two instruments go great together.
An alternative tuning for the Box Pentatonic is the G minor pentatonic scale – which goes great with the Alto when it is tuned to the G minor scale. There are also some instructional resources for both of these – the second half of the book "Playing the Sansula" deals with G minor pentatonic, and there is a new instructional download for the Alto in G minor.
And the Box Pentatonic can also be tuned to the Francis Bebey F7 exotic tuning. The Alto kalimba, when tuned down to F (along with having its two E tines tuned down to E flat) goes perfectly with the F7 pentatonic tuning. This new tuning pair is illustrated in a new video we just posted in the Kalimba Magic Blog.