A new sound. Inner peace. Mind-blowing and heartwarming responses.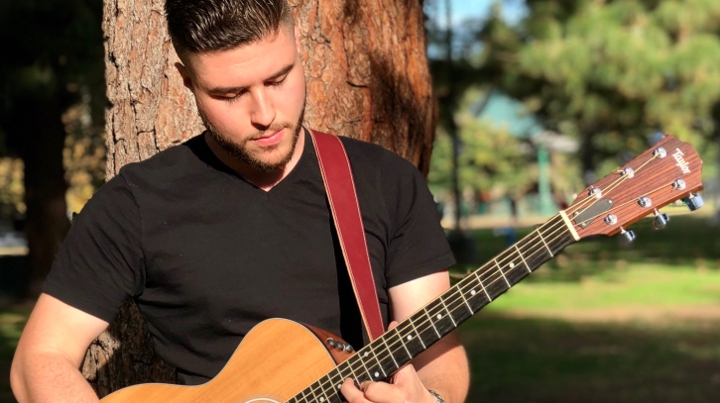 My name is Jerrid and I am a multi-instrumentalist living in Los Angeles, California. I bought my first kalimba, a Hugh Tracey Alto in standard G tuning, about 2 years ago from Mark Holdaway at Kalimba Magic, and my music has felt like magic ever since.
I had been searching for a new instrument to add to my collection that would give my performances a unique sound, and that is exactly what I got and more, right out of the box.
I noticed that the craftsmanship was solid as I held the beautifully-grained wood box in my hand for the first time, observing its unique patterns and sturdy build…
The array of shiny tines were so inviting to my thumbs that I started playing up the major scale right away. I did not stop for hours. There was no question that I had made a great investment for both myself and my musical career when I purchased this magical box made in South Africa.
I like to start my mornings with a simple music meditation with one of my many instruments, and the kalimba has been a popular choice since I received it. I like to walk outside and play or write songs as it sparks my creativity and puts me in a jovial mood. Like many instruments, the kalimba has so much potential to express what words can not, and I am truly thankful to possess such a portable and therapeutic instrument.
My most memorable time playing the tines was on my most recent camping trip in the beautiful Santa Monica mountains, overlooking the beach. I pulled the magic box out and settled in a small cave overlooking the peaceful sunrise in the distance. Each note that I played was complimented by a beautiful natural reverb made by the rocky cave walls. In that moment, I feel that I was truly at peace, thanks to my little South African companion.
I actively attend local open mic nights here in the Los Angeles area to support the local talent as well as to perform. For years I would do my set with my acoustic electric guitar, which was great and still is great, but I knew I needed to change things up to keep my acts interesting. The kalimba provided me with such a unique new sound and with great portability too – I could just throw it in a backpack! Its percussive voice goes extraordinarily well with other instruments, especially the guitar and any hand percussion like djembe or conga drums. The pickup system really comes in handy as well at my performances, making it easy to plug in and play! I personally love that I can use my guitar pedals to create a plethora of sounds and noises with it as well. The only thing more rewarding than the sound of the kalimba is the reaction it gets when I take it on stage or just play it when I am out in my community. It warms my heart to see the curiosity in people's eyes when they see a stranger playing a magical box and ask to try it out themselves. The connections made through this instrument are priceless.
I have more recently entertained the idea of putting together a few musical tracks of my own and I definitely want to make the kalimba a focal point in the production process. What really amazes me is the versatility that this instrument provides as you can change the tuning of the tines as well as run it through different effects. One of my favorite tunings is the famous Kevin Spears minor jazz tuning. It is a great contrast to the standard G Major and G Minor tunings, and it really adds a whole new dimension to the sound. All you need to do is add some reverb and delay to create an out-of-this-world funky sound. The possibilities are endless and I cannot wait to get my hands on a treble kalimba so I can experiment with even more tunings and sounds! 
With the kalimba, joy can always be found at your fingertips.