You have to run it in compatibility mode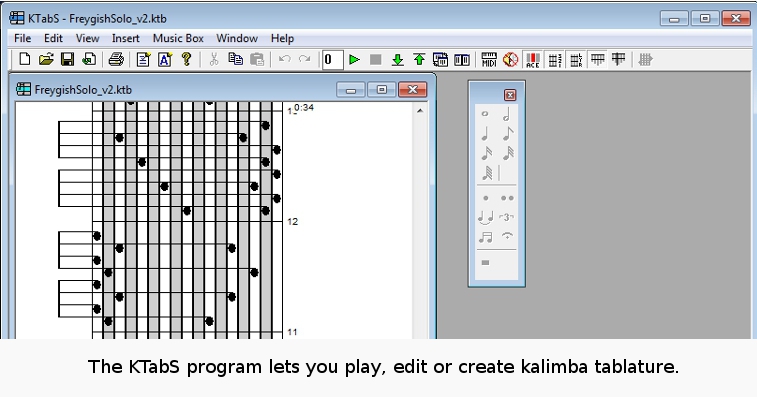 Do you ever wonder how I create kalimba tablature? Those detailed, elongated maps of the kalimba with note symbols dancing on the tines? I use the Windows program KTabS – the Kalimba Tablature Software. This program changed my life, my productivity, and how the rest of the world learns and creates new kalimba music too!
KTabS is an old program, and for the last few years, the KTabS website indicated the program would not run on the most current Windows operating systems.
But the big news today: I heard from the creators and owners of KTabS, Randy and Sharon Eaton, that KTabS DOES run on computers running Windows 10 – you just have to run it in compatibility mode. Click through to learn how to do that… or to learn why you should have KTabS.
KTabS is a really powerful and flexible program that can make tablature for virtually any kalimba in any tuning. As you click on the tines on your computer screen when composing on KTabS, you hear the note that tine will play. When you have completed your tablature, you can go back to the beginning and play it back to ensure that every note is in the right place. That is, KTabS makes it easy to get tablature exactly right.
I have written dozens of books and kalimba instructional downloads using KTabS, and I highly endorse this program. KTabS and I are good friends, and you might want to consider getting KTabS.
The KTabS Reader is a free program for Windows that will play any KTabS format tablature file (including many from Kalimba Magic), so you can see and hear how the song goes.
The full KTabS program costs $30 and permits you to create your own new tablature, or to edit tablature you get from another source.
But this part is new: KTabS can only be registered on a Windows 10 computer if it is run in compatibility mode.
In order to get KTabS on your Windows 10 computer:
Go to the KTabS website: ktabs.theirhouse.org
Log in to the KTabS site, or create an account.
Click on "Try KTabS for Free" and download the latest version of KTabS.
Note that your Windows computer will give you a warning you about this, as the KTabS developers aren't registered. I will warrant that it's a safe site; I have known and used it for many years.
But before you try to open the KTabS program, before you attempt to register KTabS, you need to set KTabS to run in compatibility mode:
Enter the name of the program (KTabS) in the search box on the Windows taskbar, right click (I had to left click on my laptop) the result and select "Open file location."
Right click on the program and select "Properties" and then select the "Compatibility" tab.
Check the box "Run this program in compatibility mode for:" and then select "Windows 7." Then click the "OK" button.
Now open the KTabS program.
If you purchased KTabS, click Help, then click on Register, and copy and paste the registration key that was emailed to you.
I have just installed KTabS on my Windows 10 laptop, and I am even looking forward to writing music and books on the plane during my next trip away from Kalimba Magic Laboratories.
And now: for the last two years, as I was under the impression that KTabS did not run under Windows 10, I did not promote KTabS to the public. Given that the situation is now quite different, I intend to make up for that deficit.
I find KTabS to be a great and useful program, and it has assisted me in writing music for almost every type of kalimba. It is flexible, and you can set it up to accommodate a kalimba with any number of tines. I have probably used it about 2500 different days, and for a $30 program, that's about a penny a day for me! Another way to look at it: If I amortized KTaBS' cost over all the materials I have produced with it (65 different items), it comes to under $0.50 per book or ebook that I have created. I would call that an amazing deal.
You might not get quite the same mileage out of KTabS that I am getting, but it can add to your creativity and involvement in kalimba music tremendously. And to help get you flying, I am offering a free ZIP file of 150 KTabS templates for various kalimbas and tunings – see the link at the bottom of the page.
Below is a video demonstrating how I read a song right off of KTabS kalimba tablature running on the computer. (If you buy the full KTaBS program, you can adjust the speed of playbacks too.) This tablature is for a simple 8-Note kalimba, which will be easy to understand. On the other hand, KTabS is flexible enough that you can create tablature for a 15-Note or 17-Note kalimba, or even a 25-Note mbira.
Or for a music box. Or for a marimba. What else might you use KTabS for?