Well… he recognizes me by my kalimba playing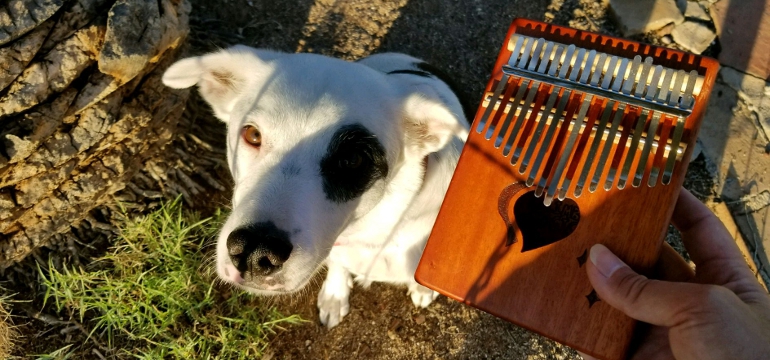 A woman was walking her big black dog over to the fence where Gus is likely to greet neighbors and other dogs. I was playing kalimba on my morning walk as I approached. At first, Gus – a very friendly white dog with black spots – trotted over to great the neighbor dog, but then he cocked his head and raised an ear, as if he was being directed for a movie – and he ran the other way.
At first I didn't get it – but then we stopped near the front gate and rolled over on his back, waiting for me to come to the spot where I first pet him about a year ago.
I kept playing on my 17-Note Heart kalimba as I approached the submissive but expectant Gus. I looked over my shoulder, and neighbor woman shrugged it off and said "Come on, Lewie, lets go," and she and the black dog ducked around the corner.
Gus greeted me like a long lost lover. It was true, Gus hadn't seen me for about 6 weeks. Our schedules just haven't been meshing, as my morning music walks tended to start just about when Gus' master left for work, leaving Gus inside the house.
Gus is a remarkable dog. Sweet and smart. The yard's fence had a gap big enough to drive a truck through, where the driveway was, yet Gus knew never to run out into the street. And Gus knew me by my kalimba music. Gus was affectionate and loved affection, and I just seemed to get in good with him every time I bent down to pet him. He is so appreciative.
I had actually seen Gus a week before. I had been walking with a friend, and we were talking, without kalimba. I was sure the intuitive and intelligent Gus would know it was me from my appearance or my voice… but no. He totally ignored me that day, even when I called out his name.
Gus did not recognize me without the kalimba.
But today, he recognized me simply by the sound, without looking at me, and now he wanted to get reaquianted.
What a joy, to gently scratch a dog who so wants to see you! And I have never fed this little beast, or otherwise earned his affaction and attention.
After petting him and praising him for a minute, I got an idea. I stopped petting him, and started to play kalimba, and he seemed to be grooving with the music. Well, he wasn't in the groove dancing, but he was in the emotional groove. He just seemed happy to have this tinly little music playing about him.
So I asked him: "Gus, may I take your photo?" He didn't say no, and I snapped this little picture at sunrise this morning.
Even though the sun is rising almost a minute later each day, I have decided that I am going to have to start my morning walk about 15 minutes earlier so I can get a bit of time in with my new best friend.
(Don't tell my cat Laptop, he would not be happy.)