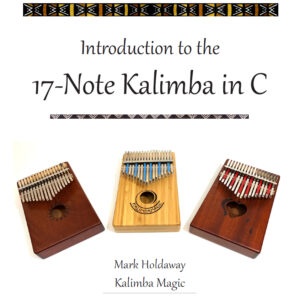 With every 17-Note Kalimba in C we sell, and with every Hugh Tracey Treble Chromatic Kalimba we sell, we include a hard copy of the 32 page booklet "Intro to 17-Note Kalimba in C". This is a tablature-based booklet that shows you the ropes on the kalimba. Due to customer requests, this booklet is now available as a PDF download with live links to sound recordings. This is for the 6-painted note setup scheme.
We also have another version of this download created for the 5-painted note setup:
And of course, the booklet that we ship for free with each applicable kalimba:
What is included in this booklet?  How to read tablature, how to tune, how to maintain your kalimba's clear sound. Special playing techniques, important kalimba playing strategies, how to play simple melodies. How to add simple and more complex harmonies to the melodies… alternative tunings and other resources available for kalimba players at all levels. It is all here!