The "44 Beginner Songs" Book is a Printed, Paper Version of the Popular 44-Songs Download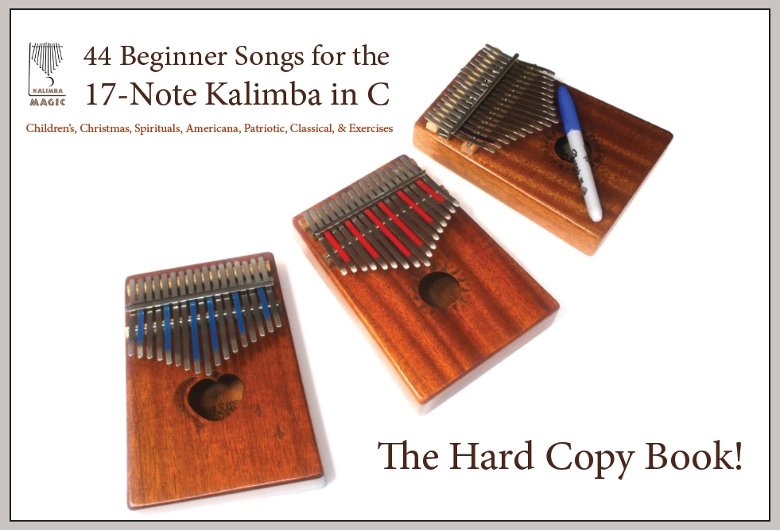 People have been asking me for a hard copy book for the newly popular 17-Note Kalimba in C – the new kalimbas that have been made in China over the last 18 months. These are sold under a variety of names, including Donner, Walter, Gecko, and Heart-17, but all of these are essentially the same instrument, with the same number of tines and the same note layout. In other words, all of these kalimbas can use the same book.
That book is "44 Beginner Songs for the 17-Note Kalimba in C." This hard copy book has the same material as the ebook download of the same name.
If you have been waiting for a book for your 17-Note Kalimba in C, this is it!
The 62-page "44 Beginner Songs" book, with a spiral binding that lays flat where you put it, contains exactly the same material as in the "44 Beginner Songs" download. Having it as a printed, paper book can allow you to leave technology behind and play outdoors or in any situation where a device would not work as well, and the pages are big enough to let you see it from farther away than a portable device would, as well as share it more easily.
Here are some further details about "44 Beginner Songs:"
It is organized to facilitate learning, with easy formatting for each song, and helpful text in places to aid you in learning the lessons these songs have to offer.
A URL (a web page address) is provided for the index page for all the sound recordings. You may want to bookmark that page in your computer's web browser, and you may want to download all the songs and keep them on your computer. Similarly, a "QR code" will get your phone or tablet computer to the sound recordings page very simply. From there, just click on the song you are working on to hear what it should sound like.
This book has a lot of material for beginner players, and fewer more advanced songs – in other words, this book should have some songs easy enough for the most basic players, but will also hold your interest for weeks or months as you advance through the songs.
Look at the Table of Contents to see the songs that are in this book: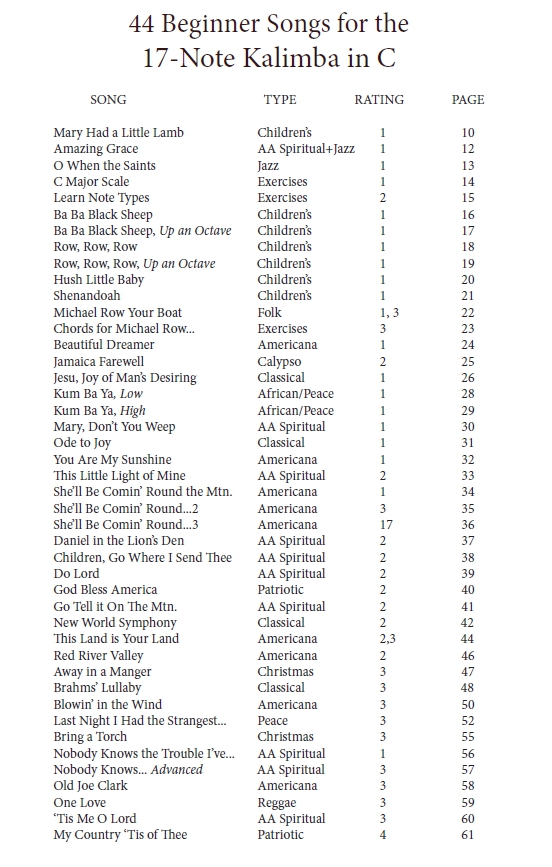 Below is page 22 from the "44 Songs" book: "Michael Row Your Boat Ashore." The column of tablature on the left is the melody only (Level 1). The column on the right, with chords added at the beginning of each measure, is Level 3.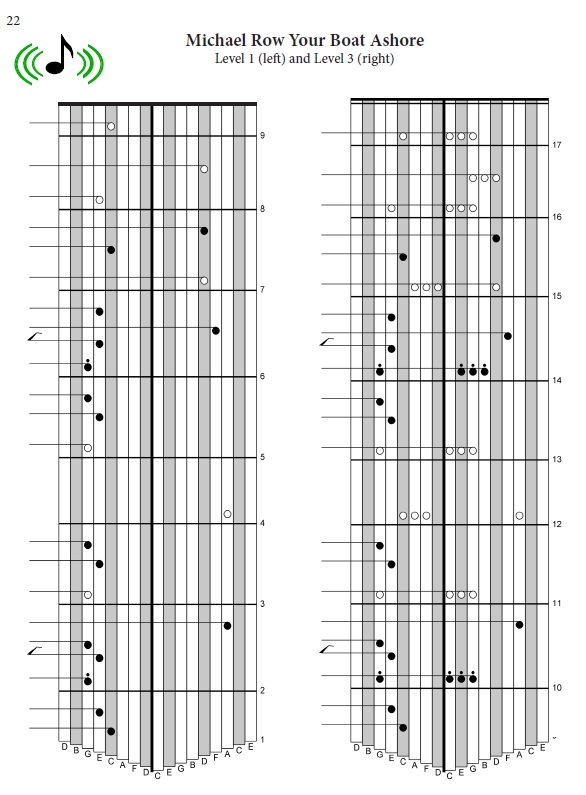 The above page from the book manifests my hope for you – regardless of your playing abilities, there are good songs here for you to dig into, and that in time you will progress from Level 1, to Level 2, and then on to Level 3 songs right here in this book.
By the way, in the tablature, the gray columns represent painted tines and the white columns represent unpainted tines. All of Kalimba Magic's 17-Note kalimbas in C are painted using this scheme (unless otherwise requested). The painted tines help immeasurably in reading tablature and learning to play. If you acquire your kalimba unpainted, you may want to color those six tines with a Sharpie marker. This will last several weeks before it wears off from repeated playing, and you can then reapply, or you can remove the Sharpie marks with alcohol wipes.
Best to you on your kalimba journey. This book was created to help you along the way.