Kalimba Magic Gives You the Tools You Need to Succeed
Does your kalimba need tuning? Read Here!
Does your kalimba have a buzzy tine? Read Here!
Do you need to paint your tines? Read Here!
BUT, what if the kalimba job is beyond you? The Kalimba Doctors can Help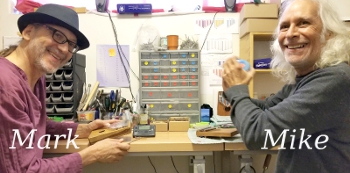 I'm Mark… but it turns out that my associate Mike is just as skilled as I am at getting your kalimba looking and sounding its best. I recently went away to a wedding, but before I hopped onto that plane, I left my two prized kalimbas – my very-first-ever blond Bb Treble from circa 1970, and my ancient Alto Kalimba from 1986 – with Mike. When I returned, I found my kalimbas not only looked great, but sounded better than ever. Here is a BEFORE and AFTER: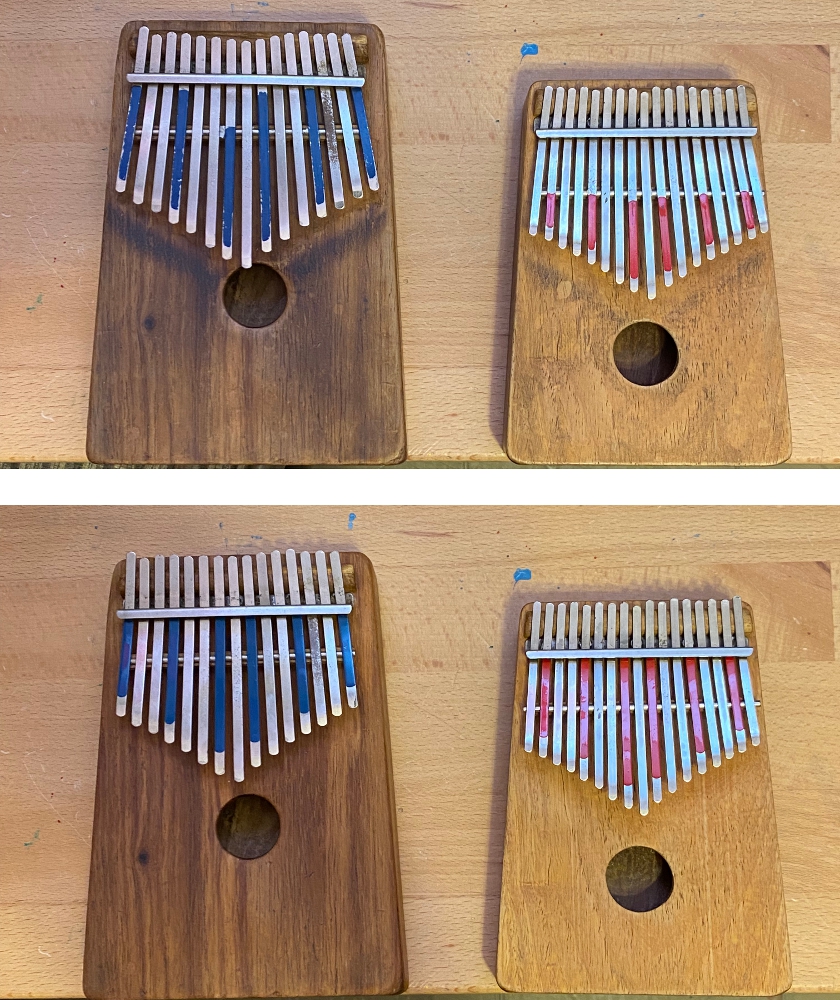 First, note that I did keep both of these old kalimbas in tip-top playing shape. But you can also see the years of hand grime I left on the instruments.
Mike tuned the Alto back up to its original G (I had tuned it down to F, and then to E, so I could sing particular songs; now my wife sings those songs). He sanded and cleaned up the wood (the most obvious difference), scrubbed off most of the tine rust, repainted tines on both, and fixed a few buzzy tines. And really, they play as good as new. This would have been a great deal for $50 (two total kalimba tuneups).
Both of these kalimbas are famous on my YouTube channel. I'm sure you will recognize them. So, in the future, look for new videos with these two newly refurbished kalimbas!
So: What Can Kalimba Magic Do For Your Kalimba?
Kalimba Doctor Service: Tuning Your Kalimba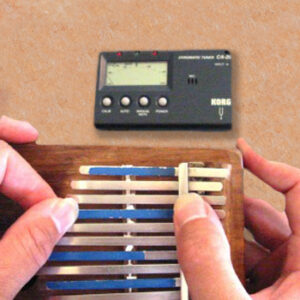 Is your kalimba in good shape, but just needs to be tuned, or retuned to a different tuning? The Kalimba Doctor Tuning Service can put your kalimba back into shape. This costs $10, plus a fee for return shipping based on how far we need to send the kalimba. You are responsible for getting your kalimba to us.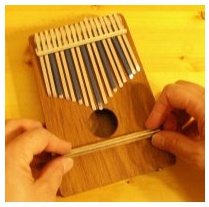 Is your kalimba really beat up and needs a lot of work? (Hint: both of my old kalimbas got the full tuneup service.) Are some of your notes really cranky and buzzy? Has your kalimba been collecting dust for 15 or 20 years? Is the wood cracked, or is the box coming unglued? Does your wood need sanding? Do the tines need realigning? Are the tines rusty? Do the tines need to be repainted? Basically, do we need to take your kalimba apart, fix the tines, sand or clean the wood, re-tension the tines, and reassemble the instrument, tune it up, and make it sound basically as good as it did when you first unboxed it? Then you need the Total Kalimba Tuneup. This service costs $25, plus a charge for return shipping, based on your location. You are responsible for getting the kalimba to us. We typically spend about an hour or more on these types of services, so it is a really good deal. It usually takes us less than a week to accomplish this total kalimba tuneup.
Don't Know Which Kalimba Doctor Service you Need?
OK, there is a big difference between a kalimba that was bonked about and has become out of tune… and a kalimba that has been sitting in the rain for 20 years. If you don't know which service you need, send it in to us and ask, and we'll fix it up to look and play well, and charge you accordingly: $10, $15, $20, or $25.
Where to send your kalimba?
Kalimba Magic
PO Box 12974
Tucson AZ, 85732
USA
I figure there are a few hundred thousand kalimbas about the world that could greatly benefit from the Kalimba Doctor services. Some people just buy new kalimbas. But really, a lot of the old ones are gems. I wouldn't replace my old kalimbas with new. But now my old kalimbas look and play as good as new… or better, because they do have a sweet old sound that you just can't get on a brand new kalimba.
So, if you have a kalimba in need of help, reach out to the Kalimba Doctors!