Can you help spread the word about Kalimba Magic? This is my moment of need, and I am reaching out to you because I believe you have benefited from what I do: Kalimba Magic.
You may have benefited from one or more of our kalimbas… a Hugh Tracey, or a Sansula, or a Goshen? A SaReGaMa tuning? A karimba? A Magadi kalimba? Or one of the new Chinese 17-Note or 10-Note Kalimbas?
You may have benefited from one or more of the 100 kalimba books or ebooks I have written for various kalimbas and musical genres.
You have almost certainly benefited from the kalimba tablature that I invented in 2004, which is now used in many other people's instructional books.
Or maybe you have benefited from one of my pirated books, published on Amazon by Rupert J. Kingston. Or from the kalimba information that has been copied from the Kalimba Magic web site and reappropriated by another kalimba seller. Yes, I am in a whole world of hurt right now, for a variety of reasons. It is not inaccurate to say that I created the modern online kalimba business, and it has been stolen out from under me.
For the last 18 years of my life, I have given my heart, soul, and mind to the kalimba world. But right now, my business is in the hole. I am asking for your help.
I am asking you to pay it forward – telling other people about Kalimba Magic, via personal sharing with friends or by social media posts.
Here is the Kalimba Magic Instagram page.
And here is the Kalimba Magic Facebook page.
When inspired, please share or repost my reels and videos, thank you!
Or I am asking you to pay it backward – tell me something good about Kalimba Magic
If you send me an email and write of your experience with Kalimba Magic, that will help me create social media posts that help show other people the benefits of Kalimba Magic. And it will also give me a measure of joy to read your words.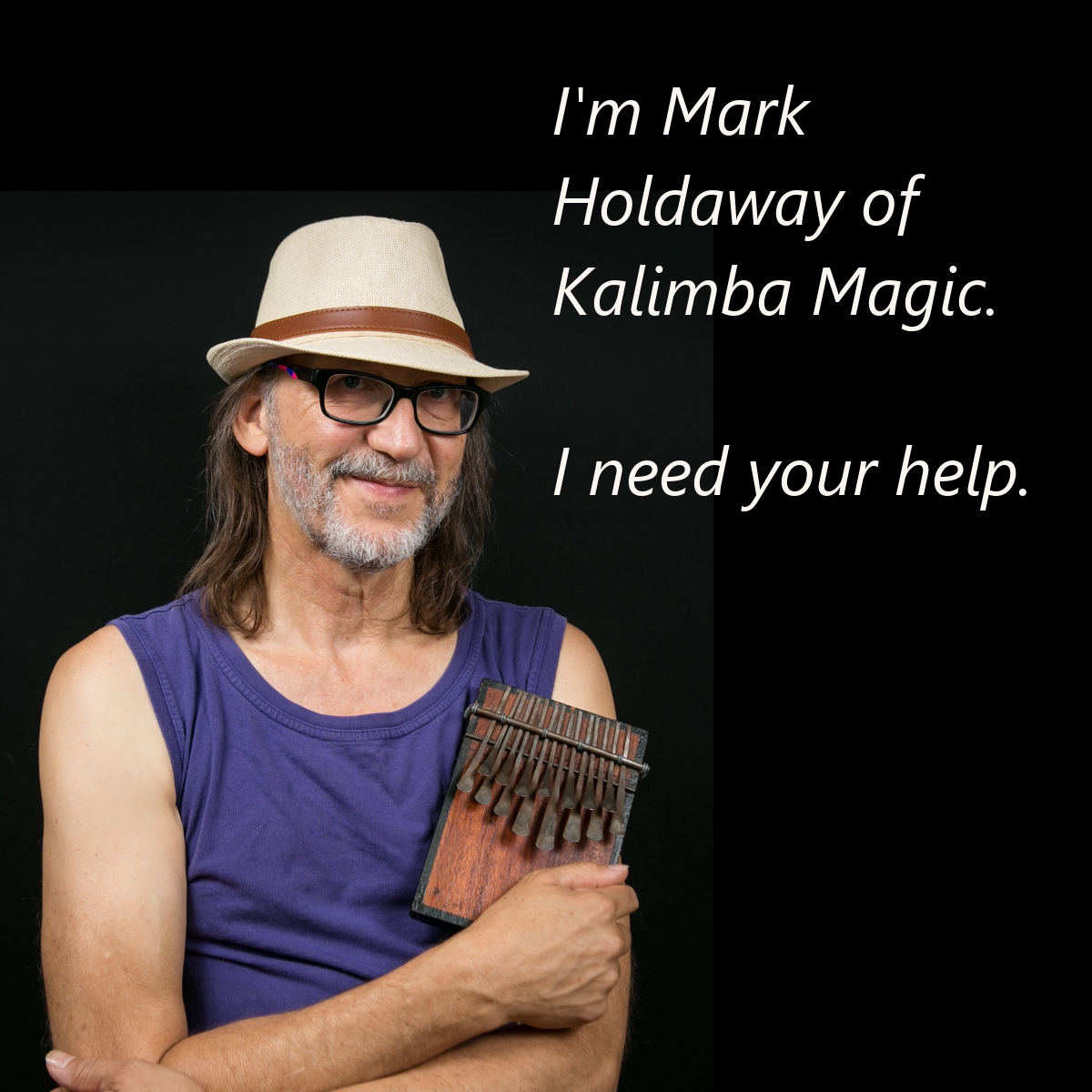 Thank you for your continued support.
Mark Holdaway // Kalimba Magic