The PDF eBook "33  Intermediate Songs for 17-Note Kalimba in C" has a bunch of African music. Now also available as a hard copy book.
Here is a video of one of the songs, Bustu MTandari:
These are mostly songs from the tradition of the Karimba, or mbira nyunga nyunga. The notes of the Karimba are a subset of the notes on the 17-Note Kalimba, so anything you can play on the Karimba can also be played on the 17-Note in C. And by the way, "kalimba" and "karimba" are two different instruments. Read here if you don't know this:
It turns out the traditional African music, when played on the typical modern kalimba, is actually a bit tricky to play. That music co-evolved with the African Karimba note layout… meaning the music flowed naturally from easy thumb and finger motions on that instrument. The 17-Note Kalimba in C has a different note layout that was created by Hugh Tracey in the 1950s. On that note layout, the traditional songs are not quite as flowing.
That just means it will take a bit of work to get steady on these very different kinds of thumb strokes.
But why would you learn to play traditional African music on a non-traditional kalimba? Well, for one, because every kalimba owes a debt of gratitude to the African culture of kalimba. It is a way of honoring the birth place of the kalimba.
I learn the traditional African songs to bask in the brilliance of the African spirit and African intellect, and to breathe in the beauty of an ancient African culture. What a rich world we live in!

I argue further that the experience one can have playing these traditional kalilmba songs is exactly what we need today. It is joyful. It builds a relationship with the body of ancient music over time. And it gives rise to a great appreciation of African genius. It is easy to be a racist if we do not appreciate the culture of another group of people. It is hard to be racist when one is exposed to this brilliance.
These are the song titles that are included in the "33 Intermediate" eBook:
Wa Kalulu  — levels 2, 4
A Yolamu Anata  — level 3
Kuzanga  — level 3
Shumba Panzira – Learning in Bits — level 1
Shumba Panzira  — level 3
Shumba Panzira – Ambiguous Starting Point — level 3
Rova Ngoma Mtawasa — level 4
Sadza Madya Here  — level 4
Butsu M'Tandari — level 4
Chemtengure  — level 4
Bungu Utete — level 4
(The last four of these songs had been missing from the sound recordings that accompany the eBook, but they have recently been added to the collection.)
These songs take up 21 pages of tablature. Most of these songs have several variations, 2, 3 or 4 variations per page. The way these songs are played, the basic song version is repeated cyclically several times. When you are done, you "level up" to the next variation. You can sit on each variation for 2 or 4 repeats, or even for a few minutes for a more meditative experience. This means that there is quite a lot of African kalimba music here for you!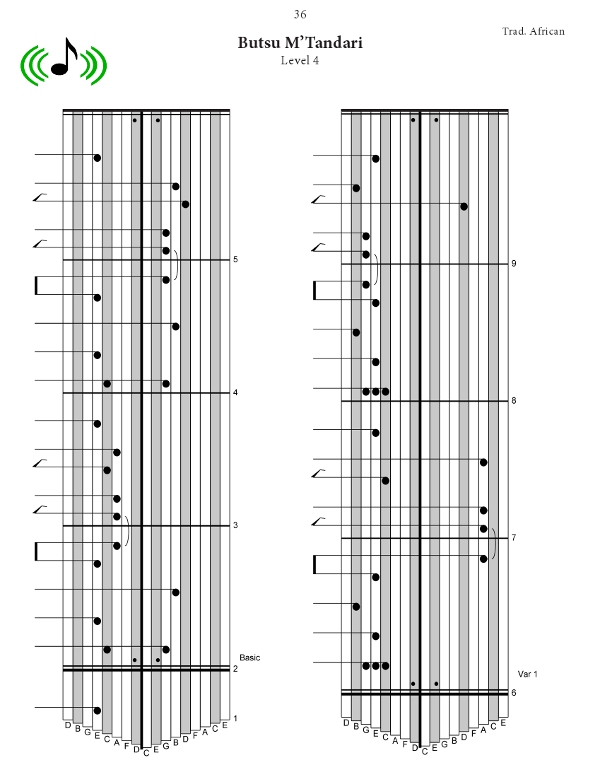 The first two of eight variations of Butsu M'Tandari.
You might spend an entire kalimba session learning one of the variations, or perhaps a week learning to play some or all of the variations in a particular song. Of course, after you get used to playing this type of music, you will pick up the variations more quickly. But you can see that this is a commitment, a relationship to a new type of music – well, new to you. It is thought that this basic musical style is about 1000 years old!
So, if you are looking to connect with your kalimba's old soul, you could star with the  "33  Intermediate Songs for 17-Note Kalimba in C" eBook. Also available now as a hard copy book.
And if you want to take the next step into Africa, check out the African Tuned Karimba itself!
There is also a simpler ebook that will teach you African songs and African musical concepts for the lower 10 tines of your 17-Note Kalimba… or on your 10-Note Kalimba: