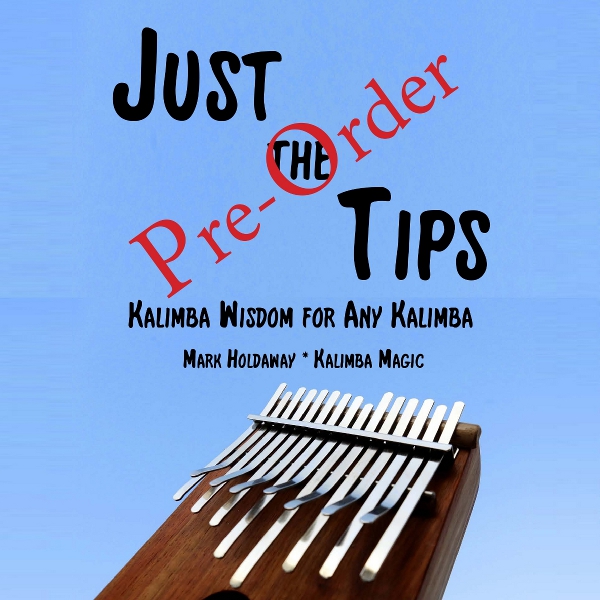 If you preordered this ebook and you are waiting for it… your wait is almost over. I have been making good progress on this book while I'm in England.
I go out for a kalimba walk in the cool green woods here, and I think of five more things to write about. Then I come home and write about them. I am currently at well over 100 pages.
These are gems of wisdom gleaned from my over 37 years of kalimba experience. (Yes, I bought my first Hugh Tracey Kalimba 37 years ago this month. And I started Kalimba Magic 18 years ago this month.) But rather than tie these ideas down explicitly to particular notes and kalimba tablature – which would only work for one particular type of kalimba – I am writing descriptive words that will be applicable to all kalimbas.
The down side is that I am not giving you exact instructions to create some precise melody. But the huge upside is that these descriptive words give you the opportunity to find your own melodies, your own riffs, based on the inspiration I lend you. These tips will help you on YOUR kalimba journey.
Tip categories include:
General
Nuts and Bolts
Your Kimba Journey
Your Vision
My Vision: Connection
Your Body
Fingers, Thumbs, and Hands
Thumb Patterns
Feet and Right/Left Motion
Eyes
Mind
Ears
Practice
Getting into the Flow
Melody
Chords
Accents
Breathing
Singing and Kalimba
Kalimba and Magic
Kalimba and Nature
Meditative Kalimba
Africa
Kalimba Improvisations
Performing
Inspirational
Aging With the Kalimba
And if you haven't pre-ordered the Tips Book? Now is your chance to get it at half price.