Joe Hernandez is learning to play all of Maurice's kalimba parts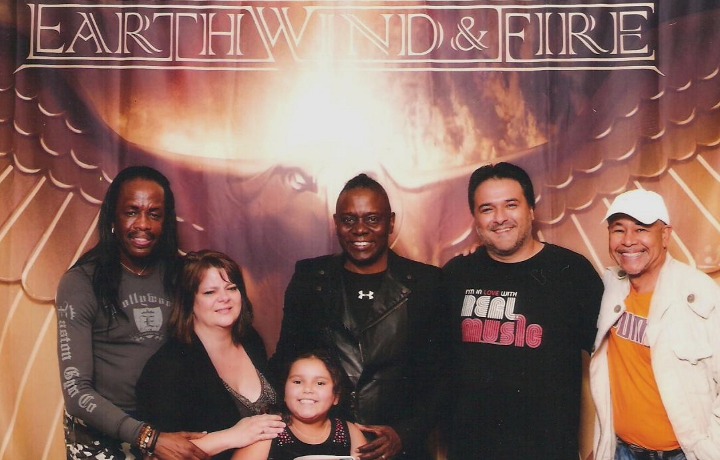 There are probably tens of thousands of kalimba players around the world who first learned about the kalimba from Maurice White. One of them is Joe Hernandez:
"I saw Maurice White play in 1988 in Kansas City, the first time I had ever actually seen a kalimba. I was amazed and wish I had attempted to find one and start playing back then. Thanks to Kalimba Magic, I finally got my own kalimba and I love it. Too bad it took me over 30 years to discover where to get one."
But wait till you see what Joe is doing with his kalimbas.
Joe first got a Treble kalimba from Kalimba Magic and had it tuned to the "Evil tuning", an A minor pentatonic tuning that also includes several pairs of duplicate notes. The "Evil tuning" is the tuning I figured out from a YouTube video of Maurice playing the kalimba prelude to "Evil". (Unfortunately that video is no longer available on YouTube.)
After playing kalimba for a few years, Joe has made it his mission to learn how Maurice White played each of his songs that used kalimba. Check this out:


A kalimba solo by Maurice White – a most chillingly beautiful piece of music.


Joe Hernandez goes thumb to thumb with Mr. White.
As he worked, studying in great detail how Maurice White played his songs, Joe learned that another tuning made the riffs easier to play:
"I had been working on a new arrangement of EWF's "Evil" and discovered a different tuning than the one originally posted on Kalimba Magic. After endlessly trying to play the runs that Maurice White plays on that video, I found that the notes on his kalimba from left to right are as follows: DCEDCAGE D ACDEGACD. The ACDE segment repeats on both sides (in mirror image to each other) which helps explain why he is able to flow on his runs so smoothly. And the C and D on the upper registers also repeat. I am excited that I have new runs to learn with this tuning!"


Maurice White and EWF performing "Evil" with a kalimba prelude.


Joe Hernandez reconstructed the kalimba part to "Evil", along with backing tracks.
Joe's music not only honors the musical genius of Earth Wind and Fire, he has also created original music to celebrate his father:
"My late father was one of the more famous musicians in Iowa. He is a two-time inductee into the Iowa Rock and Roll Hall of fame. When I was nine years old growing up in Des Moines, he bought me my first album: Earth, Wind and Fire's "Gratitude". I went on to become a huge EWF fan and listened to them pretty much every day of my life.
"Anyway, a man named MC Perry Jones recently joined our Facebook group called Lost Des Moines music. I welcomed him to the group and come to find out that he was a DJ who used to book my Dad's band "The Cavaliers" back in the 60's, to all the midwest ball rooms – the same ones where Buddy Holly and Richie Valenz used to perform.


Joe made this kalimba video in honor of his father Joe Hernandez Sr. The kalimba is in a modified Evil pentatonic tuning.
"After telling Perry Jones of how my dad bought me that album, Perry informed me that he himself was the MC on that album, which was a recording of a live performance, and it was his voice introducing the band at the beginning. And then I learned that he was one of the men responsible for introducing Earth, Wind and Fire to the public. He was one of the first African American executives at Warner Bros. Records. Mr. Jones went on to manage Prince for his first couple albums too.

"When Maurice passed in February 2016, Perry personally told me about it before the news went public. I felt a little honored to find out about his death before it had became common knowledge, and I could not believe he was gone. I really wish I could have met Maurice. Perry heard some of my music and told me Maurice would have loved it and been honored. I wish he could have heard how he inspired me, and I hope be able to play as well as him someday."
Dear Joe, although Maurice did not know your personal story, he did know how he had inspired thousands to pick up the kalimba, and millions to take joy in this modern version of the ancient African instrument. He did not hear or see how you play, but he knew he had changed the world. Joe, thank you for embracing Maurice White's music and for sharing your work with the world!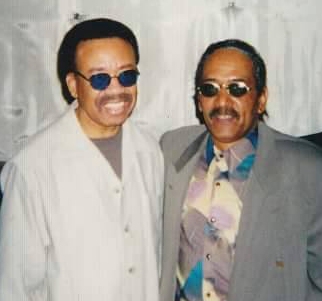 Maurice White and Perry Jones when Maurice was inducted into the Rock and Roll Hall of Fame.