A great kalimba, 30 years of my kalimba playing experience, and considerable love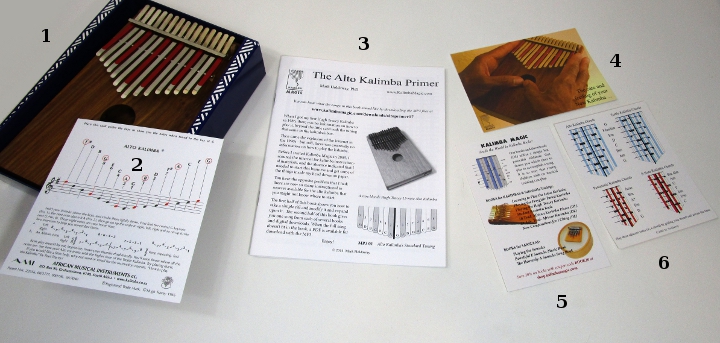 Every time I ship a kalimba, I play it to make sure it is all just right. And as I play it, I make a little prayer, that the person who gets this kalimba will come to love and understand their little instrument. But I do much more than just pray. I send out as many keys to the doors of understanding as I can. We stack the odds in favor of success.
When you receive your kalimba, you get some important things along with the instrument. Take a look at the numbered items in the accompanying photo:
1 – The Hugh Tracey Alto kalimba, which is made in South Africa by African Musical Instruments, comes in a very useful colorful cardboard box with bottom and top pieces. This box will protect your kalimba for years if you use it gently.
2 – The Hugh Tracey Alto Kalimba comes with the Alto insert, created by African Musical Instruments in 1966 (the insert still bears the words "Copyright Hugh Tracey 1966"). This insert mainly gives the instrument's tuning, but also gives some instruction on how to play and how to care for the instrument. If you are getting an alternative tuning, you will not get this insert, but will get a tuning chart made by Kalimba Magic.
3 – Every Alto Kalimba that ships in standard G tuning will come with the Alto Kalimba Primer, a 24-page booklet that introduces you to the Alto Kalimba and the kalimba tablature. The first half of this book shows how to take a simple musical phrase and expand on it a dozen different ways. The second half of the book includes sample music from most of the Alto Kalimba books and downloads. Sound files are available for free download.
4 – Every Alto kalimba we ship comes with three different cards. The card "Care and Feeding of Your New Kalimba" points you to online resources for tuning and maintaining your kalimba – essential information for every kalimba player.
5 – Kalimba Magic has books to accompany nearly every kalimba we sell. These books will help you get the most out of your kalimba-playing experience, and this card lists many of the books and instructional downloads.
6 – One side of this card shows you how to play the main chords on the Alto, Treble, 11-note Pentatonic, and 8-note kalimbas. On the other side you'll find online resource pages for each of several different kalimbas.
When you order an Alto kalimba from Kalimba Magic, you get to select the tuning. Most people get the standard G tuning, which will work with the books. F#, F, G#, and A tunings of the Alto kalimba can also use the tablature for the standard G tuning. C tuning has its own 66-song download. We also have other exotic tunings that can make life ever-so-much-more interesting.
While all Hugh Tracey kalimbas are made of African kiaat hardwood, this wood can be quite varied in its appearance. When you order an Alto kalimba from Kalimba Magic, you could let us choose the wood pattern for you, or you could request one of the following: wood with a fairly uniform brown color, wood with an interesting grain, part blond facewood (just the face or front of the instrument), or facewood that is mostly light colored.
When you order a Hugh Tracey kalimba, you are asked to choose the color of the painted tines. Blue or red? Green or yellow? Black or white? Soonest available or unpainted? The choice is yours. (You may be wondering why some tines are painted. We do this to help you find your way on the instrument, and to easily convey the notes in the tablature onto the kalimba.)
When you order a Hugh Tracey Alto kalimba, you have at your fingertips dozens of online Kalimba Magic articles and hundreds of playing tips, from over the past decade and more, on playing this very capable kalimba.
And when you order a Hugh Tracey Alto kalimba from Kalimba Magic, you get a whole lot of love in a tiny wooden box with little metal tines that sing a lovely song. Since early this year, I've been doing all of Kalimba Magic's tuning, painting, setup, packing, and shipping, and it has given me great joy to put my heart and soul into this work.