Each kalimba we sell has its own How-to-Play page. What can you expect from these pages?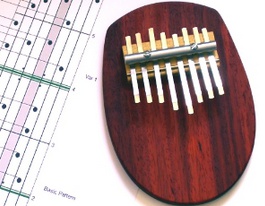 Inside the "How-to-Play" category, there are 20 sub-categories. Several of these are general subjects that are applicable to all kalimbas, such as "Fundamentals of the Kalimba", "Thumbnail Care", and "Tuning". We also have 13 categories dedicated to information about different kalimbas. This tip tells you what information you will find on these pages.
We have a great series of resource pages for many kalimbas, including the Alto, Treble, Chromatic, 6-Note, 8-Note, 12-Note, Sansulas, Pentatonics, African-tuned Karimba, Student Karimba, SaReGaMa-tuned Karimbas, and more, and you can see all of these in the How to Play pages.
While the structure of each instrument's page reflects the resources that are available for that individual type of kalimba, many of these pages include these sections:
Videos featuring that kalimba, often in various tunings
Photos and their descriptions, often providing several facets of that kalimba's story
Archival Tips or Newsletter Articles – including free instructional materials for that kalimba
A listing of books and downloads available for that instrument
Photos and descriptions of each of the different models that fall into that particular kalimba category
A set of tunings that this particular kalimba can be tuned to.