The Small case fits the 10-Note Kalimba, Medium fits the 17-Note or Treble, Large fits the Alto and Chromatic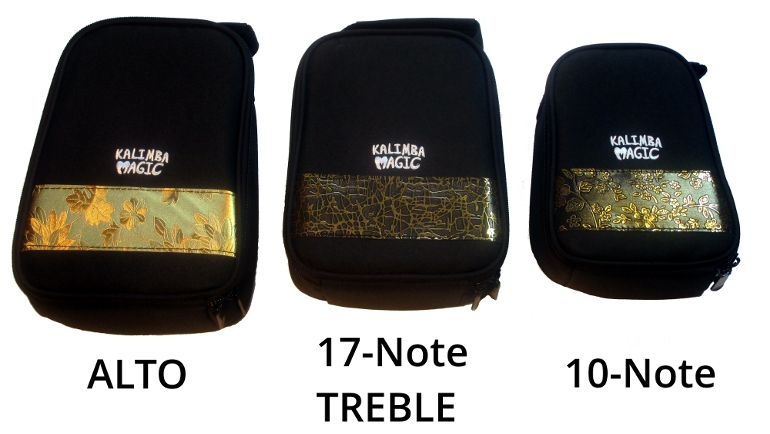 How do you safely travel with your kalimba, keeping it from potential accidental trauma? For an unfortunately long period of time, my answer has been "I pack it between my underwear and socks." The fragile Sansula has a nice soft bag and a very nice wood case. But if you play one of the more standard kalimbas, once its box wears out, you might be packing yours between a few T-shirts too.
To those who would persist about this glaring deficiency, I would say: "Go to Target's back-to-school section in August, and pick out a nice padded/insulated, soft-sided lunch sack."
Today, I am happy to recommend a new solution: tough, attractive, black, zipping, form-fitting, well-padded soft-shell kalimba cases, at $10, $11.50, and $13. Most kalimba pages in the Kalimba Magic Shop now have the option to add one of these kalimba cases.
If you are unclear on the concept of the utility of a kalimba case, consider three of the most common unfortunate things that can befall an unprotected kalimba: the kalimba tines could get pushed or pulled, jumbling their arrangement and getting them out of tune. You could drop your kalimba, which can damage or destroy the box and knock the instrument out of tune. Or you could actually step on it and crush it
These kalimba cases will primarily protect against those jostles that get the tines out of tune. The padded cases will also cushion the blow if you drop it, protecting the box and tuning. If you step on your kalimba in a case… well, you are probably on your own there. 
These cases are equipped with a dual zipper, are padded around the sides, top and bottom, and have a handle. The fabric is stiff and well-sewn. Five of them can fit in my larger-than-average backpack.
The largest kalimba case has a band of light golden pattern on it, and comfortably fits the Hugh Tracey Alto kalimba. Other models that fit: Alto Chromatic, Box Pentatonic, Alto Afroharp, Hugh Tracey Box F-15 Karimba.
The medium-size case has a darker golden pattern (as does the tiny case) and fits the 17-Note Heart Kalimba (and other Chinese-made 17-note kalimbas), the Hugh Tracey Treble kalimba, African and SaReGaMa karimbas, any of the Hugh Tracey celeste models, and the Hugh Tracey Treble kalimba. It will also fit the Goshen 8-Note and 11-Note kalimbas.
And the tiny case fits the 10-Note Heart kalimba and other Chinese-made 10-Note kalimbas, the Hugh Tracey 8-Note kalimba and 9-Note Student Karimba.
For years, I have usually relied on an ad hoc kalimba-packing scheme for my multi-kalimba gigs that often involved cardboard boxes, scarves and bubble wrap. Now, I am happy to say that I have one of these handsome kalimba cases for each kalimba I take out on my gigs. Anyway, that is one less thing for me to worry about.
Oh – and they make great cases for other miscellaneous uses. Even if you don't have a kalimba in it, one of these cases will brand you as a cool kalimba player!