This is so different from the Sansula's melancholy standard A minor tuning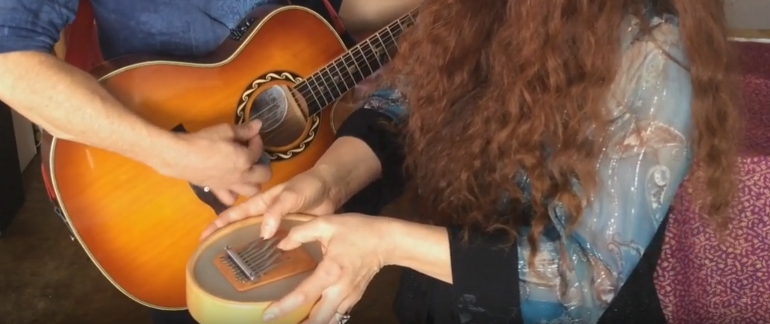 "Oh – it's so small… it only has nine notes – that's not much."
I must admit, hearing comments like that always leave me a bit disconcerted. Yes, she was a piano player who was accustomed to having scores of notes at her fingertips. I could have explained to her: "This is a magical instrument that just creates its own music, just the way it is. These 9 notes have a special story to tell."
But the words did not come out. Instead, I started playing that small nine-note Sansula… and then picked up another Sansula in a different tuning… and then another. After listening, she nodded with understanding, and said "Oh, what a charming little instrument! And it seems there is not a single wrong note on it." Of course not! With only nine notes, you have to make them all count!
The Sansula is a compact instrument that has just the exact right notes to make some exotic and beautiful musical statements. The Sansula just emanates atmosphere and "wah." Each note is sweet and rich. When I create a new tuning on the Sansula, that is the backdrop by which my tuning will be judged: did my tuning live up to the promise and the beauty of the Sansula in its standard tuning? Are the notes arranged in a way that facilitates intuitive and beautiful melodies? If not, back to the drawing board. If yes, and it has good potential, then it is the start of a long process…
Back in May, I sat down with my coworker Mike Ankomeus, and we tuned up twenty different Sansulas to whatever exotic tunings I could find. You see, I collect tunings. Sometimes people say something like "I need my Sansula tuned to F# major instead of A minor – can you do it?" Of course we can do it. We can figure out how to put any particular scale onto the Sansula. Some of those tunings are sufficient, some of them are magnificent. And I'm always on the lookout for the real gems, so that I can create books for them and share them with the world!
After playing all 20 exotically-tuned Sansulas with help from friends Deb Driskill and Tabatha Smith, I narrowed the list down to eight tunings that I thought were very interesting and useful, and I brought them over to Andrea's house.
Andrea Eckardt is a very intuitive musician. She plays a wide variety of instruments, almost as many as I do, and doesn't read music. She plays by ear, she plays by feel, and she plays by heart. And when I put those eight exotically tuned Sansulas in her hands, magic happened.
All eight Sansulas sounded good, but four of them were divine in Andrea's hands. Enchanting. New Age magical. So, I decided to video these four exotic tunings.
In the videos, I play guitar and Andrea improvises on the various kalimbas. We focus in this post on the G Major Pentatonic tuning.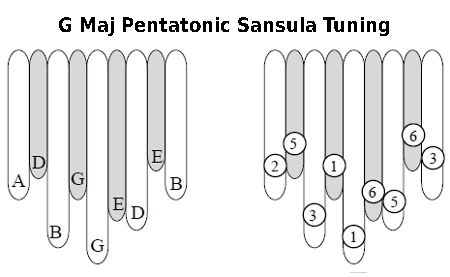 The statement "I play guitar," (with Andrea) glosses over a lot. There is much that goes on behind accompanying Andrea. I know what key each Sansula is in. In fact, I know exactly which notes each Sansula has on it, because I was intimately involved with each tuning in some way or other. So, I also know what chords will work with each Sansula. As I listen to Andrea play, I am able to steer her playing with the chords I choose to throw out. I make sure the chords will work with that Sansula's tuning, but even more important, I can make sure that the music is saying something, or that the patterns that we paint create a coherent musical "thing."
Of course, this music is a good back-and-forth. My guitar is not just steering Andrea's Sansula – as she dances over the tips of the tines, her music also leads and inspires me and my playing.
By the way, the coupon code SANS20 works for the Sansula, the B9 and B11 kalimbas, and Sansula and B11 books and downloads. This is a great opportunity to get a special someone something really special for Christmas.