I've been having fun experimenting with tunings again…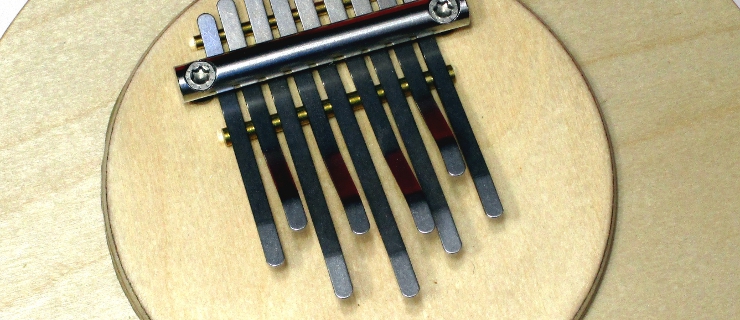 The Kalimbula is a cool instrument that I've been enjoying playing in a variety of tunings.  I have tried all of the canonical sansula tunings, including the C Major I use in this video with new Kalimbula music.
The hallmarks of the Sansula are: stunning tone, beautifully squishy tone modulation, and stellar hardware. How does the Kalimbula stand up to the Sansula?
The Kalimbula has the exact same Sansula hardware providing its notes. The tone of the ceramic Kalimbula bodies is somewhat different from the original Sansula, but it has a beautiful tone in its own right. And the squishy tonal modulation is accomplished by covering and uncovering three modest sound holes in the ceramic body.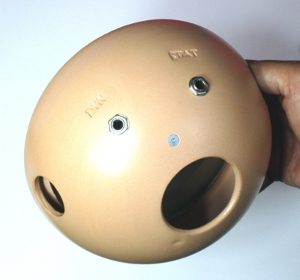 Oh, and those 1/4 inch jacks? One carries the signal from a piezo-electric pickup that gets a very clear representation of the notes under the bridge – a good attack and a good sustain through decay. However, the piezo does not pick up the air vibrations that are causing the great big "wah wah" sounds. To get the "wah wah" sounds, you need to get the optional microphone. It is mounted inside the ceramic body, and it picks up the "wooshy" stuff very well. Hence, a combination of the piezo pickup and the microphone will give the best reproduction of the overall instrument sound.
This is a robust solution to a problem some of us have had for 10 years: how do you put a pickup on a Sansula? The answer is: you don't, you put your Sansula tuning on a Kalimbula with a pickup.
I have put all of the standard Sansula tunings onto the Kalimbula. I may be the only one putting the Kalimbula into different tunings.
I invite you to take advantage of this 18% coupon code KALIMBULA18, good now through March 18, 2016 on Kalimbula purchases.
The sound in the video is an equal mix of a stereo mic pair (not part of the pickup package) and the piezo-electric pickup signal – that is, the piezo produces recording-quality audio.