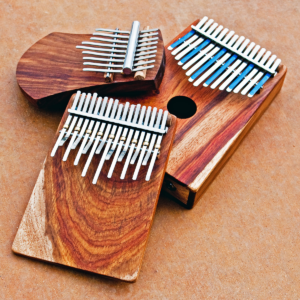 My very first kalimba was a Hugh Tracey Kalimba, back in 1986. I love the Hugh Tracey kalimbas, especially my older ones. (I do have readers who chime in and remind me they have been playing since the 70s, or even earlier, and they too love their Hugh Tracey Kalimbas.)
Customer Reviews
Here are some of the things that my recent customers say about the Hugh Tracey Kalimbas:
I've purchased four Hugh Tracey kalimbas from you and they are hands down the best kalimbas I've ever played. One of them, The Hugh Tracey Chromatic Alto, is my favorite kalimba I own. This kalimba made me love the kalimba even more than I already did. It made me want to be a better kalimbist. It sounds stunningly beautiful and the quality is unlike any kalimba brand I've ever seen.
Thank you so much for everything you've done for the kalimba community. I really appreciate it and I know I'm not the only one who does.
-Taylor, 2022
Growing up in a musical family, I found myself obsessed with my first instrument – the guitar – by age fifteen. It didn't take long until I was reaching for every instrument I could find, but eventually, the list of "new" and unique (and affordable) instruments was exhausted… that is, until I hopped online and stumbled across your "First Look Inside" video on YouTube.
I was truly hypnotized. I had grown up listening rock music, and the tonal character of the kalimba was unlike anything I'd ever heard before. It was new, exciting, and as far as I could tell, inexplicably simple. I ordered a Hugh Tracey Alto Kalimba from the Kalimba Magic website immediately afterward, and I've incorporated it into my songs, looping performances, and compositions ever since.
You're doing the world a great service with your dedication to the kalimba community. I likely would not have discovered the kalimba in the first place without your content, and I owe you a great deal of thanks for introducing me – now an aspiring media composer – to one of my all-time favorite instruments.
Thank you always – and best of luck!
– Max Petrillo, 2022
I bought three high-quality Hugh Tracey kalimbas and several books from Kalimba Magic, owned and operated by master kalimba player and creator of an excellent playing tablature system and many kalimba music books, Mark Holdaway, and I'm glad I did. Here are some of the reasons to buy from him:
Kalimba Magic is a reputable online dealer that has been around for 17 years.
They stand behind their products! They provide service both before and after the sale.
Even BEFORE they ship your order, they tune their kalimbas to pitch, carefully paint the tines if you desire, and ship them securely in a timely manner in an attractive, well-made case.
Unlike many competitors' kalimbas that require extensive tuning after shipping when you receive them, your Kalimba Magic kalimba arrives with nearly all tines perfectly in tune.
Plus, you do not have to wait weeks for an overseas delivery or worse, one that never comes.
Moreover, Kalimba Magic provides after the sale service! They aim to please.
They answer their phone, and even better, answer your questions, make things right, and they are here in the USA, not China!!! That means a lot!
If you are purchasing a kalimba and consider a kalimba a musical instrument and not a toy, buy directly from Kalimba Magic. You'll be glad you did.
Connie Jose, 2022
The Mufrika Edward style karimba is truly unbelievable. I can't thank you enough. Just wow!
Happy Weekend and wishing prosperity and abundance to You!
God bless,
Evan, 2022
Also, it's kinda too bad but cool in a cosmic sort of way that you will never know how many people's lives you have enriched and enhanced by just doing what you do and sharing what you share and teaching what you teach through your website, books, and in person, all using a small 1,000 year old, simple musical instrument as a vehicle through which to do all that good.
Jay, 2022
Mark Holdaway Appreciates Your Words!
Thank you so much, oh customers of mine, for your kind words of support. I have loved what I do with the kalimba, for the kalimba community, and I have been graced with this as my job for 17 years now. Looking forward to a few more years!
Do You Have A testimonial?

This is my Hugh Tracey Alto Kalimba from 1986… though the video is from 2006.