If playing kalimba is fun, you will want to do it more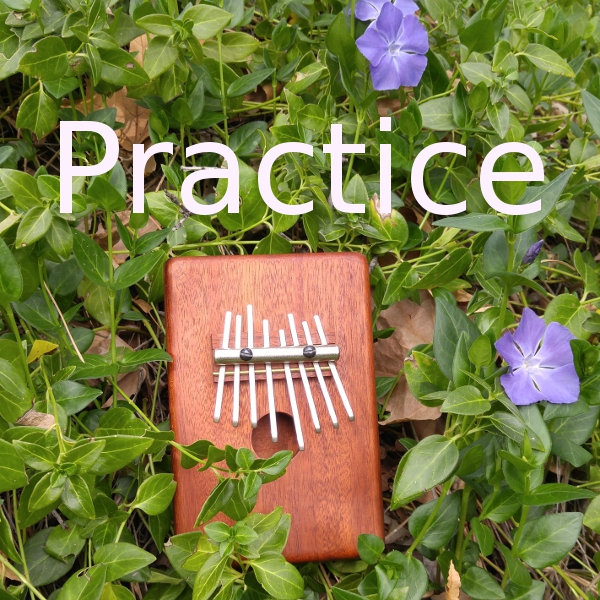 There are many different ways to practice kalimba, and you should find the way that makes you happy.  Don't worry about the "right" way, but do search for the way that is right for you.
Everybody plays a bit differently, and everyone learns in different ways.  You do want a challenge so that you feel you are getting better, but you don't often want something that is so challenging that it is not fun.
I share some of the ways that I practice kalimba, and rate them by how fun I find them to be.
I myself exhibit a wide range of practice styles, and some of them might be beneficial to you. I'll give each one a "fun rating" (1-12), which really means how fun they are to me. Your mileage may vary.
Walking or jogging while playing (fun rating 10) – I find that I derive a wonderful benefit from walking while playing kalimba. First off, I walk in tempo with the music I am playing. If I want to walk slowly and gracefully, I play slow and graceful music. If I want to walk fast, I play faster music (very fast music usually requires simplifying the kalimba part – leave out some notes). However, the influence goes the other way too: the physicality of walking supports the music and makes it more firmly connected with "the beat". I highly recommend this to anyone who has a bit of speed and regularity to their playing.  Walking is already one of the best things you can do for improved mental and physical health, and adding the kalimba can really get the 'happies' going.  I love to start my day with a brisk walk or hike while playing kalimba.  Do be aware of cars, other pedestrians, poles and trees!
If there is anything more fun than walking and playing kalimba, it could be dancing and playing kalimba (11) – But really, dancing and playing requires some serious coordination. I don't recommend this for beginners. Work up to it, and start with walking and playing. I am still working on the dancing-while-playing routine, but I have derived great joy from this path.  I promise to share more on this later!
Kalimba as foreplay (12) – OK, this is actually more fun than dancing, but maybe it doesn't quite qualify as practice. On the other hand, just having your kalimba in your hands will help you improve, no matter what you are doing. If your partner doesn't play kalimba, learn some music your partner loves, or write them a special song on your kalimba that connects with them in a special way. Play the music in an intimate setting before or in between kissing. Aim at touching your partner's heart and making them feel relaxed and loved and beautiful. Accept their gratefulness and emotion. If your partner plays kalimba, you can play together. Aim for total acceptance of your partner's playing, and also be accepting of your own playing level. If there are errors in the playing, be forgiving, play slower, or play something easier. Aim for a deep connection or a mystical unity between you and your partner. Aim for playing that is natural to both you and your partner, no matter what level the two of you play at. If your playing has any conflict or stress in it at all, take the playing out of the bedroom until you are connecting better.
Jamming along with a song (9) – Every kalimba that isn't chromatic will tend to be in one particular key, though it will also be able to play in a few other related keys (more on that later). There are 12 different major keys, so when you turn on the radio, chances are the song being played won't work with your kalimba. Ah, but things aren't quite that bad – some keys are more common than others, and the kalimbas tend to come in the more common keys.  If you have several kalimbas in different keys, play on each one with a song until you find the kalimba (and key) that works the best with that song.  And when you find a song that works well with your kalimba, write down the song name on a list of songs that you can play along with so you can do it again.
Playing for children (8) – In some ways, this is more like a performance, because you are playing for an audience. I find playing for children is actually a good way to practice for a performance. Most young children are very accepting of the kalimba and will be astounded at the sounds it makes. Aim to connect with the kids on an emotional level.
Playing with a drum loop (7) – For practice, I find playing with an electronic drum track can be very stabilizing. You can get drum loops from a variety of sources, and you'll see more about this in the future. For practice, I prefer drum loops or electronic drum tracks to real drummers, because real drummers tend to get excited (a lot more than my computer does), resulting in variable tempos and playing that is too loud for the kalimba. When you get in the groove with a good drum track, it can feel like you have the support of a real band.
Learning a song from Kalimba Tablature (5) – Do you know the game "Dance Dance Revolution"? Surely you know "Guitar Hero"? Kalimba Tablature is loosely based on the notation system used in both of these games. Assuming you are working with the tablature for a song that is appropriate for your skill level (and also appropriate for your experience with reading the tablature), I find learning songs from the tab to be pretty fun and productive. It can also be slow and a bit frustrating. You can improve the process by working on small bite-sized pieces of music – try segments that are between one and four measures long.
Learning a song from KTabS Kalimba Tablature Software (7) – Kalimba Tablature Software is a cool way to animate the tablature. Instead of a static graphic frozen on your screen, the notes scroll down the screen, and when they hit the "playing zone" they light up and you hear them played.
Deciphering a song from staff notation (1) – Sometimes I have no choice and I need to learn a song that I only have in staff notation. Any general song written in staff notation probably isn't in the same key as your kalimba, and even after you get the staff notation in the right key, there is a good chance that the song will require accidentals (notes not in the key of the song or the instrument) and it may even extend beyond your instrument's range. After you have taken care of those details, you still need to figure out how the song goes, which note is played on the left or the right, etc. Not my idea of fun! More often than not, I will translate staff notation into kalimba tablature, and then print it out or even play along with it.
That list should give you some good ideas on how to keep your kalimba practice light and lively.