For use with the 11-Note Hugh Tracey Pentatonic Kalimba.

Here is the intro to the book:

The G Major Pentatonic Scale:

The G Minor Pentatonic Scale:

Why would you want a pentatonic kalimba?
It is harmonically simple – a good choice for new kalimba players.
It is easier to play than other kalimbas, due to the large tines and extra space between the tines.
It has the same scale as the Native American Flute – meaning it can access that same ancient culture space through its music.
In fact, primitive cultures all around the world use the pentatonic scale.
In other words: take away a few notes from your regular scale, and the instrument becomes a doorway to freedom – there are certain aspects of playing that become freed up in this scale.
The pentatonic kalimba is a great instrument for music therapists to use with many populations.
The pentatonic kalimba is great for spiritual and meditative music.
The pentatonic kalimba is an awesome choice for the percussionist with little or no experience on tonal instruments.
It is great for theatrical work and for accompanying story telling.
It has been said (though it isn't exactly true): "On the pentatonic scale, there are no wrong notes." I like where that sentiment puts me when I pick up one of my pentatonic kalimbas.
This was one of my first books, originally written in 2006, and it was the first book that I wrote as I was learning how to play its kalimba. That is, when I wrote the Alto and Treble Fundamentals books, I had already played Alto and Treble for many years, and the Pentatonic Kalimba was brand new to me.
This was the kalimba that taught me that every kalimba has a spirit. It has things it likes to do, places it likes to go, and feelings it likes to bestow upon the player or the listener. I let that spirit teach me, and I took notes. I brought them back, and turned them into a book, to share with the world  some of the special things this kalimba does. And that has become my life, exploring kalimbas and reporting back on them to help you play them.
I accomplished this by sharing 75 lessons in two different tunings. Each lesson consisted of 2-16 measures of tablature and sound recordings on the accompanying CD, and some words of explanation and encouragement. And each lesson showed you something essential about how to play this particular kalimba and the music it makes.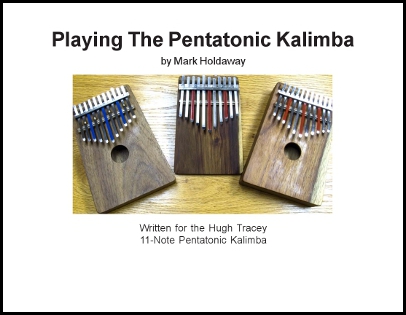 This 48 page book help you get inside the soul of the pentatonic kalimba.
Of course, books are expensive to ship, especially overseas. Now it is also available as a downloadable PDF, with live links to the sound files and other resources to help you on your pentatonic kalimba journey.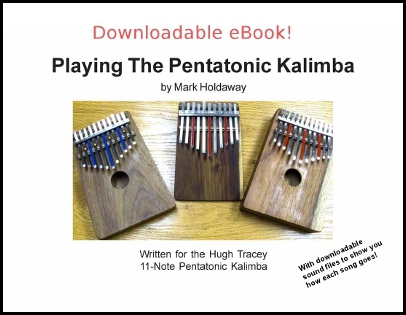 Here is an example lesson from the book: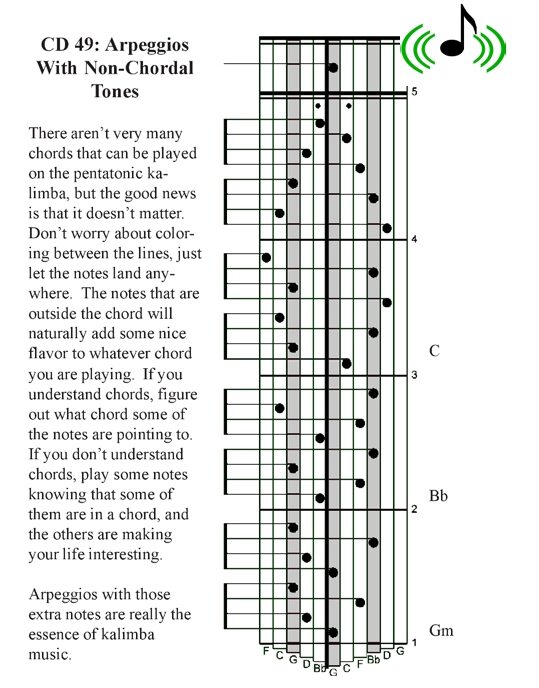 A Lesson From the Pentatonic Book