Our new system works much better than our old system.
In my mind, our instructional downloads are the best thing we have going at Kalimba Magic. I love creating the music, the lessons, and arrangements.  Creating these kalimba ebooks is my super power. Too bad it was so hard for so many of my customers to get those ebooks. I often had to send them download links "by hand" in emails.
Kalimba Magic updated its web site to Word Press in December 2020. Before then, the Kalimba Magic instructional downloads often did not work right. While I still see some problems with customer's downloads, this system is working much better than the old one. Let me walk you through how it works.
When you purchase an instructional download from Kalimba Magic, upon completing your order you will find yourself on the "Order received" page. That means that we received the order. Any downloadable products you purchased will appear here is blue links (see below). That goofy red arrow? You won't really see that on your web browser.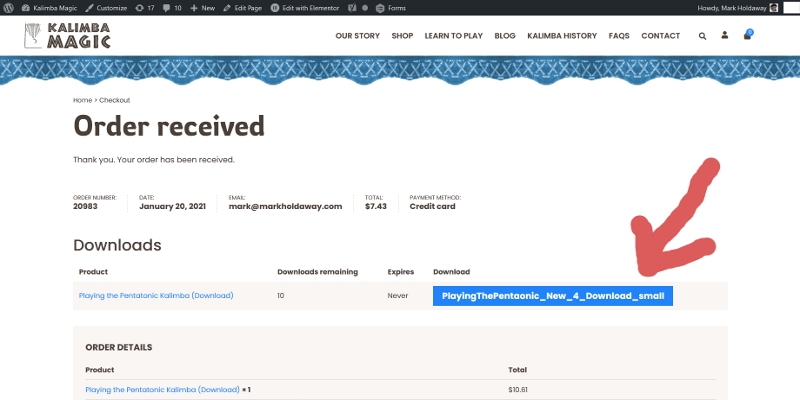 Next, a link to your download will also be sent to you in email. If you don't find it, look in your junk mail. It will look something like this: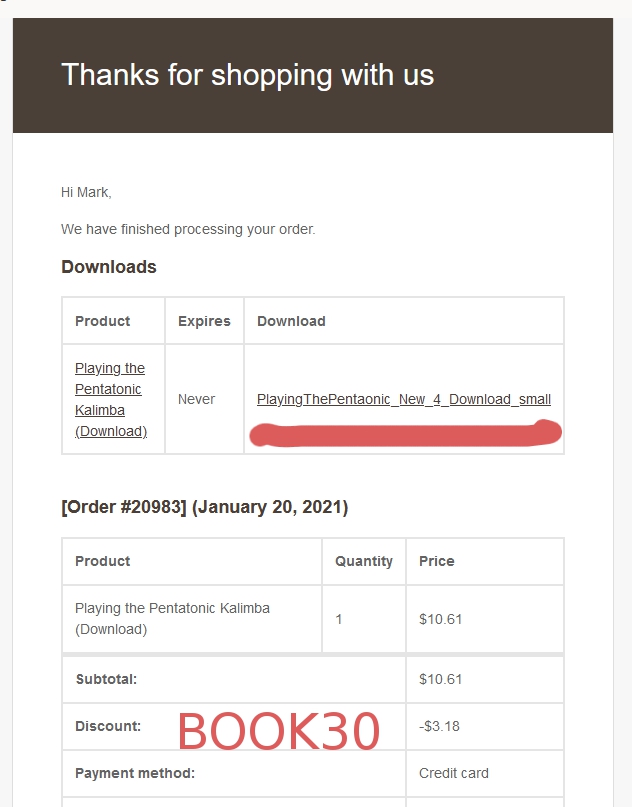 Keep this email around. If you ever need to download the ebook again, this link should work for many years to come. Oh, and if you purchase a download or a book? Remember to use the coupon code "Book30" to save an astounding 30%.
And last, if you register as a user with the site before you make your purchase, you can access your downloads through your account as well.
Here is a tip for you: there are dozens of different kalimbas and tunings for which I have created books and ebooks. Your kalimba has a particular tuning or note layout, and you will need to find a book or download with the same tuning and note layout. (There are exceptions – like if you have a an Alto in G, you can get the Alto G Minor download and retune yourself from G to G minor.)
Most of the books and ebooks have an alternative product image that represents the tuning or tunings assumed by the book. Look at those images when you are browsing for a book or ebook to ensure that you will be able to use that material for your kalimba. OR… maybe it is time for you to get another kalimba in your life!