It plays Moody, complex, mysterious music. And here's a new eBook just for the Middle Eastern-Tuned 17-Note Kalimba

This Middle Eastern tuning makes amazingly beautiful, powerful, exotic music. It is really a journey I can recommend to most anyone. The music you can play in this kalimba tuning takes you around the world in its musical expressions. I find this music to be so beautiful, I recommend you purchase the download just to listen to the recordings that come with, even if you don't play kalimba.
If your 17-Note kalimba is in the key of C, you will need to slightly modify the tuning. You should find that it is not too difficult to change the tuning of your kalimba to this Middle Eastern tuning.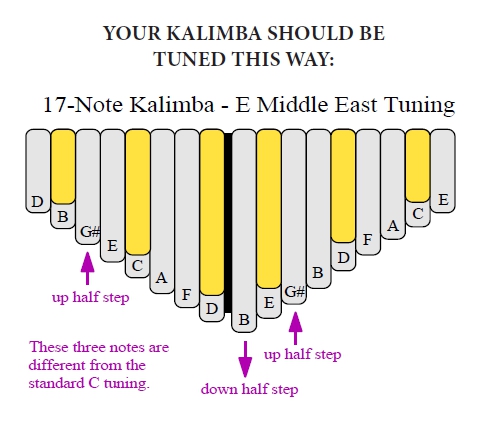 Any 17-note kalimba tuned this way will work with our new ebook, "A Teller of Tales: 17-Note Kalimba in Middle Eastern Tuning." If you can't do this retuning yourself, you can send your instrument to the Kalimba Doctor, and he'll retune it for you. Or you could purchase a new Heart-17 kalimba and get it set up in the Middle Eastern tuning.
In the accompanying image of the Table of Contents for the Middle Eastern Tuning ebook, you can see that there are a lot of lessons around concepts, about how the instrument is laid out, and what makes it work. There are some actual songs toward the end of the book. You'll know "Hava Nagila," and "Coventry Carol," but you probably don't know most of those songs. They have a different kind of sound that comes from faraway places.
The flip side of the exotic nature of this tuning is that almost any normal song you already know (Jingle Bells? Star Spangled Banner? Home on the Range?) cannot be played in this tuning. Notwithstanding, this kalimba makes some wild and sweet music that you would surely love to play.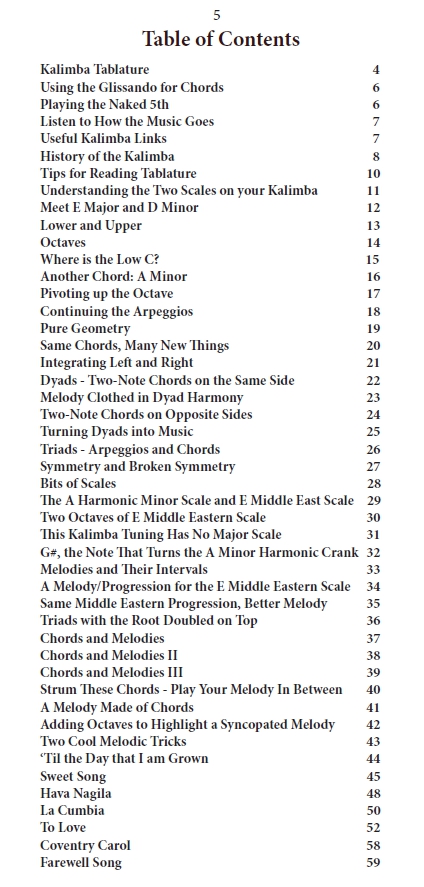 The ebook is a PDF file, which you download and save to your computer, your tablet, or your phone. Following is an example page from the eBook. The black note with green waves around it is the sound icon – a live link to a sound file that will play this little bit of music. The tablature on the page below shows you which tines to play, starting from the bottom, to achieve that music. And the text on the page provides helpful tips to assist you in getting the most from this little lesson of music.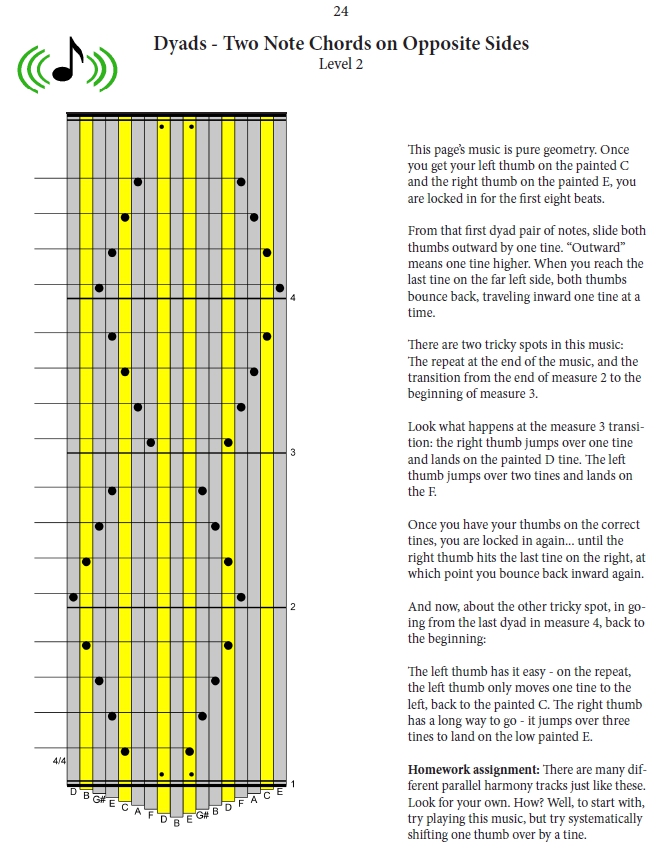 I hope you enjoy the Middle Eastern Tuned 17-Note Kalimba. I have certainly been enjoying mine.
A couple of thoughts about your kalimba's color and tuning:
You don't have to get yours in yellow, but if you do, you will always know which kalimba it is. If your kalimba is unpainted, I suggest you try to color the relevant six tines with a Sharpie marker. You can try a colored highlighter pen too.
I imagine that between 80 and 90% of kalimba owners between the age of 12 and 70 would have the abilities to accomplish this retuning. If you are uncertain, go ahead and give it a try whenever you work up the courage, and if you cannot see the job through, send it to the Kalimba Doctor and he'll fix up your kalimba's tuning.
I owned my first kalimba for over 10 years before I started to experiment with different tunings, and this was the very first exotic tuning that I found. So it is a very sweet thing for me to be able to bring this exotic tuning and its music to the kalimba world.