Five + One Volumes of Mbira Dzavadzimu Music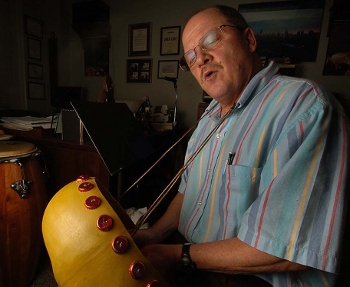 I have great news about B. Michael Williams, as well as some sad news. On the plus side, he is making a strong finish to his career as an academic, a percussionist, and a proponent of the mbira and karimba: he has just published his 5th and final volume of mbira songs in his easy-to-read mbira tablature, available from Bachovich Music Publications or Steve Weiss Music.
On the sad side, Michael tells me that he has been diagnosed with both Parkinson's and Alzheimer's diseases. While he had the wherewithal to assemble his final volume of mbira songs, currently he is no longer able to play mbira.
Michael is a great teacher, and helped a lot of people to learn and play traditional mbira and karimba. And even though a lot of my work is non-traditional, he has always given it validity, and his encouragement has meant a lot to me.
So, when you pick up your mbira, your karimba, or your kalimba, please send some of your joy and good vibrations and gratitude to our dear friend B. Michael Williams. Thank you.
B. Michael Williams recalls that at first he didn't know if he had fallen in love with mbira music, or if he had fallen in love with Erica Azim's voice singing with her traditional Shona mbira playing. But in the end it was the mbira and its magical music that became the focus for Williams' musical journey.
That 30+ year journey has taken Michael deep into dissecting and understanding hundreds of mbira performances and learning to sing in the Shona language. It has included merging Shona mbira and karimba music with other world percussion traditions in innovative ways. Fortunately, Michael's journey has also included sharing his wealth of mbira understanding with his students and with the world. Thank you for this gift, Michael!
I learned to play mbira from Michael's first book, Learning Mbira: A Beginning. Michael comments about his book: "After working through one or two of these songs, you might be ready to take in one of Erica Azim's two-day workshops."
If you go to an mbira workshop with Erica Azim, you are strongly encouraged to be present in the moment and to let your body, and then your mind, absorb the thumb motions and music and the instruction you are receiving. You are strongly discouraged from writing down the variations you are learning, because the process of writing takes you out of the moment, and errors can be easily made in the notation. (So true!)
Of course, errors can also be made in the mind without any recourse to paper and pencil at all. If you live in an mbira-rich community, such as parts of the west coast, you always have resources to draw upon to refresh your knowledge of a somewhat altered or forgotten song.
If you live in Tucson, Arizona (or any number of other places) you could be very glad that B. Michael Williams does write it down! Below is precisely how he notates his mbira songs. This sample of Michael's original mbira tablature system is for just 12 beats, or one phrase of music, or one quarter of the "standard version" of the song:

Tablature for one of the four phrases of the standard version of the mbira song "Kariga Mombe Yekare," from Williams' Volume 1 MbiraTabs book. In Williams' tablature, RI stands for "right index finger", RT for "right thumb", UL is an upper-row tine on the left, and LL is a lower-row tine on the left.
One variation, or four phrases, will take up an entire page of the book. Typically there are four, five, six or more variations to each song. Many songs have both kushaura (leading) and kutsinhira (following) parts, each of which will have multiple variations.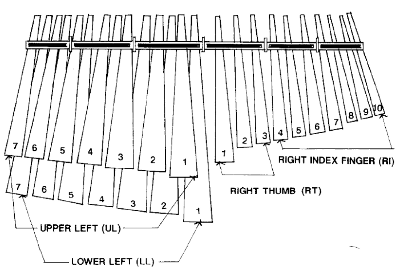 Please note that I do not sell any of B. Michael Williams' books. Links below take you to Steve Weiss Music where you can purchase these books. I am publishing this article simply for the good of the world's mbira players, and to honor Williams' devotion to mbira music.
What Williams has done seems miraculous. Yes, he has learned from some great mbira players. But most of what Williams does is to quietly listen to recordings of mbira masters playing their songs. He is able to hear what notes are being played, he is able to reproduce the music on his mbira of a similar tuning, and he is then able to notate the music.
[I know exactly the sort of work B. Michael Williams has done, because I do a very similar work in notating songs in kalimba tablature for the books I write. And I can tell you: as you are on your way to becoming an expert, you can do this sort of work too. It will be a challenge. You will be at places where you think you cannot do it. But if you persist, if you open yourself to the music, if you try, and fail, and try, and fail… you will find some successes. You just need to accept the failures. They are part of the process, especially early on. But if you seek to do something that is worthwhile to you, if you have love in your heart, the failures will not be a problem. They are the paving stones of the path you are seeking to take. And in the end, you will get to a place where failure becomes rare, and success follows success follows success. It is an excellent place to be, but you will have to work, hard, or long, or both, to reach that place.]
Now, about B. Michael Williams' books: Learning Mbira: A Beginning, and the five volumes of his MbiraTab series in detail:
Learning Mbira: A Beginning offers a very accessible collection of basic repertoire for the mbira. Tunes are transcribed in both Western notation and a style of tablature notation that is accessible to both experienced musicians as well as those with little prior musical training. Includes background information on each tune, as well as bibliography & discography. Includes 2 CDs featuring recordings of the material in the book. Includes basic instructional material and tablature for 8 songs: "Kariga Mombe," 'Mahororo," "Nyamaropa," "Nhemamusasa," "Kuzanga," "Taireva," "Nyamaropa ya Chivhanda," and "Bangidza." This book, and all other volumes except for Volume 4, are in nyamaropa (one of the most common mbira tunings). Difficulty level: intermediate.
(Notice that the most basic book here is at intermediate level and all the others are "advanced." Yes, I am not the only person who finds the mbira to be a challenge – a "steep learning curve." There is nothing that is "beginner" about the instrument.)
Writes Michael: "Since the publication of Learning Mbira: A Beginning, I have had many requests for additional volumes of mbira transcriptions. After having collected many new songs in tablature notation, I decided perhaps the most efficient way to meet this demand was to make them available in several "mini-volumes" of four tunes in each volume."
Volume 1 of B. Michael Williams' MbiraTab: Tablature Transcriptions for Mbira Dzavadzimu series includes four previously unreleased transcriptions: "Baya Wabaya," "Karige Mombe Yekare," "Nyamamusango" and "Shumba." Difficulty: advanced.
Volume 2 of B. Michael Williams' MbiraTab series includes four previously unreleased transcriptions: "Hangaiwa," "Shumba ya Ngwasha," "Chipundura" and "Bukatiende." Difficulty: advanced.
Volume 3 of B. Michael Williams' MbiraTab series includes four previously unreleased transcriptions: "Chakwi I," "Nyuchi," "Chakwi II" and "Dangurangu." Difficulty: advanced.
Volume 4 of B. Michael Williams' MbiraTab series is specifically for the Gandanga (also known as Mavembe) tuning system. Volume 4 includes four previously unreleased transcriptions: "Marenje," "Dangurangu," "Mbavarira" and "Vasina Katura." Difficulty: advanced.
Volume 5 of B. Michael Williams' MbiraTab series includes ten previously unreleased transcriptions. Some are lengthy, while others may consist of a kushaura and one or two variations. Difficulty: advanced.
Thank you, Michael.