Are you in a kalimba rut? Let one of these exotic kalimbas free you into a new land of music!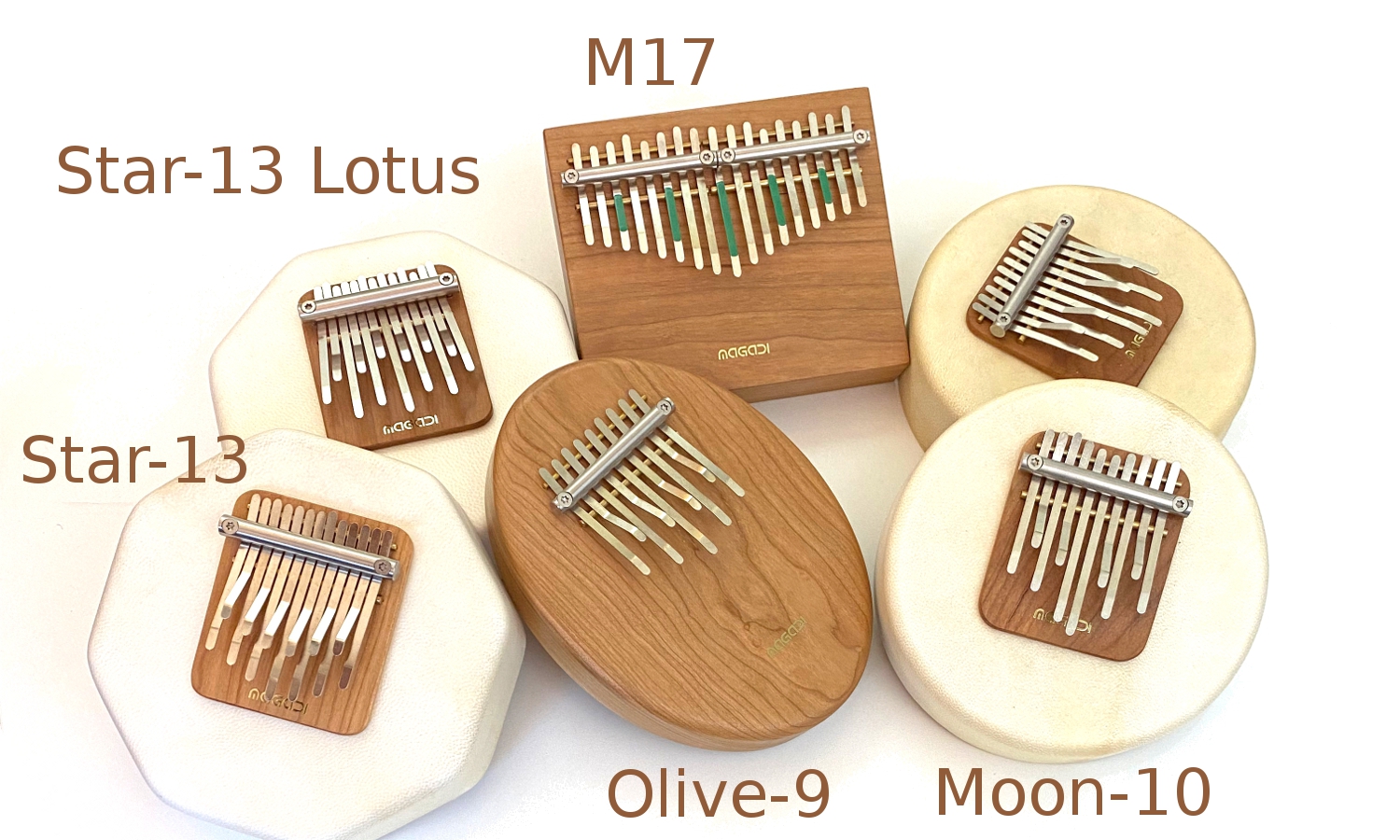 The Magadi line of kalimbas are all high quality instruments, generally with exotic tunings and innovative designs.
Each Magadi kalimba we sell comes with a free booklet that I wrote – the implication being that these are insightful guides that will help you get the most out of these kalimbas. I should note that these booklets are not available anywhere except Kalimba Magic.
To popularize the Magadi Kalimbas, we are offering a 30% off coupon code: Magadi30
Here are the words of Peter Oxland, one happy Kalimba Magic customer:
Earlier this week, the M17 Kalimba happily joined my collection of instruments. Initially a little overwhelmed with the 17 tines/notes, I'm challenging myself by listening to the 'maestro of kalimbas', Mark Holdaway, and "let my thumbs off the leash."

Well … these past 3 early mornings have been simply amazing as I ventured into exploring and understanding this wonderful instrument.

I am feeling a 'little twinkle' about this magical, & surprisingly inexpensive, kalimba. For anyone interested in hearing how it sounds, here's a wonderful short video, created by the maestro himself:
Kalimba Magic (owned & operated by Mark) continues to offer our world so, so much, by inspiring many of us to embrace this wee little, yet very magical instrument.

Recently, I've wondered why I'm so enamored with the kalimba so much? … perhaps it's the similarity of a book always being there, ready to be read … and a kalimba always being there, ready to be played – which I find so inviting.
Thank you Pete, for your beautiful words.
By the way, Pete owns and plays a great number of kalimbas, and he uses them to facilitate Kalimba Workshops in the Calgary, AB area. He will do in-person Kalimba Workshops with Wellspring members on October 1 and October 29. These workshops give people an opportunity to play with a wide variety of kalimbas. In addition to gleaning kalimba wisdom, people also get a good idea of which kalimba they would like to own.
If you are interested in attending one of his workshops, contact Pete Oxland on Facebook.
Here are some more Magadi Kalimbas in action:
"Making Friends with the Mini-7 Kalimba" – Our Newest Booklet