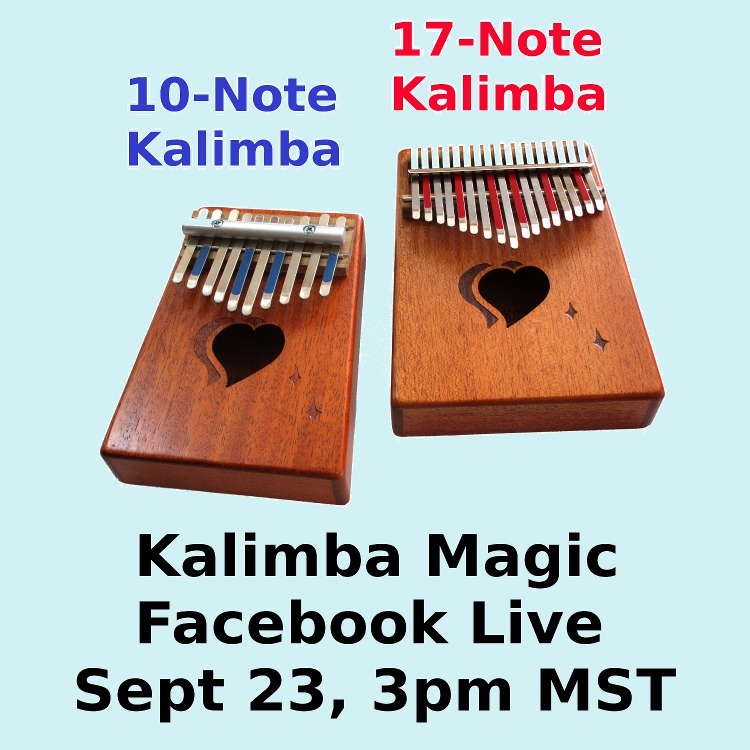 Hi! I am doing another Facebook Live event this Friday, September 23 2022 at 3pm MST = 6pm EDT. Huh? Arizona gets so much sun, we never go on Daylight Savings Time. Yes, we would go onto Daylight WASTING Time if it meant the sun would leave the sky sooner. So, in the summer, we are the same as PDT, and in the winter, we are the same as MST. Just one of life's little complications. On the other hand, if you live in Arizona, you never have to change your clocks – which sounds simple to me.
Enough on time zones. Here is the plan for the (approximately) one hour FB Live session:
* We will reveal a 40% off coupon code, good all day Sept 23.
* My wife Su will "interview" me – asking me some of the questions YOU want to know the answers to. Go ahead and send me a question that you would like me to answer.
* I will be performing on the 17-Note Kalimba in C and on the 10-Note Kalimba in C. These songs will be demonstrations of the music in my many books. And why should you get a 10-Note? Because stepping back into a simpler kalimba may be just what you need to gain freedom and confidence that will get you ahead on your 17-Note Kalimba. Or maybe because you are 10 years old. Or maybe because you are 86 years old and your thumbs and brain aren't as quick as they used to be. (The Kalimba is one of those instruments that can stay with you through your elder years… unlike bagpipes, tuba, or even violin, guitar, and piano, which all require a significant physical effort, which may be beyond you if you are physically compromised.
* I will do a short presentation on tuning kalimbas and kalimba tunings. "Tuning Kalimbas" is the mechanics of refining or changing the tuning of the kalimba. "Kalimba Tunings" are sets of notes that the kalimba tines can be tuned to – like a Middle Eastern Scale tuning, or a G minor scale.