Have you thought about getting a kalimba for Mom or Dad? Or for yourself?
We are living longer – and hopefully we are living better too. Better knowledge of health and the human body help us take better care of our bodies and minds, leading to the potential of living well as we age.
But part of aging is dealing with loss. I have known elders who played violin, cello, piano, or guitar in their younger days – all physically demanding instruments. At some point, the demands of these instruments can exceed what a body has to give. When dealing with loss, compensation is key. The kalimba is small and easy to hold, but has a surprisingly large voice – a perfect replacement instrument. Playing kalimba also keeps the brain active, challenging the mind and honing hand-ear-eye coordination.
READ ON to get the testimonials of three older women who have discovered the magic of the kalimba.
From Pat, age 75 – United States:

I recently purchased a Hugh Tracey Alto Kalimba from Kalimba Magic. I love it! Through the years I've taken up various musical instruments. They soon all become something to practice and learn rather than something to play. I've bonded with my kalimba and "play" every day.
I'm going for a week-long visit to a friend's cottage and intend to order a kalimba for her as a "thank you" gift.
One last thought: I've done a lot of volunteer work with the elderly [this coming from a 75-year-old woman] and see the kalimba as a perfect instrument for keeping the brain active. It is relatively inexpensive and extremely portable. Also, it is not that difficult to learn. Any efforts to get kalimbas into the hands of grandma and grandpa? They really need something to do besides watch Fox News and reality TV. Just a thought!
Thanks again! Pat

---
Gerda, age 84 – Tasmania, Australia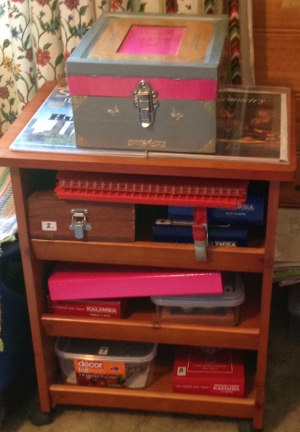 I got the African-tuned Karimba a little while ago. I have now spent a few days sorting out all my kalimbas and put them in a small furniture. Also, I started having a look in the book of "About 30 Traditional Songs".
I am in heaven! Just what I need right now in my life! Something new in music. At harp we play the same western stuff, and some of the others go back to tunes that really bore me! But I still go along, as the Irish tunes are good! And they are my friends.
I like what you write: "Karimba music is a wild, living thing." My sunset years are going to be wild!!!
And I can sit in the armchair with a small instrument which doesn't weigh a ton and isn't awkward to hold. Luckily I don't have arthritis.
I am so excited over this. I will probably mostly play this last African karimba, but it is also nice to have all the others.
All the best, Gerda.
---
Christine, with rheumatoid arthritis – France:

I ordered more kalimbas again. I keep showing them to friends because i am so pleased with them! And now my sister fell in love with them, so I will buy one for her. I used to play the guitar and the piano but now I have rheumatoid arthritis and my hands are just… how to say… out of order.. I will again have surgery on them in September just to be able to open my fingers. But there is the magic of the kalimba and nothing can keep me from having joy and fun with your beautiful kalimbas. That is why I say thank you so much, Mark!