The Catalog is available in hard copy or as a PDF Download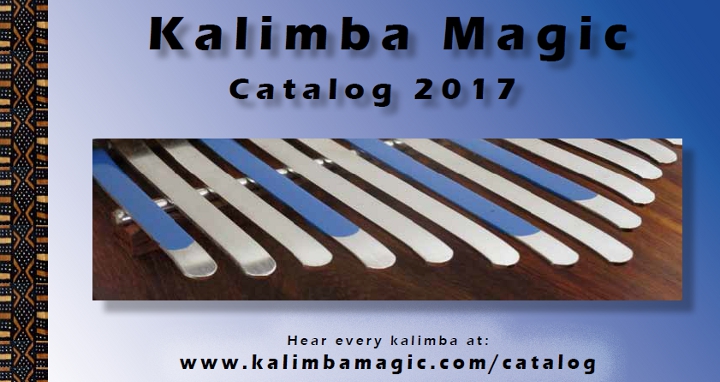 For the first time in seven years, Kalimba Magic has printed a catalog.   Click through to find out what is special about this new catalog and how to get a hard copy or a soft copy catalog of your very own.
In the past, I have used professional help with catalogs in terms of photography and design layout.  This time, I have done all the work for the catalog on my own.  While it has slowed me down – I haven't produced a single book during the time I worked on the catalog – I think there are a number of benefits evident in the final product. Here are some of its outstanding features:
All the photos are new and were taken over a few days and are very consistent in the scale, lighting, and processing.  This resulted in a more realistic portrayal of these kalimbas, and makes comparison easier.
There is an integration between the hard copy and PDF versions of the catalog.  In the PDF version, most photos and text areas are clickable, and will take you to a webpage with more information on each kalimba, including sound recordings.  The hard copy catalog directs you to the webpage kalimbamagic.com/catalog which has links to sound files for the various kalimbas and links to each kalimba's product page.
In addition to the 41 kalimbas presented, the catalog also contains an introduction to kalimba tablature and advice on optimal kalimbas for kids (and kids at different ages/stages). You'll also find links to pages on kalimba history and extensive playing tips (just a small part of KalimbaMagic.com), along with 32 of our most popular kalimba books. Each book was created especially for a specific kalimba, kalimba tuning, or style of kalimba playing.
So, I invite you to download a free catalog, browse through the sound recordings on the catalog support page, or send us a request for a hard copy catalog including your mailing address:
Access Kalimba Sound Recordings
Request a hard copy catalog be mailed to you.