Playing Sansula and Native American Flute at 86, he is at a peak of his musical career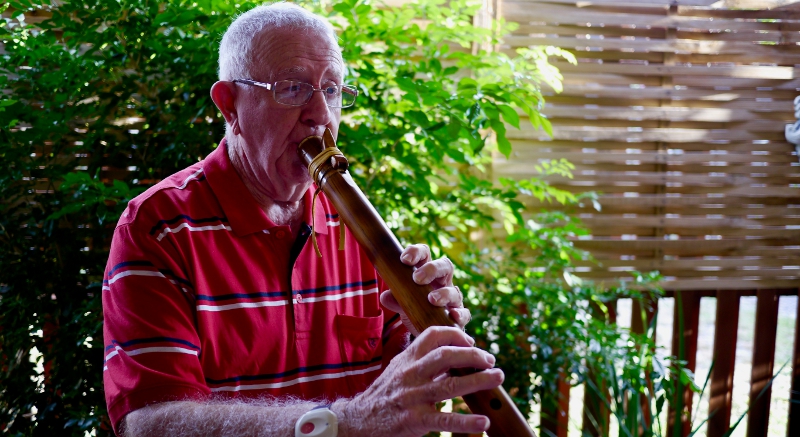 At the age of 86, John Burns of Melbourne, Australia is having the time of his life, playing meditative music on the Native American Flute and the Sansula. He started playing tuba in high school, then a rare chording harmonica. He continues his exploration of arpeggiated chords, now on the Sansula.
John brings the sensitivity and spirituality of the Native American Flute to his Sansula playing, and he touches the hearts of the people for whom he plays.
Kalimba Magic: John, when did you start playing music?

John Burns: My music journey started at high school when I joined the school junior band on the only instrument available – a B FLAT TUBA! A rather large beast, but as I got into it, I rather enjoyed the nice low sound and how it grounded the music. When I graduated high school, I joined the city brass band – still on the tuba – until I moved to another area in Melbourne. I then joined the city Silver Brass Band… still on tuba.
Three years on, l became interested in the Hohner chord harmonica. A dramatic change in sound, size and music style, I enjoyed playing the large range of chord variations that you could attain etc.
After 12 months practice I started to search around for other players looking for a chord harmonica player. I located a duo eg, a chromatic player and a Bass harmonica player. They were hoping to develop into a HARMONICA TRIO. So the "HARMONICA HEPCATS" was born!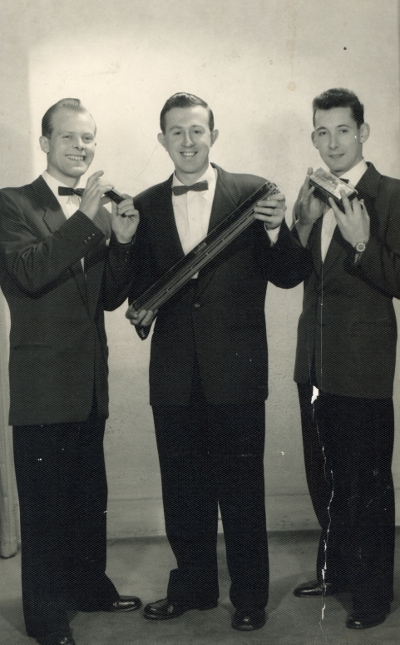 Over the next 10 years we achieved great results in TV, RADIO, NIGHT CLUBS, LOUNGES, SPORTING CLUBS, WEDDINGS ETC.
Our biggest gig: we got a spot playing at the 1956 MELBOURNE OLYMPIC GAMES GALA NIGHT AT THE CLASSIE THEATRE IN MELBOURNE! We played a set of 3 numbers, A REAL BUZZ,
Shortly after that we all got married and the Harmonica Hepcats retired remaining good friends.
Kalimba Magic: When did you start playing the Native American Flute?

John Burns: I started playing the Native American Flute – also called "NAF" by players – approximately 30 years ago. I became fascinated with the NAF when hearing one being played at a folk concert.
I located a SHAKAHACHI artesian called David Brown and purchaced an F# flute and commenced having lessons from him for a number of years. To this day, I still keep in touch with him. He and I often discussed the feeling that the general public consider that the NAF is a "BASIC ENTRY LEVEL" instrument! I guess you get that with the kalimba too?
I feel that the Native American Flute has a potential in the music world to match any flute, as it generates a moving, soft mellow sound that entrances the player and audience. The NAF stands on its own in the spiritual, yoga, reki, and meditation styles.
I always drift into a different world when l play NAF Flutes. I really got taken to another spiritual level when I produced my current CD, "NESAMA, A DIFFERENT JOURNEY". I am always playing my NAFs on a regular basis. I would strongly recommend that you try these flutes: when you play and get the vibration of the flute, it will reach your soul… a bit like the Sansula
---
I was introduced to the HOKEMA SANSULA DELUXE KALIMBA sound when scanning the internet for musical instruments from other countries. I came across an African THUMB PIANO, or KALIMBA! What an unbelievable sound it made!
So I searched online and I located Kalimba Magic Co. Contacted the owner Mark Holdaway and purchased my first Sansula. I now have three Sansulas, all in different keys.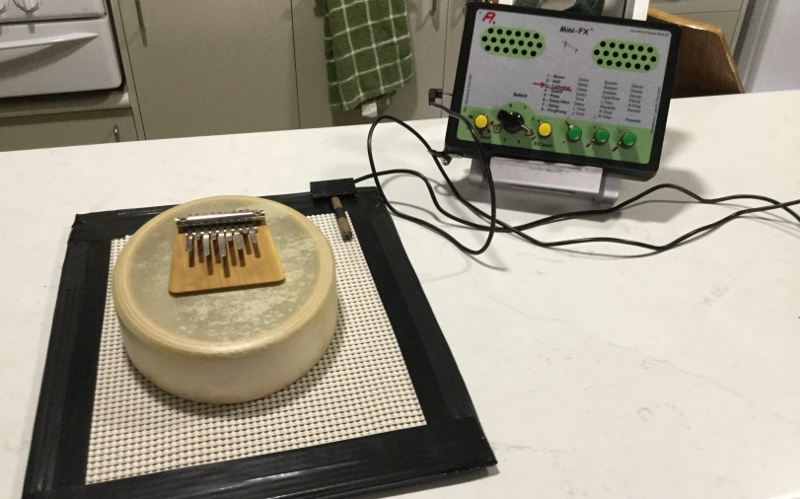 Here is my Sansula setup. I have a padded flat board to play the Sansula on, to do the wah-wah effect by lifting the frame drum up and putting it back down to the surface. And a contact mic to pick up the Sansula itself. I send that into my Mini FX unit, which is also an amplifier – the one I got for my Native American Flute playing. Sounds fantastic!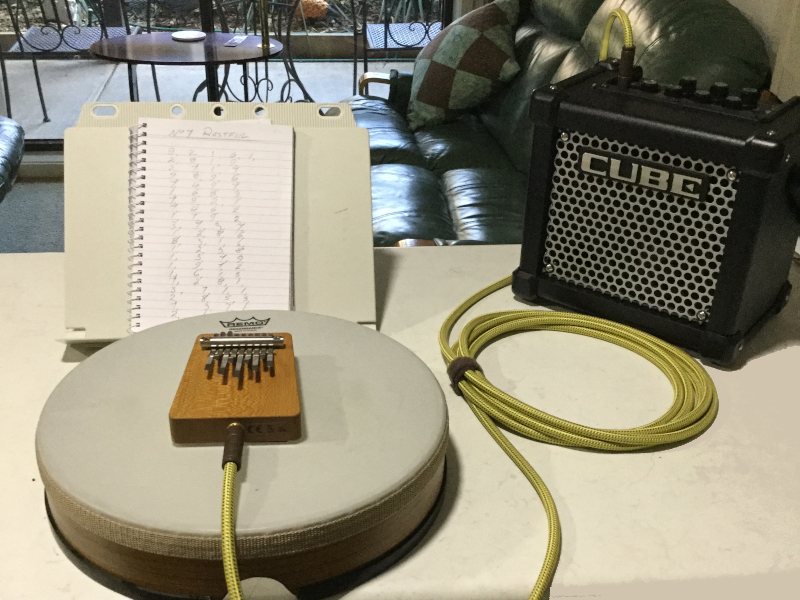 Just recently, I have started playing the B9 Elektro – the Pocket Sansula – but I play it on top  of a little frame drum, which amplifies it significantly. I bought the Roland Cube Amp, complete with all sorts of reverb and special effects, and the B9 Elektro sounds great through it! I play it in the D Akebono tuning, and I was so thrilled with it, I bought another one!
What really attracted me to the Sansula was that it blends very well with my Native American Flutes. Both instruments have 9 notes and unique sounds of their own. I find my Sansula is competing for my time with the NAFs – I play them both daily. But I find that the Sansula has the edge over the NAF in versatility in playing various music styles.
In closing: I learned about chords and how to support them by playing the tuba. I further jumped into chords with the chord harmonica. And now, because I understand melodies in their relation to chords, both the NAF and the Sansula give my chord playing brain a good workout, and they both take me back to the fantastic time I had playing the Hohner chord harmonica in my youth!
I have a ways to go yet, and I'm enjoying every day I can play music.