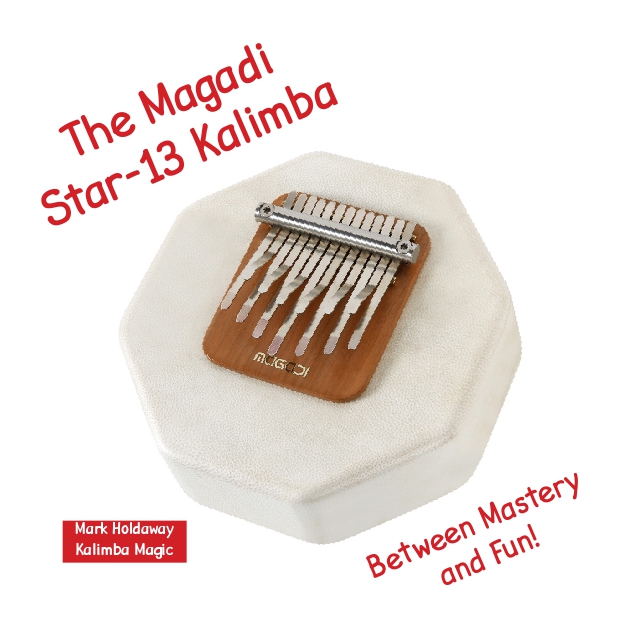 This 40-page booklet uses colorful photos, graphical illustrations, tablature, and live sound links to convey how I play some of my favorite songs on the Magadi Star-13 kalimba.
The Magadi Star-13 Kalimba is a super cool instrument. It is angelic in sound, with expressive mind-blowing special effects, and it is also really fun to play because of the unique note layout.
Available Oct 11 2021: This hard copy booklet (small format, 6″ x 6″, so it fits the kalimba's footprint) has 40 pages in four sections: Quick Start for people who already play kalimba (8 pages); Introduction for people new to the kalimba (10) pages); Easy Songs (8 pages); More Songs (9 pages).
Below is "page 2" – an introduction to the kalimba's tuning. In the download PDF version, you will see the green and black "sound icon" on each page – if you were to click on that sound icon in the download, it drives your web browser to a sound file that would explain the "C Major", "G Mixolydian" and other scales.
If you get the booklet, you will see the URL and QR code that direct you to the Star-13 Resources Page. There, you can listen to each of the book's recordings, view video of me playing the Star-13 Kalimba, or download blank tablature for the Star-13.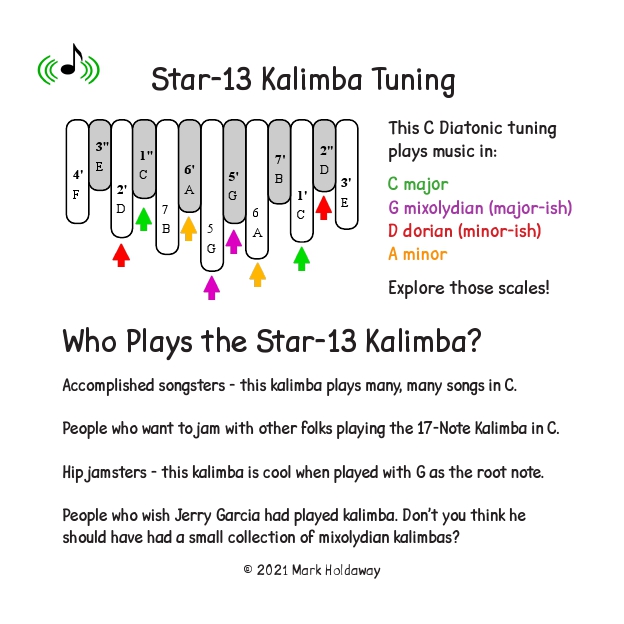 The introduction deals with many aspects of this kalimba, especially: "If the low note is G, why is the kalimba in C?" This is addressed in this TikTok video:
Easy Songs include: "There's a Hole in My Bucket", "Oh! Susanna", "Dvorak's 'Going Home' Theme", "Go Tell it on the Mountain", "O Christmas Tree". "Michael Row Your Boat Ashore", and "You Are My Sunshine". Plus, we share a guide for how to use the 63 songs in the free "E-Z Numbers Download" with the Star-13 Kalimba.
The 'More Songs' section explores some more advanced songs, along with the different modes that can be used on the Star-13 Kalimba in standard tuning:
Also, three alternative tunings are presented in this booklet, along with recordings.
As you can see, this cool kalimba has a lot to offer. If you are tiring of the same-old 17-Note Kalimba stuff, come and explore this fertile new kalimba land!