2B/9, 2B/9B, 2B/14, and a 2B/14L are now here!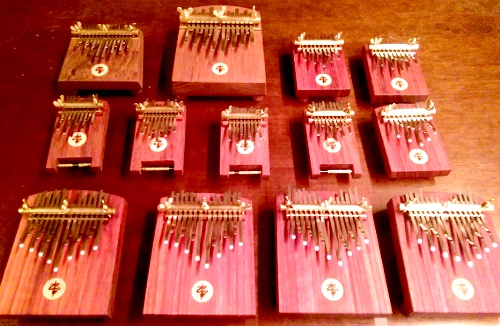 We've been waiting a long time for Thomas Bothe to send us more of his wonderful "2B Kalimbas", and we have just received a few instruments (January 2016). They are unique in the world, nothing quite like them – check out the video below if you want to know what makes them so special.
Thomas Bothe fell ill more than once from breathing the sawdust from paduak wood, out of which his beautiful kalimbas are made. After avoiding it for a while, he has been able to work again, and is sending us part of what we ordered earlier – the kalimbas seen in this photo. We will receive a few of each, but only one 2B/14L.
If you are someone who has already paid for your 2B kalimba and have been waiting for months, your wait will be over soon! If you have been waiting to see if Thomas would be producing more kalimbas before you put your money down, contact us before you order one just to make sure that we will have one available for you – these might sell out quickly.
Perhaps the best news – Thomas is expanding his operations, and late in the spring 2B kalimbas will be more generally available.