If you have been frustrated with learning kalimba, try starting here

Kalimba tablature, invented by yours truly in 2004, reflects my internal conceptualization of the kalimba and how it is played. My gift to the kalimba world, this tablature can be used to learn how to play, to transmit any sort of music to others, as well as an easy and elegant aid in composing new music.
But not everyone likes my vertical tablature.
If you're new to kalimba tablature and find it overwhelming, you might want to first try the numbers-based approach to learning how to play. A simple, "play by the numbers" method, it references the degrees of the scale and is a valid approach to understanding music.
This is a perfect place for children to start playing kalimba – or for anyone without musical experience who want to start very simply.

Sani gives a demonstration of "playing by the numbers" on his 17-Note Kalimba in C.
The way to begin using the numbers-based approach is to use a Sharpie marker to put a few numbers (as directed) on select tines on your kalimba, representing the "1", "2", "3"… and so on… of the scale. In the ebook, I show you which tines to number for the Hugh Tracey Alto kalimba, Hugh Tracey Treble kalimba, the 8-Note, 10-Note, and 17-Note in C kalimbas. You don't need to number all of the tines, just the ones that a given section of the book uses. If your kalimba only has 6, 8, or 11 tines, then you have fewer notes to worry about, and the instrument actually becomes much simpler.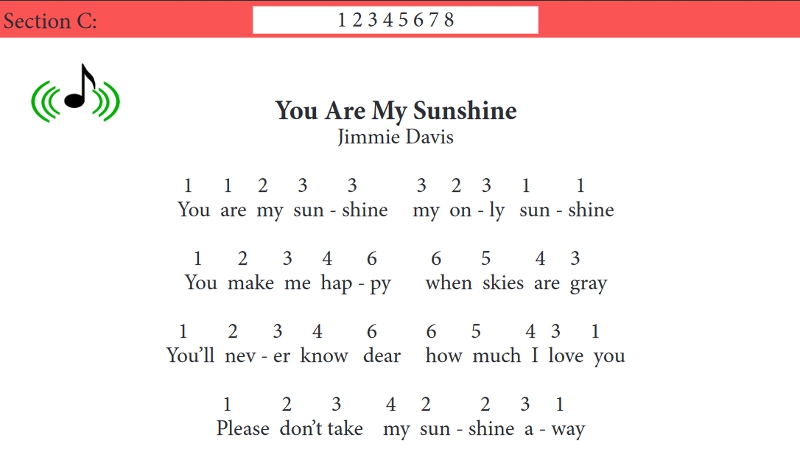 On each page of the book, you will find well-known songs, such as "Mary Had a Little Lamb" or "You Are My Sunshine". These songs have the words in large print, and above the words, they have the numbers of the notes you should play. If you can speak the song in rhythm, binding the kalimba notes to the words (in your mind or out loud), will assist you in playing the song in rhythm. There is also a "sound icon" – the emblem to the left of the song title that looks like sound waves coming out of a note. If you click on the sound icon in the PDF ebook, your web browser will download the MP3 recording of this song, and you will be able to hear what it sounds like when I play and sing. That can be a great help, especially for songs that you don't already know.
There are 5 sections and 63 songs in this book. The first two sections have songs that require only 6 notes! If that sounds easy, it is because it IS easy. But each section will be a bit more challenging than the section before it.
As you start in on a new section, more notes or different notes will be added, so you should wipe the old numbers off your kalimba and put new numbers on to indicate which tines you will be playing on the new section's songs. And that is a nice incremental way of making friends with the notes on your kalimba.
The 63 songs are generally well-known and simple, including:
Mary Had a Little Lamb
Oh! Suzanna
Amazing Grace
Go Tell it on the Mountain
This Little Light of Mine
Old McDonald
Twinkle, Twinkle, Little Star
Row, Row Row Your Boat
Will the Circle Be Unbroken
She'll be Comin' Round the Mountain When She Comes
Nobody Knows the Trouble I've Seen
Swing Low, Sweet Chariot
Jingle Bells
Joy to the World
The Banana Boat Song
Ode to Joy
… and many more!
This is a perfect place for a beginning kalimba player to start their kalimba journey.