This one plays just as nicely as it did in… oh, 1968? Yes, Virginia, old kalimbas can be made new again!

In the 1960s, the Hugh Tracey Treble kalimba was "the thing." It was new, it was fun, it sounded great.
Hugh Tracey's sons, Andrew and Paul, both learned to play and love the Treble kalimba. In fact, while Hugh was working on creating this hybrid instrument in Africa before anyone in the world was making commercial kalimbas, he sent Paul one of his first prototype kalimbas while Paul was at boarding school back in England. Hugh admonished Paul not to share this kalimba with anyone. It was top secret. And the kalimba that Paul received was constructed not of wood, but of aluminum! (Just like the aluminum cello of Albert Schweitzer.)
The entire boarding school knew that Paul had gotten a package from his father in Africa, and even the headmaster began to badger him: "SO, what did you get in that box from Africa?" And there sat 15-year-old Paul in his bedroom at night, quietly plucking his brand new, aluminum prototype kalimba's tines, producing sweet and charming and exotic melodies and harmonies… and there wasn't a single person that he could share it with!
Apart from the material of its resonating box, Paul's prototype kalimba would have looked fairly similar to the 1960's instrument pictured here. I had this very kalimba in my shop quite recently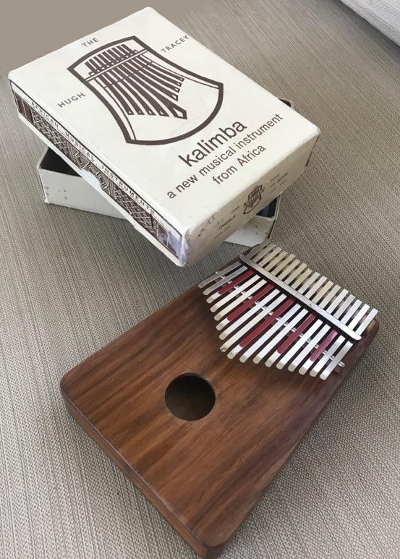 I have seen many vintage Hugh Tracey kalimbas but of them all, this one is in the best condition. Except for being slightly out of tune, having several minor buzzes, and tines that needed repainting, it was in otherwise remarkable condition when I received it.
You can see the original (1960s) price on the box (in the top photo): $13.95. Compare that to the current price of $127.
This kalimba was sent to me by its current owner, who not long ago paid $30 for it at an estate sale. She sent it to me for the $25 "Kalimba Doctor Complete Tuneup" service, which restored the instrument to its full playability and beauty.
They don't all clean up like this gem did, but we do all we can to make each kalimba play as well as it possibly can.
(Actually, the Kalimba Doctor has seen some really trashed kalimbas: Kalimbas with rusty tines and no paint. Kalimbas with missing hardware, kalimbas with multiple cracks in the body. Kalimbas that were just plain sad and misused. But in every case, I have been happy with the outcome of the refurbished kalimbas, and I have been proud to return these freshly made-over kalimbas to their owners.)
The bicycle-spoke screws you can see on the back of this kalimba prove it to have been made before 1970, and it is accompanied by a playing manual from 1966. So this kalimba could be have been brought to the Woodstock music festival in 1968. But if it had gone to Woodstock, it would likely have been played by hundreds, and would probably not be in such excellent shape.
There must be tens of thousands of old Hugh Tracey kalimbas out there somewhere that have fallen into disuse and ill-repair. They could be bringing music and joy into the world, into your family, into your heart. These vintage kalimbas can sound really amazing, sometimes better than the new ones. If you have such an instrument, and you cannot figure out how to spiff it up, send it to The Kalimba Doctor.
There are three different Kalimba Doctor services: Tune up or retune your kalimba ($10 plus return shipping), fix a dead tine ($10 plus return postage), and the total tuneup ($25 plus return postage).
The total tuneup usually entails taking the kalimba apart, cleaning the wood and tines, perhaps repairing the wood, and treating the wood with shea butter. Possibly reinforcing the box internally (same as "fixing a dead tine.") Reassembly, fine tuning, possibly painting or repainting tines, and fixing any buzzes. We usually are able to include a tuning chart, and sometimes we can include a new cardboard box. This one's original box was in such good shape (and a historical item too) that we didn't even think of replacing it.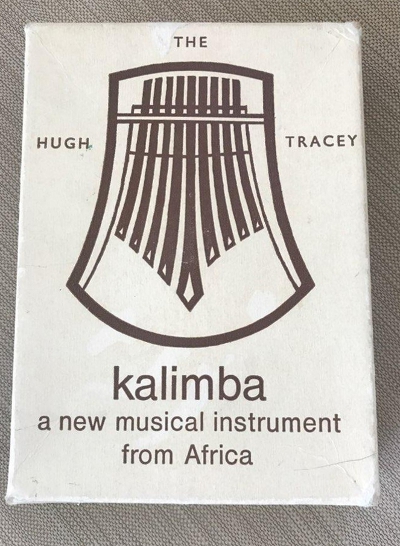 The design of the Hugh Tracey Treble kalimba is one that Hugh Tracey invented himself. It combines design aspects from several different traditional instruments, such as the trapezoidal shape, the kiaat wood, and the wah-wah sound hole. In creating his new Treble kalimba, Tracey used his own ingenious bridge design, European spring steel for the tine material (now made in South Africa), and an intuitive tuning and note layout that made western harmonies simple and sweet. It is not a traditional African musical instrument, but is based conceptually on a whole family of African instruments.
The company's logo, however, does hark back to an actual instrument. If you look at the Hugh Tracey logo on the original box, the shape is a distinct one, of one of the traditional karimbas. It has nine tines, the tips of which have been pounded to flatten and widen them. Hugh Tracey came up with this logo around 1936 and this was long before he ever made any new kalimba designs. Interestingly, this design has the hallmarks of the instrument that is the "original mbira" from over 1000 years ago, as Andrew Tracey much later asserted in a scholarly paper. Andrew has done much research into the origins of the kalimba.
Oh, and the new owner of this lovely vintage Hugh Tracey Treble Kalimba? She loves it!