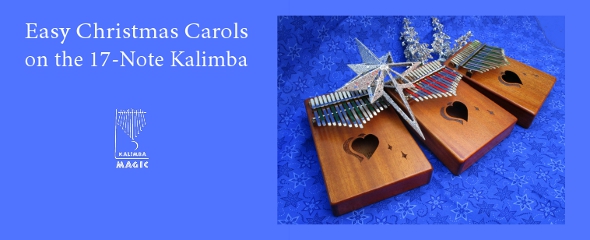 Christmas carols on the kalimba can be so beautiful. They are my specialty – and now, they are my special gift that I share with the world.
This collection of Christmas favorites has been arranged specifically for the 17-Note kalimba in C. This is the same content as the download of the same title, but it is a spiral-bound flat-laying hard copy book.
This 60-page book has tablature and sound recordings for 32 different sacred and secular Christmas songs. Most are pretty easy, but there are also some more challenging carols to give you room to grow. The sound recordings available from a web page and a QR code.
Look at the Table of Contents from the download and see the songs that are in this book: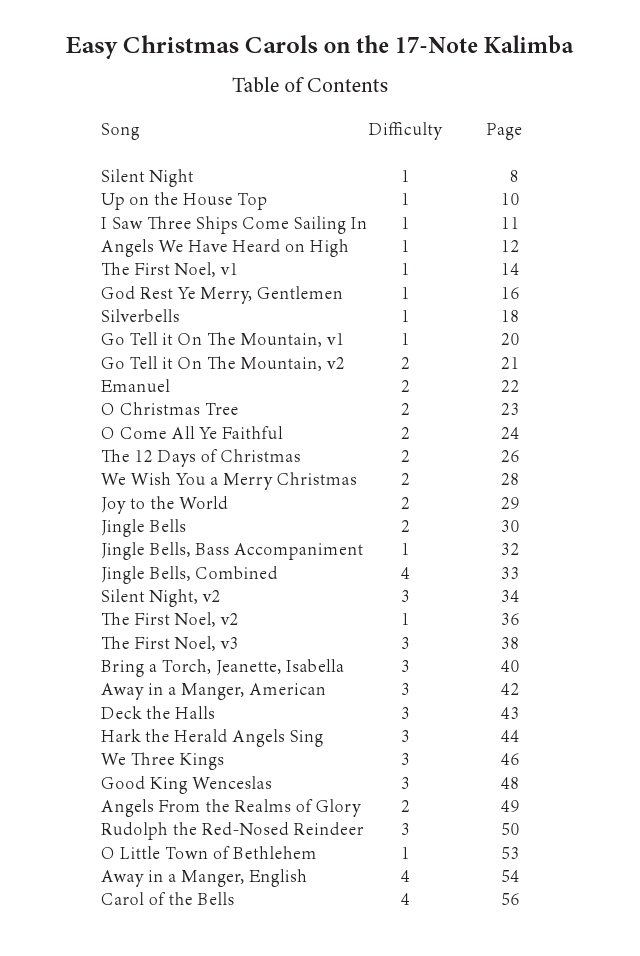 By the way, almost anyone should be able to sit down with this book and play the Level 1 songs on their 17-Note kalimba today. The Level 2 songs should be within reach of most players after a few days of playing. The Level 1 and Level 2 songs are quite simple, and they help you build the skills you will need to take on the Level 3 songs, which have both melody and full chords and should be your goal after a few weeks of playing. The few Level 4 songs have counterpoint – meaning two different melodies at once, which is complicated, and you may get to that point after weeks or months of playing.
"I Saw Three Ships" is a Level 1 song (that is, melody only). The "note icon" with the "11" in the upper left corner of the page indicates that there is a sound recording available at this book's web page. You can get to that web page via QR code and via the page's URL published in the book.