The new ebook will show you some great ways two kalimbas can play together

The 10-Note and 17-Note kalimbas work really well together, mainly because their notes (tines) match exactly.
This book is a broad exploration of some of the ways that two kalimbas can fit together. Typically, the 17-Note parts will be more advanced than the 10-Note parts, but not always!
Playing kalimba together is an amazing way to be close to another human being. This book is intended to help people get close together. Grandparent and grandchild? Yes! Parent and child? Yes! Friends? Yes! Lovers? Spouses? Yes!!
I invite you to learn more about this ebook!
Ultimately, you want to get to the place where both players are just making things up that magically and naturally complement and support one another. You want to swim in each others' creativity, and create a music that glows with light and reflects the unique relationship of the players. And that level of coordination and connection might take years to achieve.
If you don't see yourself as advanced a musician as that, this collection of duets can be a starting point. It will help develop that part of you. For instance, you surely know the melody to "Amazing Grace," but if you had to come up with a second part to support that melody, what would you do?
If you're still trying to figure out an answer to that question, then this book is for you. By the time you are done with this book, you will be able to come up with four or five kalimba accompaniments to "Amazing Grace."
In order to make full use of this book of duets, you need a 10-Note and a 17-Note kalimba, tuned in the key of C as illustrated below.
The Table of Contents shows you exactly what songs and resources are in the Duets book: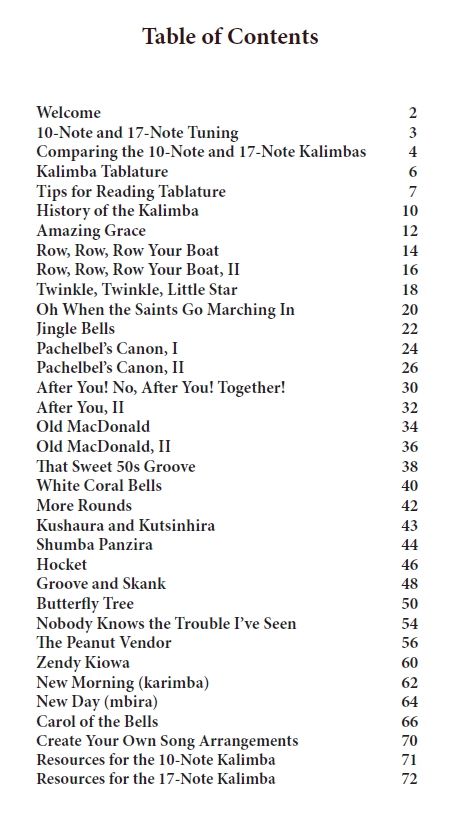 The Duets book download PDF is organized in "spreads" – ie, two pages at once, which allows both players to see their part at the same time – the left-side page shows the 10-Note kalimba tablature in blue, and the right-side page shows the 17-Note kalimba tablature in red. You can see your own part, and also each others' parts, which can be very helpful when playing duets.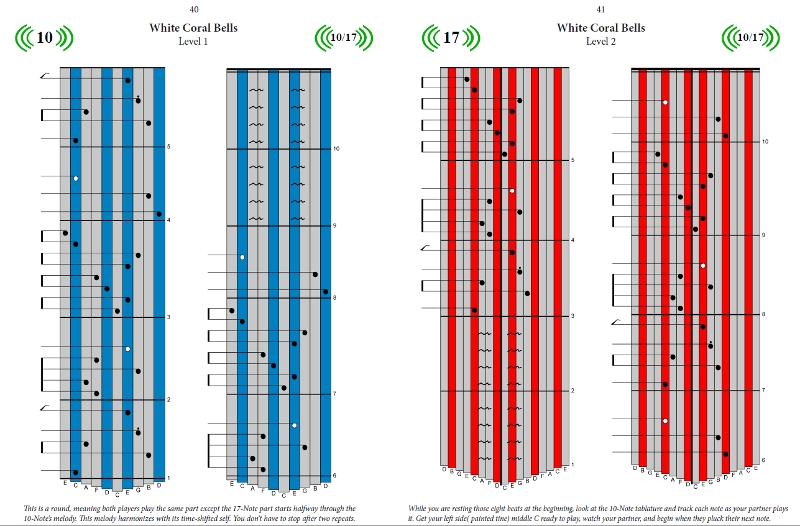 There are three different sound icons on these pages – the one with "10" in between the green sound waves will download the sound file for the 10-Note kalimba, the one with the "17" will download the sound file for the 17-Note kalimba, and the icons with "10/17" will download the sound file that has both kalimbas playing at once.
There are a lot of songs in the Duets collection that are not instantly recognizable. In the video below is "Butterfly Tree," one of the songs that you don't know yet – and, as you can see and hear, it fits great on these kalimbas.