After playing for 40+ years, Cornelius Duncan has jumped to the top!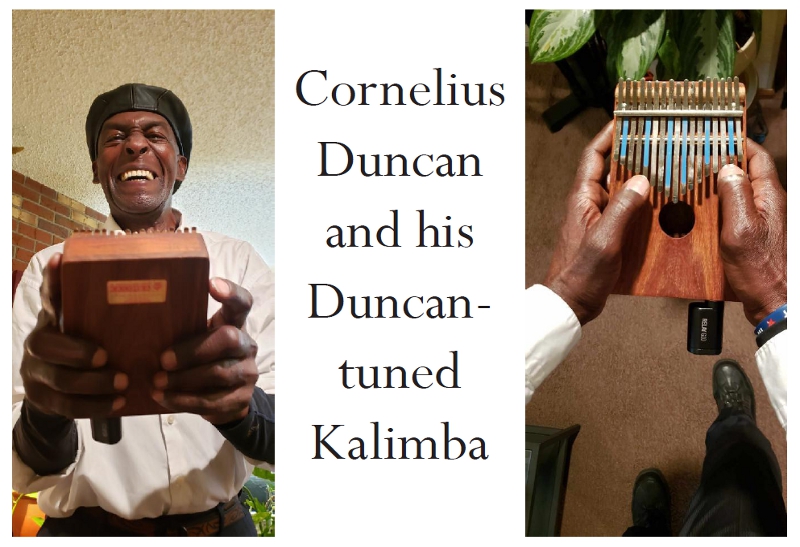 Cornelius Duncan has been playing his Hugh Tracey Alto kalimba in this "Duncan tuning" for most of his life. But he did not invent this tuning – rather, it came from his brother, Phillip Allen Duncan.
A stunning YouTube video of Cornelius Duncan playing his special-tuned Hugh Tracey Alto kalimba has had just 2000 views over its 7-year life. Cornelius' music honors legendary 1960s jazz saxophonist John Coltrane by playing a song that reflects Coltraine's song, "A Love Supreme." The song, called "A Kalimba Supreme" is serious and meditative, showing the master kalimba player offering his strands of music to Coltrane the jazz master, as well as to us all.
But how did Cornelius and his kalimba end up on the country's #1 selling jazz album?
One of those 2000 views of Cornelius Duncan's YouTube video was made by a jazz master of today (who happens to be and old friend of the Duncans), Poncho Sanchez, who asked that Cornelius be on his new release, "Trane's Delight." This new jazz CD was the #1 best selling jazz album for six weeks in a row in October and November 2019 on Jazz Week's charts, and it reflects Poncho Sanchez' own fascination and love for Coltrane's music. On the song "Sube" the "mesmerizing kalimba playing of Cornelius Alfredo Duncan Jr" is featured. Cornelius was also invited to perform on kalimba with Poncho Sanchez at 25th annual Vail Jazz Festival. Says Duncan: "I'm just so elated to be playing a Hugh Tracey kalimba on the #1 Jazz Album!"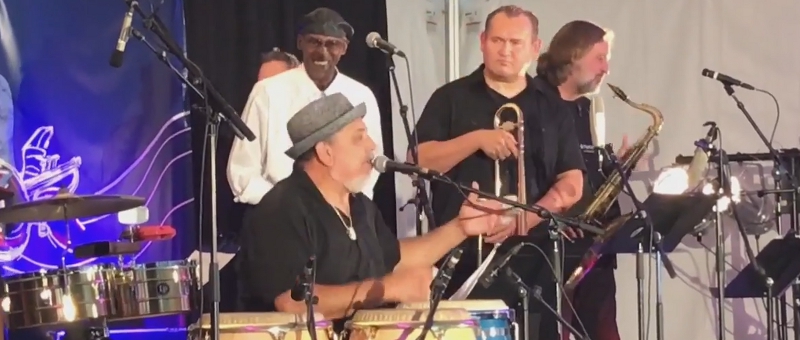 But there is so much more to the story of the Duncan tuning.
Dumisani Maraire brought both the mbira nyunga nyunga (which I usually call a karimba) and the marimba band movement to North America.
Cornelius studied drumming with Dumisani and Sherri Maraire in Seattle in the 1970s. He recalls a remarkable incident when his brother Phillip Allen Duncan brought a Hugh Tracey Alto kalimba in his special heptatonic tuning for Dumisani to see.
Dumi (as his friends called him) saw the Hugh Tracey kalimba and immediately dismissed it with "That's a white man's instrument."
Phillip Duncan was not fazed by Dumi's hostility to his instrument, and said "No, this kalimba is part of the family [of African instruments]." Phillip began to play his own music on this Hugh Tracey kalimba with his own special heptatonic tuning, baptizing Dumi with his music, until it brought tears to Dumi's eyes.
In addition to drums, Cornelius Duncan has also been playing the kalimba in his brother's tuning since the 1970s. His remarkable skill was recently noticed by his old friend Poncho Sanchez, who saw him on YouTube… Sanchez reconnected with Cornelius, and ended up including him on his new (2019) album "Trane's Delight".
Kalimba Magic is happy to offer you the Alto Kalimba in Duncan tuning. Furthermore, we are happy to offer Cornelius and Phillip a 10% commission on all sales of the Duncan-tuned Alto Kalimba.
Says Cornelius: "I'm just so elated to be playing a Hugh Tracey kalimba on the #1 Jazz Album! I am so honored to be playing the Hugh Tracey kalimba, and give much thanks to Hugh Tracey for making this instrument that I have loved for so long. I just want to see more people playing the kalimba. I have waited 40 years for this moment, and it is surely one of the high points of my life."
More About This Kalimba Tuning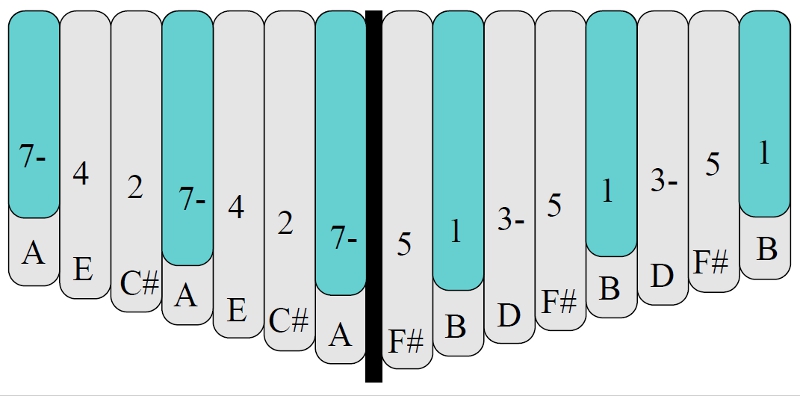 The Duncan tuning is a heptatonic B minor scale, starting on F#. Heptatonic scales have 6 notes per octave. That would be: B, C#, D, E, F#, A. On a kalimba with alternating note layout, a 6-note scale means the left side of the instrument will make one chord, and the right side will make another chord. One of the main results from Hugh Tracey's 1950s-era survey of traditional African kalimbas is that about 40% of the instruments had 5-note scales (pentatonic), 20% had 6-note scales (heptatonic), and 40% had 7-note scales (similar to the white notes on the piano). So, while 6-note tunings like this were not the most common tunings in Africa, they are firmly rooted in the historical record of traditional African scales.
I myself find this tuning to be absolutely remarkable. Because the octaves don't switch sides, I have had to reprogram my brain to play this instrument, and it has been a lot of fun. (And who knows, if you have trouble with the two-sided nature of the kalimba, this may be the answer!) I explore the musical possibilities of this great tuning in a new instructional download for the Duncan-tuned Alto Kalimba, available now.
When I play my Duncan-tuned Alto kalimba, I feel connected not only with the traditions of Africa, but also to the new traditions made by the Duncan brothers. I hope you enjoy this cool Duncan tuning!