He was taught by Dumisani Maraire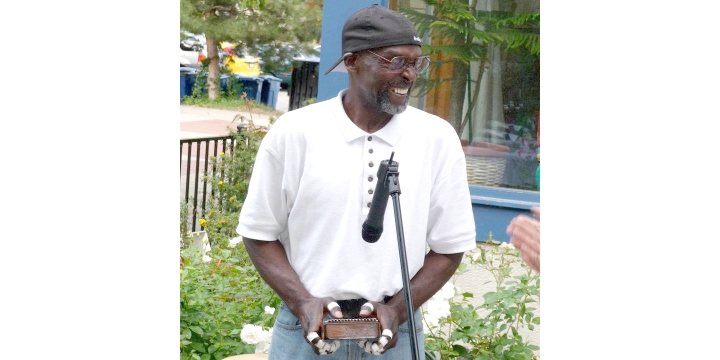 I met Cornelius Duncan in Longmont, Colorado, at the Jensen Guitar Company and Willow River Music Emporium.
I was visiting my dad in Longmont, having just left a music therapy conference a few miles away, and I had a load of kalimbas leftover from that event. I got a call on the phone from Sam at Jensen Guitars. "Hey, I'm in downtown Longmont Colorado, and I've got a gentleman here, Cornelius Duncan, who would like to see a few of the Hugh Tracey kalimbas with pickups – could you send us some?" Sam thought I was at Kalimba Magic headquarters in Tucson. In my dad's living room, I looked at the time and realized I had two hours before dinner. "I can bring a few kalimbas over right now!"
After I put one of the new Hugh Tracey Alto kalimbas into Cornelius' hands, I stood back, watched, and listened. I have to say, this man has the touch.
Cornelius went to school at first in East Texas, but "I didn't like it all that much, and I went north." He settled in Seattle, Washington in the 1980s, and he studied music with Dumisani Maraire.
Dumisani, who introduced Cornelius to African music, is credited with having begun the marimba band movement in the western United States in the 1970s. Dumisani (known as Dumi) was born and raised in Zimbabwe (formerly known as Rhodesia), and he learned the style of marimba taught at the Kwanongoma College of African Music in Bulawayo, Zimbabwe. A key concept at work at Kwanongoma was to find a new form of musical expression that was based in (very diverse) African traditions, but which could be played (and shared) by all Africans. Every African ethnic group had its own instruments, scales, and musics. While there were common features in these disparate musics, such as polyrhythms and interlocking parts, it would be next to impossible for people of these distinct groups to get together and play a common music on their own traditional instruments. People would have to put down their instruments because they had no common musical language. Said Andrew Tracey to me: "If people from different tribes got together to try to make traditional music, it would devolve into a drum jam, as rhythm is the main common element."
A dominant trend in popular African music ever since the incursion of "the west" (starting with missionary work hundreds of years ago), was to abandon their traditional instruments and replace them with western ones, including guitar, bass, keyboards, and rock drum kits. A certain proportion of the flavor, rhythms and melodies from traditional music were maintained. This style has been successful over the decades, but it also risks the total loss of traditional African instrumentation and musical forms as they are drowned out by westernizing influences.
The Kwanongoma School offered a very different approach. It concentrated on a few traditional African instruments – the marimba and the karimba were most prominent – and tuned them to a western scale so as to be equally foreign to all groups, but also so that people from any tradition could play together on these instruments.
Kwanongoma had to develop a repertoire for these "new" instruments. Traditional karimba pieces were plentiful. A key source of music for the marimbas was the repertoire of the traditional mbira dzavadzimu. Mbira music has two or three different contrapuntal melodic lines passing through each other that are played by a single player. Two mbira players could have as many as six interlocking lines. So, a traditional mbira song could very easily be arranged for six different marimba players. This is the music that Dumisani brought with him to the United States.
Cornelius did not learn karimba from Dumi, but he was inspired to find and purchase a Hugh Tracey kalimba back in the late 1970s, around the same time I bought my first kalimba. While he did have a familiarity with African rhythms and the mbira music that Dumi played on marimbas, Cornelius did not have a blueprint for learning how to play the kalimba. Part of that problem is that the Hugh Tracey kalimba wasn't exactly designed to play African music, but to be a pan-world instrument, to appeal to western ears as well as African.
---
Cornelius ended up taking home one of the kalimbas I brought over to Jensen Guitars. A few months later, he contacted me: "Sorry it took me so long to get back to you, but I was mesmerized by the instrument. I took it home on a Saturday night and I didn't stop playing until Sunday. It was so fine. I swear, this instrument has added YEARS to my life! People have been loving this new kalimba – I was playing it on Earth Day and they wouldn't let me put it down. I'm trying to play some of the traditional tunes. Usually I like to play blues and jazz style, and so-called New Age music. For traditional music, I am more rounded out on the drums and the marimbas – I learned from Dumisani and his wives, and those were the instruments they played and taught."
Meeting Cornelius was a joy for me – someone who has been playing kalimba as long as I have, someone who has the touch, someone who has been touched by jazz and African music and kalimba… and by Dumisani!
On the day I met Cornelius, he said "Hey, I think I met your mom. (!) A few years ago, I met an older lady at a Vitamin Cottage store, and she saw me playing a Hugh Tracey kalimba. She said that her son not only played the kalimba, but was also in the business of selling them and writing books for them. I think it was your mom!" Yup, I told him that my stepmother Angie shopped at Vitamin Cottage in Longmont – it had to be her. Angie and I had been close. But we had lost her two years before to cancer. Cornelius replied, "Oh, I know what you've been going through – I just lost my mother and my sister a short while ago."
But the kalimba helps. The mbira is an instrument designed to help us connect with the ancestral spirits. The kalimba, even though it is a newfangled cousin to the mbira, also has some of that magic. I play kalimba and both my mothers (I've lost two now) come to me and keep me company. Cornelius would know what I'm talking about.
Below – Cornelius playing his version of "A Love Supreme" on a pentatonically-tuned Hugh Tracey Alto kalimba. A large fraction of traditional African kalimbas – and also Maurice White's (of Earth, Wind and Fire fame) kalimbas – were tuned to the pentatonic scale.