Hugh Tracey's son, Andrew, is "THE" expert on Karimba Music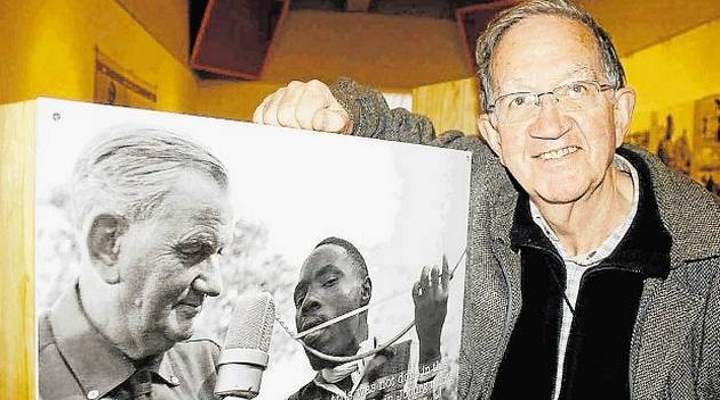 Andrew Tracey, ethnomusicologist, musician, and now-retired director of ILAM (the International Library of African Music), is a noted authority on karimba and mbira. He did much research and study in the field on these two instruments. Andrew has written several seminal scholarly papers on these instruments giving us much of what we know and understand about them today. A few months back I sent him my new karimba book "About 30 Traditional African Songs for the Hugh Tracey African Karimba" and here is his thoughtful review.
"Congratulations on your work, may it spread the knowledge of one of the best-known African instruments, and may it bring many more musicians to Africa to learn to play it!"
Your new book About 30 Traditional African songs for the Hugh Tracey Karimba is amazing. I have just picked it up from AMI [African Musical Instruments, the makers of the Hugh Tracey kalimbas] and have now read it through in detail for the first time. I happen to be in bed with a tummy bug so have a bit of time for it.
What a labour of love you have done on it, so many detailed transcriptions and variations. It should be obvious to anyone who reads the book that you are a total Karimba freak or nut case (I hope this doesn't sound bad in USA English! I mean it in the most positive way). It must have taken you hundreds of hours of work to get it all into place.
I accept "Karimba freak" as a great compliment. Thank you!
A clever idea, to give no instruction on reading the tablature, which will make players go back to your other publications. 
Actually, Kalimba Magic offers free online assistance with reading kalimba tablature.
Your personal comments scattered throughout do a lot to humanise/personalise the whole thing, and ensure that it is not taken as a dry academic exercise but as a means of having fun with. In fact, you seem to take pains to make sure it does not sound academic. Do you think this approach has an appeal to modern Americans? I like your explanations of approaching/appreciating/enjoying the music in an African way, the free thumbs, the cyclic patterns, the improvisation. "Amplification is not magic" !  "A grinding halt" !  "You ARE free!"   The whole column on "A Little Note to the Struggling" !  "The karimba is like a skeleton key."  Great stuff!
I never thought of explaining the 'standard chord sequence' in your way, i.e. that in each phrase, you move just one of the chords up (always by one step of the scale, which you didn't mention), until phrase 4 to 1 where all three chords drop by one step. You have created an easy way of approaching it. 
Actually, Andrew, I got that understanding from reading your paper on "The System of Mbira."  Perhaps you were emphasizing a different point, but this is what I came away with.
The packaging of the book is beautiful, the spiral binding particularly, the shiny pages, the big tablatures.
I wonder who Ivodne Galatea is. A number of her tunes are actually not hers; but are from my first Jege Tapera article. You haven't named her in the Bibliography which you should really have done, except that perhaps you want to keep her identity secret. Why is that necessary? 
Ivodne Galatea is the pen name for someone whose professional career requires a non-existent personal online profile, so she goes on the internet under an alias.  She collected many of the pieces for this compilation, and I cite her similarly to how I cite you and Paul F. Berliner.  I suppose the correct thing to do would be to dig a bit deeper and attribute the pieces better.

Did you realise that "Kana Ndoda" and "Sadza Madya Here" are actually the same song? But Paul F. Berliner's interpretation doesn't put it in 5/8 time. (See Berliner's The Soul of Mbira: Music and Traditions of the Shona People of Zimbabwe, University of Chicago Press, 1993).
Another of the pieces recorded by your father, "A Yolamu Amata Andimange," is in 5 as well.  I found that one in the ILAM digital online archives.  It is interesting to have two karimba pieces in 5, as it's a pretty esoteric time in western music.
You probably know Michael Williams personally. He is quite a wiz on mbira and karimba from the few youtubes I have seen.
You could have made the point more clearly that the Student karimba, the African-tuned karimba, the Nyunganyunga mbira, the African karimba, etc. are all the SAME instrument! Just with a few more tines added or subtracted. 
My shortcoming, Andrew – that was to have been one of the main points of the book!

Enough for the moment. Congratulations on your work, may it spread the knowledge of one of the best-known African instruments, and may it bring many more musicians to Africa to learn to play it!  And of course, may you continue to help AMI flourish!  
I hope AMI will buy copies of the book to resell to karimba customers, and that you will also sell enough to make it worthwhile to you.
Very best wishes
Andrew
Thank you so much for your kind, helpful comments, Andrew.  Of course, this book would have been impossible in so many ways without your groundbreaking work through the 1960s, 1970s, 1980s, and 1990s.  So thanks to you, from myself and from the wide world of today's karimba players as well as those of the future.  – Mark.