These are made by Louise Sloman-Fuller, now retired from AMI (African Musical Instruments) in South Africa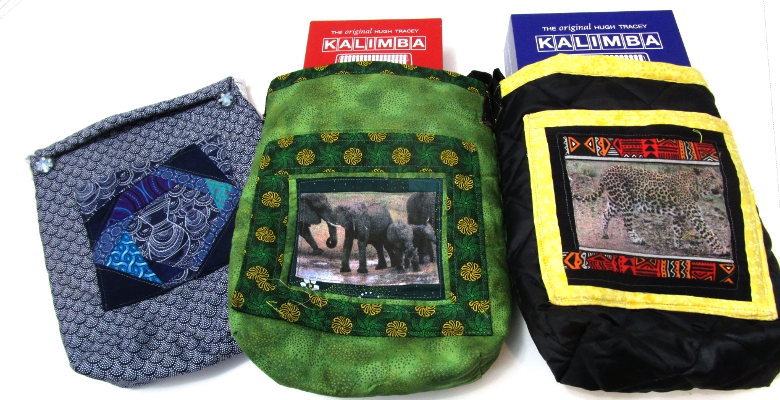 There are now several options out there for kalimba bags and kalimba cases. If you are looking for something really special, check out these quilted bags from Louise Fuller-Sloman. They are charming. I own two of them myself, and I am guessing there are a few of them that you would love too.
At Kalimba Magic we have around two dozen beautiful, handcrafted, padded and quilted kalimba bags in a variety of colors and sizes. I find many of these solidly constructed bags very attractive (and I certainly own enough kalimbas to utilize all of the new bags… a sad state of affairs that brings me much joy).
Have a look at these colorful and unique kalimba bags, artfully created by Louise Sloman-Fuller. You may find a design or two that appeal to you in both visual and practical ways.
Louise worked for African Musical Instruments (AMI) – the makers of Hugh Tracey kalimbas – for almost two decades. She was the one on the other end of the line when I needed reassurance that my next order of kalimbas would be ready in time for Christmas… or not. But we always made it through.
All about Louise and her handiwork, in her own words:
I live and work in Grahamstown, Eastern Cape, South Africa – where Hugh Tracey kalimbas are made. I was at school here and moved back when I got divorced and my son was 3 years old. I decided to stay because my mother was here and there are very good schools.

As my qualifications are in Fine Art, I started off working in the Art and Craft areas of town and eventually opened my own shop which, sadly, I had to close when I became very ill. My illness led me to study Phytotherapy and open a herb nursery and eventually work in the nursery at the University here. My mother then started becoming frail and she and my son needed me in the afternoons so I applied for a part-time post that was being advertised at African Musical Instruments.

I had met the Traceys (Andrew and Heather) at markets and musical events and had spent some time living in the far northern rural areas, working with women in craft co-ops, so felt right at home when I started working at AMI with sales and dispatch. I kept on making jewellery and was eventually led to do a quilting course and the [quilting] bug bit! I have been quilting ever since.

When I was forced to retire at the end of last year there was really only one direction I wanted to take and when Mark at Kalimba Magic asked if I would be interested in making kalimba bags, I suggested that they should be quilted for durability and protection. As the process is long and involved, I do realise that some people might not be able to afford them, so I have also made some plain fabric bags. All bags are made from offcuts of the traditional cloth that the Xhosa women in our area wear, seconds, or repurposed fabric. I am very conscious of not leaving anything for the landfills when I am done. Every bag is hand-pieced and original. 
Small bags hold one Hugh Tracey kalimba in its box (Alto or Treble).  Medium bags hold two kalimbas, or a kalimba and some books. Large bags hold up to four Hugh Tracey kalimbas, or a Sansula in its cardboard box, wood case, or black padded bag.
Quilted bags range from $49 to $79, and unquilted budget bags range from $22 to $27.
The alternative images on each of the bag product pages show the various bags. You can request a specific bag by the bag's code written next the bag. If a bag does not have a code near it, it has already been sold.
You can order bags using the links below.