A download and some free tablature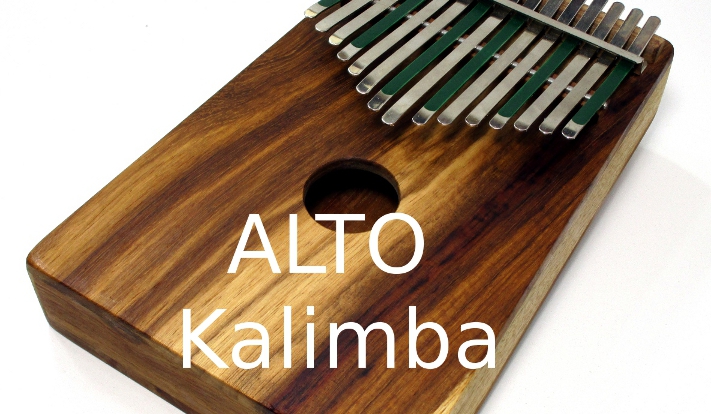 I admit it – I got carried away with my tip on the traditional mbira song "Kuzanga" arranged for the Alto kalimba.  That is a challenging piece, but I know at least one person who will rise to that challenge – hopefully many more.
Now, let's do something that might be of interest to just about everyone – easy music for the alto kalimba.
The first place to start if you are playing the alto kalimba is the Alto Primer.  This book takes a very simple African riff and shows you about a dozen different things you can do with it on your alto kalimba – that is, starting from a very simple idea, you can use these methods to create more music, and good music.  The last half of the Primer is devoted to sharing one song from each of the many books I have written for the alto kalimba, to give you an idea of what book or books might be right for you.
Another good place to start is the book Kalimba Fundamentals for the Alto Kalimba, which shows you all the scales and chords that the alto kalimba plays, with several important techniques and a few songs.  If you already play another instrument, this book will help you connect with the musical knowledge you already have.
But some people requested music for the alto kalimba that was really easy, and so I came out with a collection of very easy exercises and songs for the alto kalimba called the Easy Alto Download.  Here is an example exercise from Easy Alto: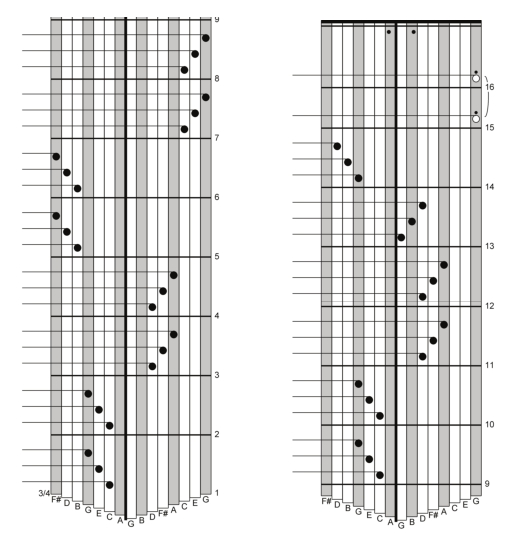 This exercise is called "Ends on Blue", because every phrase of music (that is, every measure… until the final phrase which takes three measures) ends on a painted tine – which could be blue, or another color.  (The painted tines are represented by the gray columns in the tablature.)  This very simple compositional rule (ending on a painted tine) helps find your way in this music.  You can see the simple geometrical nature of this music, reflecting that simple phrase from left to right, and shifting it up (on the outer tines) and down (on the central tines).
You can hear how this exercise sounds on the media player below.  It is actually more musical than you might think.